Wells Would Consider Being 'The Bachelor,' But One Thing Could Stand In His Way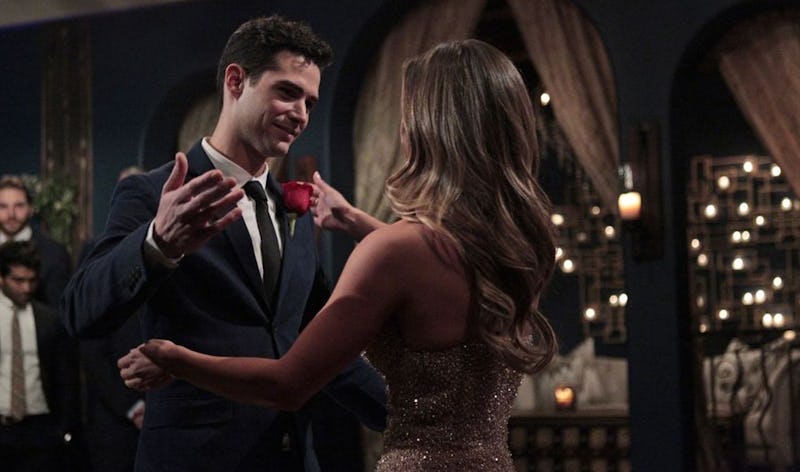 Rick Rowell/ABC
Now that Bachelor producer Mike Fleiss has seemingly hinted that Peter Kraus won't be the next Bachelor, fans have begun to run down the list of other potential contenders. Chief among them is newly inducted Bachelor In Paradise bartender Wells Adams, who appeared on JoJo Fletcher's season of The Bachelorette last year. But before viewers launch an all-out campaign, they may want to check in with the man himself, since Wells' response to Bachelor rumors shows it's a venture he's not yet sure he'd take on.
While on Bustle's Bachelor podcast, Will You Accept This Podcast?, the radio DJ turned reality star said he wouldn't rule out being The Bachelor, but he'd have to consider it thoughtfully and run it by his family first.
"I don't know if I see my love story coming from that," he explained. "That's a conversation that you also have to have with your family, because your family becomes a part of that as well, and I'm not sure if that's fair to them to be like, 'Guess what? You guys are on TV now and you're going to have to have this weird conversation with three different girls.' I don't know, it's something that I definitely wouldn't take likely. I'd have to fly home and ... bring everyone together and be like, 'Is this what we want to do?' It would be a whole thing."
He also clarified that no one has approached him about being The Bachelor in the first place, though he does appreciate all of the encouragement.
"I do think it's very flattering, because I think I'm the antithesis of The Bachelor," he continued. "When I think of The Bachelor, it's like a mountain of a man who has phenomenal hair and piercing blue eyes and abs that stretch ... to his chin. I'm none of those things."
But, Bachelor Nation disagrees. Wells has long been a fan favorite on the show, and many have begun to point to his behind-bar stint on Bachelor In Paradise as a primer for him being selected as The Bachelor, much like the show was a catalyst for Nick Viall.
If that is a direction Bachelor producers would be willing to explore, they better act fast: Wells will need sometime to round up the Adams clan and talk it out.