This Tweet Is A Major Clue That Peter Won't Be 'The Bachelor'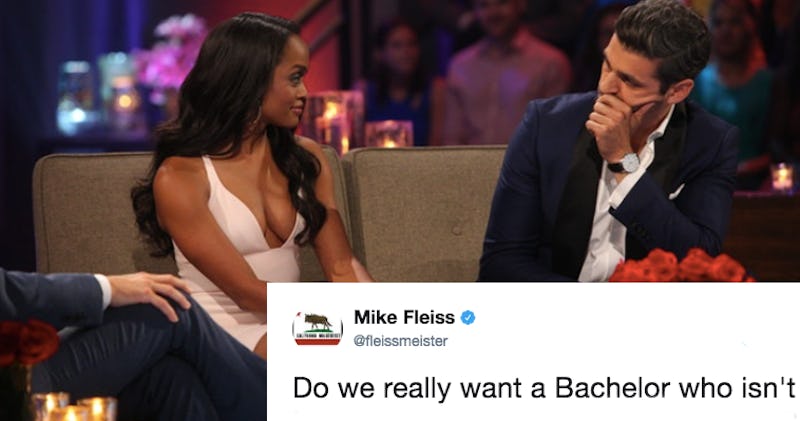 ABC/Paul Hebert/Bustle
Red alert, Peter stans, because there is a potentially discouraging development regarding the next season of The Bachelor. The emperor of Bachelor Nation made a not-so-cryptic declaration about who won't be the next Bachelor, and things aren't looking good for the runner-up of The Bachelorette Season 13. On Thursday, Bachelor creator Mike Fleiss tweeted, "Do we really want a Bachelor who isn't ready to settle down with a woman he loves? Hmmm. Not what #thebachelor is all about." Uh-oh. By "isn't ready to settle down," does Fleiss mean "isn't ready to propose at the end of a season of a dating competition series"? Did Fleiss just rule out the possibility of Peter Kraus being the next Bachelor? Sure seems like it.
Fleiss wouldn't be the first person affiliated with the franchise to state that Kraus isn't a good fit for the program. On the finale of The Bachelorette Season 13, Rachel Lindsay said the following to Kraus: "I just don't think this world, this show, is for you."
Why, oh why would Lindsay say such a thing? Probably because Kraus told Lindsay, like, a thousand times that he would not be ready to propose at the end of the season. And probably because the season finale proposal is a huge component of The Bachelor/ette.
Outside of The Bachelor/ette universe, Kraus's refusal to propose isn't that weird; getting engaged to someone after only a few one-on-one dates could seem rushed. However, this is The Bachelor/ette, a program that ramps up to a proposal every season. Much like the phrase "Can I steal you for a second?" and group dates that involve performing choreography in front of a crowd, the possibility of a proposal is part of what contestants sign up for. It would sort of be like getting to the Project Runway finale, only to be like, "Eh, you know what? I'm not ready for Fashion Week. I need more time. So, uh, you can cancel my runway show."
Assuming Fleiss's tweet is indeed about Kraus, it seems like the show creator isn't raring to nominate the Wisconsin native for The Bachelor Season 22. On the bright side, there are a lot of other solid candidates for The Bachelor, including the darling Dean Unglert or the wonderful Eric Bigger. My TV set would happily give either of those gents a rose.