Why Kelly & Shannon's 'RHOC' Feud Might Never End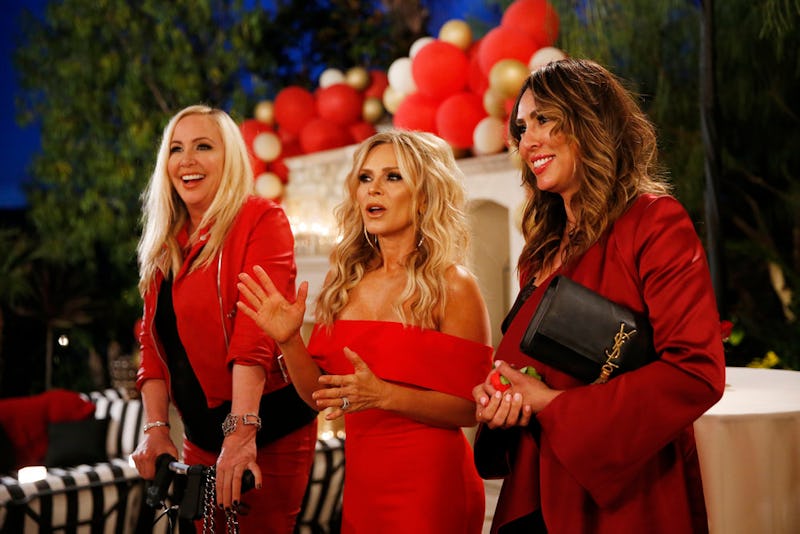 Phillip Faraone/Bravo
It's imperative on a show like Real Housewives Of Orange County that the women in the cast hang out together (it's the whole point of the program), but it's not a must that they all get along. In fact, it's probably encouraged that there is some sort of friction between at least a handful of women, or else what's the point of even watching? And besides, most of the women in the Real Housewives franchise have their ups and downs — they fight, they make up, and the cycle starts all over again. Well, except for Shannon Beador and Kelly Dodd. These women go at each other so much that it's hard to imagine a time when Kelly and Shannon were ever friends on RHOC. That's because it's never been easy for these two.
Shannon seems like she's been a member of the Real Housewives Of Orange County cast since its inception, but really, she's only been on since Season 9 — almost a decade later than Vicki Gunvalson. Kelly arrived in front of cameras at the beginning of Season 11, and, you guys, I'm so tired of watching these women fight. It's all they do. It's exhausting because they don't fight like normal adults – one says something rude, the other starts screaming, and the night ends in tears and more shrieking. The camera operators must wear earplugs when on duty.
Since Season 13 seems to be just an extension of feuds past, let's take a look at Kelly and Shannon's timeline over the years to see just where they'll end up.
Season 11
This season started with Shannon in a good place — she had just repaired her marriage and she was feeling good, minus her fall-out with Vicki. (But who didn't have a fall-out with Vicki?) Kelly immediately took Vicki's side, so they were going to have problems no matter what. Yet, Shannon and Kelly, the new girl at that time, were good until Shannon started asking Kelly about rumors of an extramarital affair at a "decades" party, and Kelly said something along the lines of, "No wonder why your husband cheated on you." Oh, no. No one is supposed to brawl while wearing roller skates.
After that, Kelly tried to apologize to Shannon, and Shannon kept her anxieties everywhere else while Kelly offended… everyone else in the group (remember that Ireland trip? Eesh). Shannon got emotional at the reunion, but this season ended with the women not in love with each other, but not in total hatred, either. But there's always time for that.
Season 12
Shannon gained a lot of weight between Season 11 and Season 12, mostly, she says, due to the stress of her marriage breaking up. It happens. It's really hard. But it's harder when someone else — in this case, Kelly — throws it in your face at The Quiet Woman when you're just trying to have a dinner with your friends. ("Keep eating," she told Shannon.) There was a small reprieve to hang out with each other for St. Patrick's Day, and Kelly set her sights on ripping Meghan apart for a time. The rest of the season had a trip to Iceland and the disintegration of a handful of marriages, so no one had time to fight.
Season 13
Season 13 has a long way to go, but it seemed in the beginning of the season that it was all bygones and friendship between Kelly and Shannon. Both newly single, Kelly told People that she and Shannon went on friend dates together. "Shannon and I go out quite a bit. We go out to dinner, talk about the same misery that we have quite a bit," Kelly said. "It's just fun that we can have a good time without having somebody that we have to come home to and yell at us."
In Jamaica this season, the larger group of women had a huge fight because Shannon wasn't spending any time with the new cast members, Gina and Emily, and they were hurt by that. So they brought it up, and it… didn't go well. Shannon, being Shannon, stormed off. On her BravoTV.com blog, Kelly wrote of the dustup:
"It breaks my heart to see her so sad, and to know she is feeling cornered and attacked. But then on the other hand, I don't see what the big deal is, so she can come off like a spoiled brat, who runs off whenever she doesn't get her way. I'll always be there for Shannon, and I'll do what I can to defuse the situation whenever possible, but the tantrums are beyond exhausting."
Kelly and Shannon are definitely in a better place than they were three seasons ago, but Shannon and Kelly are like oil and water — they never mix for long. While they have grown to appreciate and maybe even enjoy each other, it only takes one snarky aside to blow the whole thing up. Maybe we'll all get along in Season 14 of Real Housewives Of Orange County? Unlikely.