Why Kelly From 'RHOC' Isn't Sure That Another Marriage Is For Her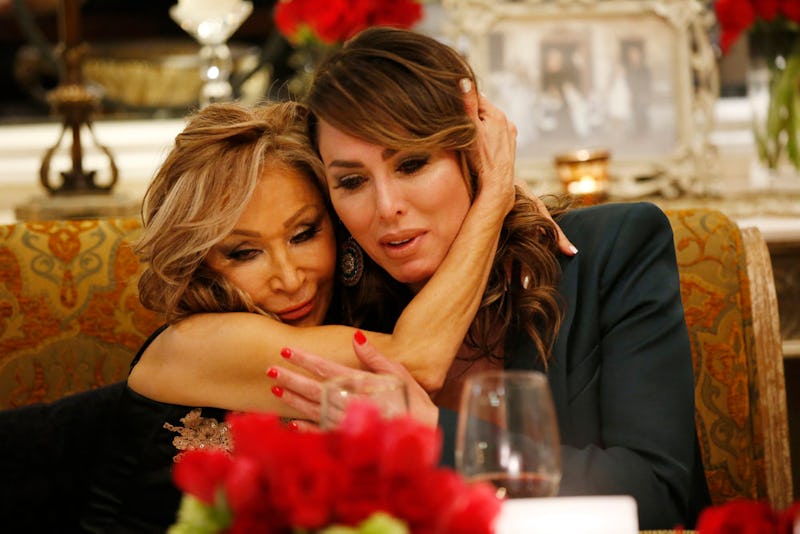 Phillip Faraone/Bravo
Getting divorced is hard — getting divorced on national television is harder. And yet, Kelly Dodd of Real Housewives Of Orange County fame has made the best of it. As she says in Season 13, "Do you know why getting divorced is so expensive? Because it's worth it." Free as she is now, she's been dating up a storm. But is there anyone particularly special in Kelly's life right now?
Kelly and her husband, Michael, had a pretty volatile relationship, and they had split up once before in the years prior to her joining the show. Kelly has admitted that she's much happier since she and Michael officially divorced. Unlike Shannon Beador, who, as of the show filming, wasn't quite ready to get back into the dating game, Kelly is going on a lot of dates with a lot of guys. She likened it to "fishing with dynamite," and why shouldn't she? Kelly is fun and available, and she likes to have a good time. Her Season 13 tagline speaks about her being a "cougar" on the prowl, so you know that she's down for whatever comes her way. After years of marriage, Kelly is ready to be single and free. But, by now, has anyone come along and swept her off her feet again? Not exactly.
In an interview with People, Kelly spoke about how she's just dating around at the moment, not investing in anything serious. She insisted that she doesn't "do online dating," and she spoke about how she and Shannon Beador are having fun now that they're both not in relationships. "Shannon and I go out quite a bit. We go out to dinner, talk about the same misery that we have quite a bit," Kelly said. "It's just fun that we can have a good time without having somebody that we have to come home to and yell at us."
As for getting married again, Kelly is not convinced that it's for her. "I'd be open to getting married again if I found the right person, however, I think marriage is to have children, so I kind of… I've been married twice already," she said. "It's put a bad taste in my mouth. But I'd love to live with someone… I don't know about marriage," she told the magazine.
Now that Kelly and Michael are divorced, they're actually getting along so much better. "Michael and I are best friends. We are actually better apart than together," she told People. "He just came over to my house and cleaned out my garage for me… we are really, really good friends. I talk to him all the time." This is a good thing, considering how angry Kelly was at Vicki for helping to fix Michael up with a woman he met at a barbecue Vicki threw. Kelly has nice words for Michael, but she doesn't have many for Vicki still, as evidenced by a recent appearance on Watch What Happens Live when she called Steve Lodge, Vicki's boyfriend, Vicki's "little b*tch." Yeah, that's gonna come up at the reunion.
For now, Kelly seems happy to date around with her friend Shannon Beador by her side. She could someday choose to settle down again, but for now, she's taking it one day at a time.