'AGT' Star Grace VanderWaal Wants To Be Like Adele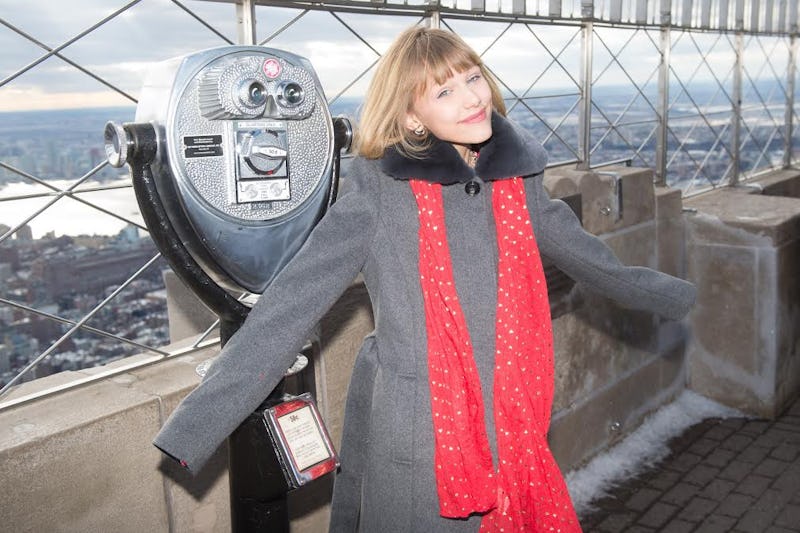 Courtesy: Amanda Gorin
Like millions of others, America's Got Talent winner Grace VanderWaal spent her Sunday night tuning into the Grammys, cheering on Adele's (literally) show-stopping performance on-stage. One look at the 13-year-old's Twitter, and her love for the 25 singer is evident — and talking to VanderWaal, it's even clearer that her admiration for Adele isn't just based out of fandom, but of a real respect from one singer/songwriter to another.
"There are a lot of artists that show you don't have to be super provocative to be successful, and I really admire that and love that," VanderWaal says, speaking while atop the Empire State Building on Feb. 13 for the building's annual Valentine's Day wedding celebration. "Like Taylor Swift, and Katy Perry, and Adele... it's totally fine to have fun, but a lot of stars right now that are really rising to the top are taking it to the next level."
VanderWaal can count herself among those talents; the second youngest winner of America's Got Talent in history, she performed an original song on the show, "I Don't Know My Name," that became a viral hit and got Simon Cowell dubbing her the "next Taylor Swift." After winning the competition, she released a highly acclaimed EP, Perfectly Imperfect, in December; now, she says, she's in the midst of recording her first full-length album, release date TBD.
"It's kind of a work in progress. It's not even close to done, but it's coming up, and I'm so excited about it," VanderWaal says, smiling widely at the thought. "It's gonna be the fun, cool, awesome one. I'm really excited."
Fans of Perfectly Imperfect will definitely be surprised by the album's sound and themes, the singer says, particularly what sounds like a more mature, produced vibe. "I want to put a little more into this one, a little more depth," VanderWaal says, but she adds with a laugh that she wants to "keep you on your toes" when it comes to revealing any more info.
It's not like she's staying out of the spotlight until the album's release, however. Soon, VanderWaal will be heading to London for a Britain's Got Talent show, and then to Austria for the Special Olympics, where she'll perform alongside her "biggest idol" Jason Mraz. "I'm probably gonna cry when I see him," she says, laughing.
Considering that Mraz has made no secret of his own admiration for VanderWaal, surprising her via phone call in an adorable video, it's safe to say that the excitement will be mutual. Besides, while the 13-year-old may just be starting out, soon enough she might have a fanbase as big as the celebs she admires so much.