Bath & Body Works Released 40 Scents For The Holidays & Here's What Each One Smells Like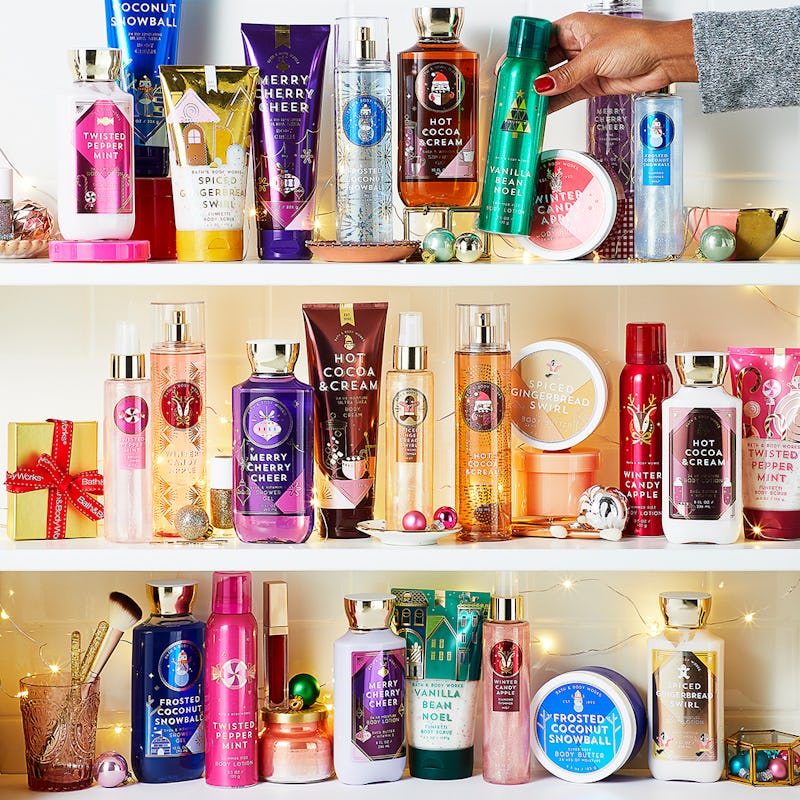 Bath & Body Works
Bath & Body Works are one of those rare brands that are both nostalgic and modern, throwing us back into our pre-teen stages and staying relevent in our adulthood beauty routines. How can they not be with such good smells? And now Bath & Body Works is rolling out 40 new scents for Christmas, making sure that every single day on the Advent calendar will be packed with festive and merry scents that will get you into the holiday spirit.
December has a knack of being linked with some very specific scents, where if you smell them you're thrown straight into being bright and merry. Roasting chestnuts make you think of treats in paper bags on chilly winter days; peppermint smells just like latte cups while holiday shopping; cinnamon makes you think of wrapping up in blankets; pines throw you back into putting up holiday decorations; and gingerbread gives you a sense of baking desserts and pastries for holiday get-togethers. Each scent has a specific memory or feeling, and now Bath & Body Works is going to give you 40 new ones to play with across the body care and candle category just in time for the holidays! Check them out below.
Spiced Peppermint is a fresh mix of peppermint, shaved cinnamon, and vanilla cream, which will make you crave a hot holiday drink.
Poinsettia Petals is a blend of winter petals, citron, and sandalwood, giving you a fresh, lemony, winter floral scent.
Sleep Lavender Vanilla is made especially for hand soap, which mixes lavender essential oils and vanilla, creating a soothing winter scent.
Marshmallow Flurries blends sugary and warm marshmallows, smoked wood, and lavender, balancing out the dessert smell with soft floral and wood undertones.
Cherry Chill has a sweet yet tangy bite of black cherries, vanilla beans, and frozen juniper.
Cranberry Peach takes a detour from the usual holiday scents, diving into peaches, tart cranberry, and gala apples, making you think of the sweets tables at holiday parties laden with hot pies.
Spruce is a new scent in hand soap, and it mixes Fir needles, cedarwood, and eucalyptus, giving you a mountain-like, fresh winter scent.
Champagne Toast is new in hand soap, and it is made with citrus and orange essential oils blended with notes of fizzy champagne. Seeing how New Years Eve is right around the corner from the holidays, it's the perfect thing to pop into your bathroom to get into the countdown mood.
In the Stars is a warm blend of starflower, sandalwood musk, amber, sugared citrus peel, and white agarwood, making it more of a spicy, musky smell with a candied, citrus twist.
Spiced Gingerbread Swirl will remind you of a freshly baked cookie on a nippy Saturday afternoon, giving off scents of warm gingersnap, orange zest, spiced brown sugar, and roasted tonka.
Sparkling Nights is a fresh blend of pears, freesia, sugared coconut, sandalwood, and white musk, giving you a smell that is crisp as a winter night after snowfall.
Black Chamomile Sleep is a calming blend of chamomile oil and bergamot oil to help you relax after a day of holiday shopping. Grab your sleeping hat and drift off into dreams.
Black Tie Night is new in hand soap, and it uses green sage, sandalwood, and tonka bean for a swanky, party-ready scent.
Crushed Candy Cane mixes crunchy peppermint with white sugar crystals for a scent that is synonymous with December.
Balsam & Firewood gives you a toasty, woodsy scent with its cedarwood, cardamom, and white birch.
Berry Spritzer will make you want to drink an afternoon cocktail while trimming the tree, as one does. It mixes Anjou pear, cherry blossoms, and peach nectar.
Iced Cranapple plays with fresh apple, frosted cranberries, sugared raspberry, and creamy musk, taking the stereotypical cranberry smell of the holidays and giving it a chilly twist.
Tuxedo Nights will make you feel all sorts of suave, with its blend of crystal waters, sea salt, coconut milk, and driftwood. It might not smell like the traditional roasting-chestnuts-scents of the holidays, but it does make you think of putting on a tuxedo or velvet for a glitter filled night of noisemakers and confetti.
Orange Chocolate Truffle is a heady blend of orange zest, sea salt, and rich dark chocolate, where this scent will have you craving decadent holiday cake in no time.
Frosted Cake Pop is a new smell that mixes buttercream icing, warm vanilla, and a handful of cherries, making you daydream of what kind of desserts you will whip together for your holiday party.
Gooey Marshmallow will make you want to open up the fireplace and build a s'more, with its torched marshmallows, brown sugar, and caramel drizzle undertones.
Sugared Snickerdoodle takes another detour into the bakery shop, where it carries notes of warm spices, creamy vanilla, and sugared musk.
Toffee Brittle takes the traditional stocking stuffer gift and transforms it into a holiday scent, using notes of maple cream, brown butter, and coconut sugar in its collection.
Arctic Berry will have you thinking of mistletoe frozen over in the morning frost with its scents of balsam and orange essential oils, with notes of red berries and musk.
Yuletide brings out the rosemary notes, mixing the homey herb smell with pine essential oils and hints of eucalyptus and cedar.
Forest Flurries will give you the notion that you're walking down a crunchy wooden path as the snow slowly starts to drift, adding in notes of cinnamon and cypress essential oils with undertones of grapefruit and patchouli.
After the Snow is all about the wood and spice scents, playing with notes of fir balsam and patchouli essential oils with undertones of black peppercorn and cinnamon.
Cypress will give you a fresh, crisp outdoorsy smell of bergamot, tonic water, and Himalayan cypress.
Sleep Black Chamomile will be just the thing to help you knock out after a long day of wrapping presents, where it mixes chamomile oil and bergamot oil.
24K Gold brings out the metallics of the season, blending cool eucalyptus, musk, and oakmoss with essential oils
Hot Cocoa & Cream is a new scent in body care, and it's made with nutmeg and sandalwood essential oils with notes of milk chocolate and steamed milk. Just imagine how cozy that sounds.
Snowfall is a dreamy blend of pine needles, golden amber, and fresh lavender, giving a cool but pleasant smell.
Cinnamon & Pinecone mixes the fresh scent of pine, cinnamon bark, cedar, and juniper together, making for a heady holiday scent.
Cherry Frost is made with orange and juniper essential oils with notes of white cherry and ginger, giving you a cloved orange drink type of smell.
Peppermint Brownie is going to make you crave treats and sweets, where the candle mixes scents of candy canes, rich mocha, and whipped cream
Gingerbread & Caramel will have you itching to build your own gingerbread house, where you get a festive mix of caramel, warm vanilla cream, and gingerbread spices.
Merry Cherry Cheer mixes scents of maraschino cherry, pomegranate cider, raspberry blossom, sugared musk, and black cherry amaretto for a heady cocktail of winter smells.
Cuff Links brings to mind getting dressed for fancy nights, mixing Italian bergamot, lavender water, amber, and vanilla.
Aromatherapy Love is a soothing mix of rose oil and vanilla absolute, giving you something soft to dabble with.
Blue Winter Sky is made with peppermint and eucalyptus essential oils with notes of oak and cedarwood, giving you chilly winter day vibes with clear skies.
Apple Garland makes you think of holiday decorations of the "olden days, where the scent is made with eucalyptus and cedarwood essential oils with notes of gala apples and mistletoe.
Butterum Eggnog uses spiced eggnog, vanilla bourbon, rich buttercream, and shaved nutmeg to deliver a concoction almost good enough to eat.
With so many different scents to choose from, you will never be at a loss for holiday cheer!