Princess Charlotte & Prince George Are In Pippa's Wedding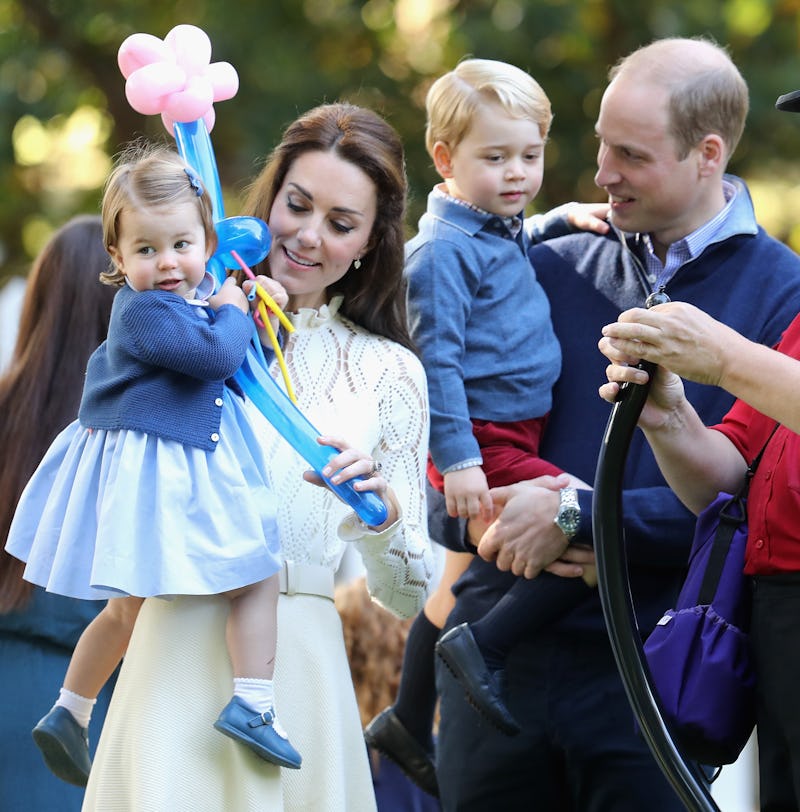 Chris Jackson/Getty Images Entertainment/Getty Images
Saturday, May 20 can't get here soon enough. It is the day Pippa Middleton and James Matthews are getting married. Of course, I'm sure you're wondering if Prince William and Kate Middleton's children, Prince George and Princess Charlotte, will be in attendance. Oh, you better believe they will be. The brother and sister will also probably steal the show because George and Charlotte play important roles in Pippa's wedding.
As revealed by Kensington Palace in April, George will serve as a pageboy and Charlotte will be a bridesmaid. According to The Telegraph, two-year-old Charlotte will walk down the aisle with her aunt. For those unaware, a pageboy is essentially a ring bearer, who usually walks down the aisle before the bride. Can you see three-year-old George carrying the rings and being all adorable? I'm smiling just thinking about it.
One might think that Charlotte is much too young to be a bridesmaid, but that's not unusual for British culture. If you recall, Kate and William had several young bridesmaids and pageboys. Just imagine the princess in a gorgeous tiny dress putting her sweetness on display. These two siblings are going to make this wedding even more worthwhile.
According to The Telegraph, during Buckingham Palace's first garden party of the season in May, Kate reportedly expressed concern over her kids at the wedding. Like any parent, Kate is seemingly worried that they might misbehave. "She said that they were all really looking forward to her sister's wedding at the weekend but she was a bit worried about how her children might behave," a garden party insider revealed. "She said she was hopeful that they would be good but you never know at that age."
Who knows how they'll act, but I have high hopes that George and Charlotte will make Pippa's nuptials an adorable affair. If they do throw a tantrum or don't flawlessly perform their wedding duties, their cuteness will make up for any of that. Here's a preview of what will probably go down at the big day.
George will be like, "I have arrived."
And then Charlotte will be like, "I can wave, too."
Then, George will be like, "Why am I here again?"
And Charlotte will be like, "Who are these people?"
What could go wrong with them as a bridesmaid and a pageboy? Well...
Really, is anyone going to care if they do misbehave? I certainly wouldn't. Let's just hope a ton of photos are released of George and Charlotte.