Instagram Just Introduced 4 New Face Filters — Including One Inspired By Ariana Grande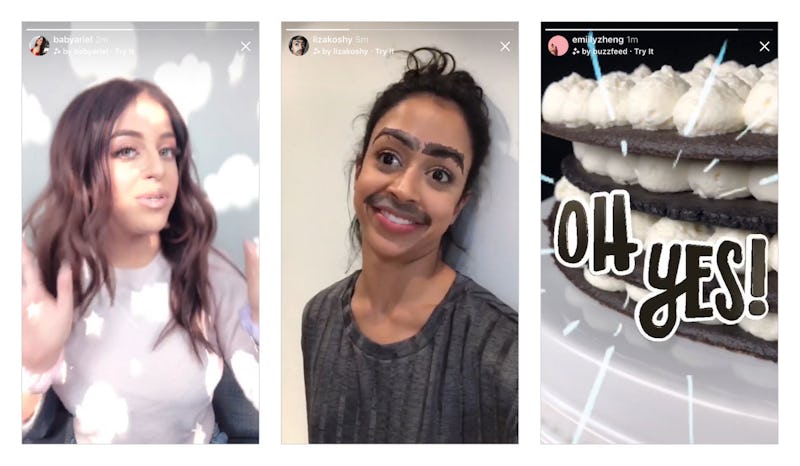 Instagram
Everyone knows that one of the best things about filming an Instagram Story is getting to play around with the different effects on the app. Why snap a plain selfie of yourself unfiltered when you could post a selfie of yourself with fake cat ears and a nose? Why take a video of your regular face when you could take a video of yourself with a gigantic mouth that takes over the entire screen? These are the important questions in life. While Instagram already has a slew of fun camera effects to use whenever you're creating a Story, there is, of course, always room for more — you can never have too many options. Luckily, Instagram is giving us what we want: more filters! So what are the new camera effects on Instagram?
For starters, these effects are super unique. In order to make the new effects stand out, Instagram partnered with some of their most well-known users to create some really fun options. This is just another way that the app is going to make you feel more connected with some of your favorite accounts, which is, obviously, the whole point of using it in the first place. The company released a statement saying, "Whether you want to make your friends laugh or add some glam to your selfies, you now have more ways to express yourself and feel closer to your favorite accounts."
The first batch of the camera effects includes options designed by singer Ariana Grande, website Buzzfeed, and vloggers Liza Koshy and Baby Ariel. Each effect is totally different and perfectly fits the style and aesthetic of the person who designed it.
Using the new effects is just like using the classic options. Click on the camera icon in the upper lefthand corner as if you're going to take a picture or video to add to your story. Once you're there, click on the face icon in the lower righthand corner to pull up the effect options. Here's the thing, though: in order to use these camera effects, you need to be following the person who designed them. So, for example, if you follow Ariana Grande, you'll see her effect as one of the options. If you don't follow her, you won't see it as an option to use.
If you aren't a follower but you see an effect that you love, there's still a way to use it without clicking the follow button. If someone you follow uses the effect and you want to try it out, you can click "try it" under their username. That will allow you to play around with the filter, and then add it to your own camera for future use. You can see the small "try it" button in the images below.
The first few effects are really fun, and they are actually just the tip of the iceberg. Instagram is going to be rolling out a lot more of these as time goes by, but there's no word on who the next people are going to be. The possibilities are endless! It could be Taylor Swift, giving us a Meredith-style effect. It could be Kylie Jenner, allowing us to virtually use her famous Lip Kits. Honestly, Instagram should note those ideas down!
For now, though, we know what the first few effects will be like. Check 'em out: