Here's Where Mark & Jessica Stand After Their Emotional 'Love Is Blind' Breakup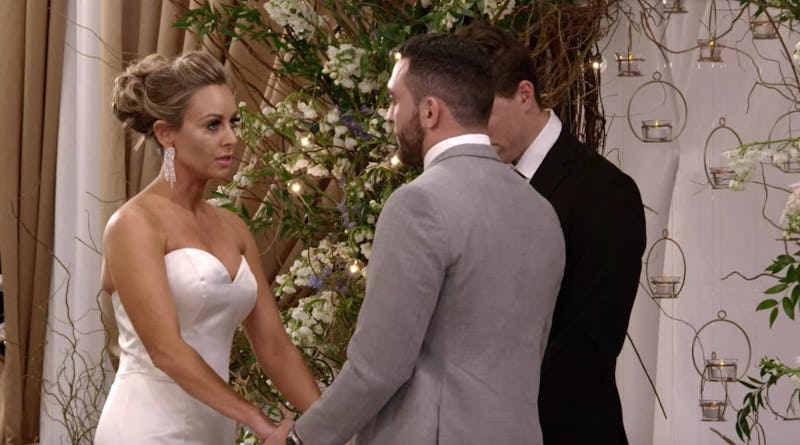 Netflix
Spoilers ahead for Episodes 1-10 of Love Is Blind. After watching their emotional rollercoaster of an engagement — and ultimately, their failed wedding — you would be right in suspecting that Mark and Jessica aren't together after Love Is Blind. A year and a half later, they actually live on opposite coasts.
After filming wrapped, they both had a rough time processing the experience, so a change in environment was necessary. "I moved to Chicago," Jessica tells Bustle. "I actually, you know, had a really hard time after we wrapped. And I got a little depressed for a while, so I decided to spend the summer in Chicago, which was nice being back with my parents and my family, and then made my way out to L.A., which has always been a dream of mine. So that's where I'm at now."
She says that despite the way it looked on the show, she knew she couldn't go through with the marriage long before walking down the aisle. "I didn't think we were ready and I didn't think it would be fair to say 'I do,' when you know, I couldn't fully commit at that point," she says. "I had already made up my mind."
Mark still lives in Atlanta, but says he did a lot of self-reflecting after the show. "I really dug deep within myself, and I went to therapy," he says. "This whole experience has taught me how to look more for answers within myself as opposed to seeking them out for other people."
Despite things not working out, neither of them have regrets about signing up for the experiment, and they're on friendly terms. "I learned a lot about myself ... so I wouldn't change it for the world," Jessica says, though she adds she wouldn't recommend going on Love Is Blind to everyone. "You're [trying to find] a husband in a matter of 10 days, so you really have to be in a spot where you know what you want and you're emotionally available to commit."
Mark, meanwhile, says that he wouldn't be where he is today if it weren't for his time with Jess. "I came out of it a new man, so I'm super thankful."
This article was originally published on