Here's What New York City Gun Laws Are Like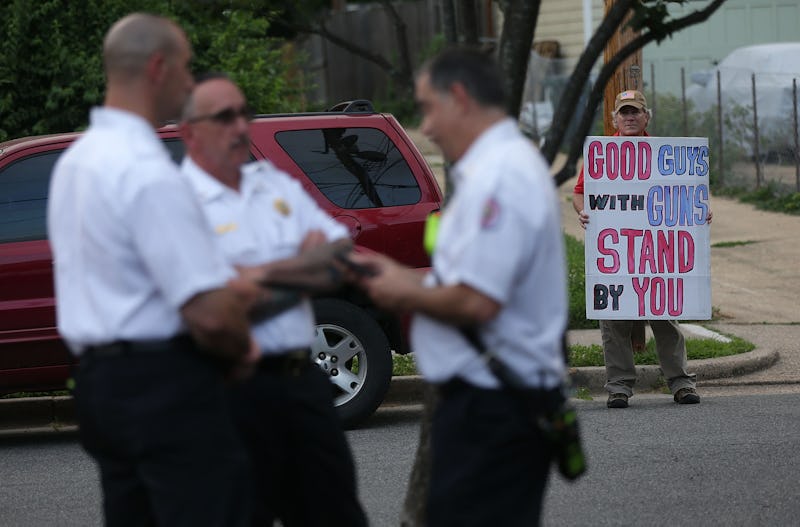 Alex Wong/Getty Images News/Getty Images
On Wednesday morning, 48-year-old NYPD officer Miosotis Familia was fatally shot in the head while sitting in a command vehicle in the Bronx. While there is an ongoing investigation into the possible motive behind the shooting, the incident brings up larger questions about gun accessibility in New York City. More specifically, it begs the question: What are New York City's gun laws like in the first place?
Compared to many state and city gun laws, the city's gun laws are relatively strict. Since 2013, directly following the tragic Sandy Hook elementary shooting, Governor Andrew Cuomo passed wide-sweeping legislation that bans assault weapons in the state of New York.
On top of the ban on assault weapons, New York City gun laws also prohibits the open carry of firearms, as it is not allowed anywhere within New York state. While American citizens over 21 are technically eligible to purchase firearms in New York City, the application process for a city permit includes a 17-page application for a handgun license (as well as a $340 application fee), and a 13-page application for a rifle/shotgun permit (alongside a $140 fee).
Needless to say, the process of legally obtaining a gun in New York is involved and thorough, which makes the tragic shooting of Officer Familia even more of a shock to coworkers and loved ones.
According to a report from CNN, the assailant, 34-year-old Alexander Bonds, shot Officer Familia through the window of her marked police vehicle before running from the scene. When police confronted the suspect a block from the scene of the shooting, Bonds allegedly drew his gun and was killed on the spot by police officers.
After being shot, Officer Familia was immediately taken to St. Barnabas Hospital, where she passed away around 3:30 a.m. Familia worked on the police force for 12 years and is survived by her three children.
Following the attack on Familia and the altercation between the police and Bonds, officers were able to obtained the silver revolver that was left on the scene by the suspect.
While officers are still investigating, at this point there is no obvious motive for the unprovoked attack on Officer Familia. During a news conference on Wednesday morning, police commissioner James O'Neill said, "Based on what we know right now, it is clear this was an unprovoked attack on police officers who are assigned to keep the people of this great city safe."
Witnessing gun violence in a city with such strict gun laws serves as yet another example of why the purchase and ownership of deadly weapons should be a process treated with the gravity and thoroughness it deserves.