Snapchat's New Context Cards Will Let You Make Reservations, Call Ubers, And More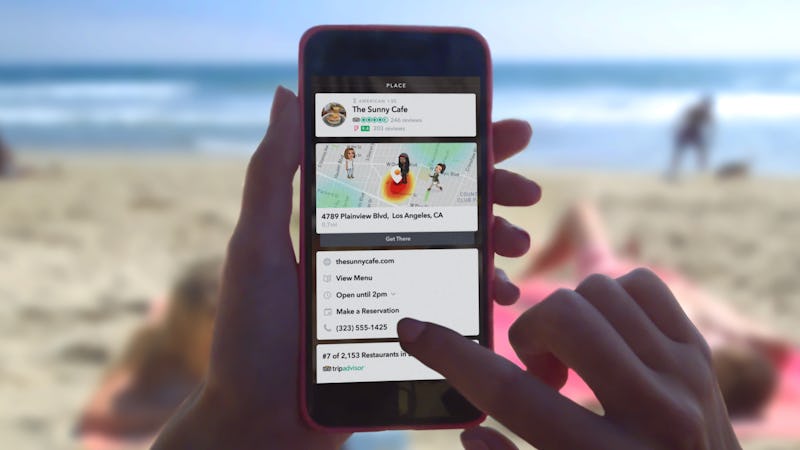 Courtesy of Snapchat
With its finger forever on the pulse of society and constantly expanding to become more entertaining, convenient, and interactive, our favorite blink-before-it's-gone social media app is here with an exciting update: Snapchat has introduced Context Cards, which make it possible for you to learn more about whatever it is you're watching and even take action to complete a specific task.
Here's how it works: put simply, Context Cards add contextual and relevant information to photos that have been geotagged with Snapchat's white Geofilters. Accessing them is easy — whenever you see "More" on any Snap, swipe up to see the Context Card. Depending on what you're watching, the Context Card will contain reviews, maps, and other information pertinent to that Snap/location.
The information held within Context Cards is powered by Snapchat partners including Tripadvisor, goop, and Foursquare, among others. It doesn't end there. Using Context Cards, you can even do things like book an Uber or Lyft, or reserve a table using OpenTable, Resy, or Bookatable. Other information on Cards may include directions, hours, and phone numbers.
Some locations even have Stories in their Context Cards, containing more Snaps of whatever you're looking to learn more about — Snaps submitted by the Snapchat community. Best yet, Snapchat tries to show you what it believes will be most relevant to you.
Before you start to groan at the thought of Snapchat turning into one giant advertising platform for all of its partners, remember that Context Cards won't always be available, so there will be times you won't see them at all. Even if they are available, you can simply opt not to swipe up to view them.
For now, Context Cards are available in the U.S., UK, Canada, Australia, and New Zealand, on both iOS and Android. As the feature expands, Snapchat will be incorporating more partners and even more information.
Context Cards have been a true collaboration between Snapchat and its partners. Ann Bordetsky, Uber's Head of Product Partnership, says, "Snap's innovative integration is another way that Uber connects you with friends and all the experiences your city has to offer." Echoes Mike Harkey, VP of business development for Foursquare, "The Foursquare community has created rich content for over 105 million places worldwide, and we're thrilled to share this location data with Snap through the new context card."
Snapchat has steadily graduated from a platform for silly videos and fun filters to now a tool we rely on for credible information. This is the age of convenience and on-demand everything, and Snapchat knows how to respond accordingly — by giving you the information and capabilities you want without every needing to leave the app.
In a time when we want to do everything in as few clicks as possible, Snapchat is making all our dreams come true with just a swipe; and it's likely only going to get better from here.
It's only been about four months since one of Snapchat's last huge additions: Snap Maps. The feature — which lets you see friends' locations in real time, plus a heat map of public Snaps — led to a 40 percent increase to the contribution of public Stories. Over the years, we've seen impressive updates to features, photos filters, voice filters, Stories, and beyond, and they show no signs of slowing down. With Snapchat and Instagram (and therefore, Facebook) all engaged in a constant game of tug of war for our attention, one might wonder if it's only a matter of time before IG too implements a similar feature, since they also allow you to tag and check into your location. Stay tuned!