Syd Is A 'Legion' Mutant Worth Knowing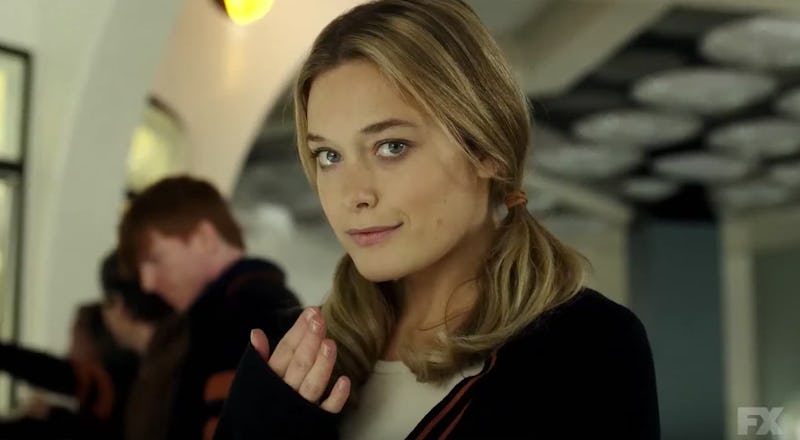 YouTube/FX
It's a premiere we've been waiting for: Legion, the new Marvel/FX superhero series that takes place in the X-Men universe. Legion is the story of David Haller (Dan Stevens), the son of everyone's favorite mutant, Professor X. David is placed in a mental hospital because he's hearing voices, but here's the catch: Those voices are part of his mutant ability, and he might be one of the most powerful mutants ever. Of course, no one knows this yet, except the government who predictably wants to get their hands on him and his powers. Although Legion is set in the X-Men world (the title character is a well-known Marvel anti-hero), don't expect to see known characters like Rogue and Storm. The characters in Legion are unfamiliar, but they're interesting in their own way. One particular interesting character? Syd Barrett. What are Sydney Barrett's powers in Legion? She's an interesting addition to the show.
The character is played by Rachel Keller, best known for starring in the second season of Fargo as Simone Gearhardt. Her connection to the network and to series creator Noah Hawley isn't surprising, considering Hawley created Fargo and was obviously familiar with Keller's work. Keller also had small starring roles in popular series such as Supernatural and The Mentalist. It's clear from her IMBD history, however, that Legion will most likely be her break-out role. After all, playing a mentally unstable superhero is no small task, and Keller is surrounded by a talented cast that includes Stevens and Parks and Recreation's Aubrey Plaza. I'm pretty confident she'll stand out.
The character herself is named after the founding member of Pink Floyd — another non-surprise, considering that Hawley mentioned he wanted the music of the show to sound like the band's 1973 album "Dark Side Of The Moon." Syd is a fellow patient at the mental hospital that David is in. Like David, she's also isolated, and she has a fear of being touched. But as we will eventually learn, she isn't your average type of mutant — and, naturally, David falls for her. But, her fear of being touched makes sense when you consider her powers. Hawley told Entertainment Weekly about her abilities, saying, "if she touches your skin she trades places with you, her mind goes into your body and the other way around." Trippy.
Will we see a romance between David and Syd? Keller teased her character's relationship at the Television Critics Association winter press tour, telling The A.V. Club this about her character:
"Syd came as a loving, hopeful, naive voice for David as he's doing his self-discovery. As you look back into your past and look at those things about yourself that you've been told and maybe believe, how does that translate when you're falling in love with someone? How does that work with someone you're falling in love with when they have such boundaries that you can't touch them? That gets my imagination running. How do they build a relationship? What does that friendship look like? How do you stay with someone that is maybe not so well right now?"
Relationships are hard enough when you have "normal" communication issues. But when two people are dealing with their own manifestation of powers that aren't quite normal, it's a bit more complicated. Based on early reviews, it seems like we'll see Syd's powers unfold over the eight episode series the more she explores how she feels about David, which definitely makes her story interesting. And seeing as to how Syd is a newly created superhero, I can't wait to see how she fits into the Marvel universe.