Kim K's New Fragrances Are An Ode To The Items That Helped Her Heal After The Paris Robbery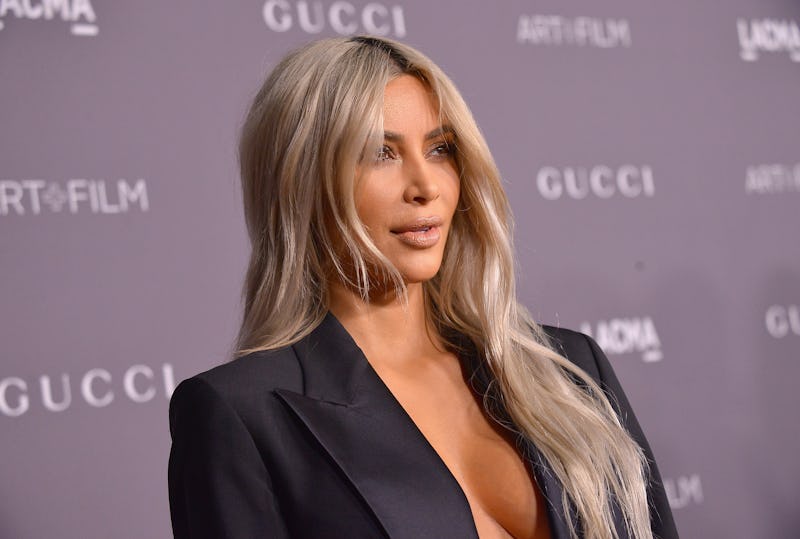 Charley Gallay/Getty Images Entertainment/Getty Images
It's no secret that the Kardashians love beauty. Kylie Jenner may have started the worldwide frenzy for liquid lipsticks, but it was her big sister that's keeping the beauty business trend going. Now, Kim Kardashian has released three fragrances for KKW Fragrance, and they were all inspired by the crystals that helped her heal after she was robbed in Paris.
Odds are that you've already heard of KKW Beauty. But just months after launching the beauty behemoth, Kim Kardashian's first perfumes under KKW Fragrances have made it into the world. The social media star created three different KKW Fragrances to kick off the business — Crystal Gardenia, Crystal Gardenia Oud, and Crystal Gardenia Citrus. All of the scents are available right now on the brand's website.
At first glance, it looks like Kardashian is just addicted to entrepreneurship, but it actually goes a lot deeper than that. According to PeopleStyle, the inspiration for Kardashian's KKW Fragrances came from trying to heal after she was robbed at gunpoint in Paris in October 2016.
"It all started when everyone would come over and bring me healing crystals at a time in my life where I needed some healing," Kardashian said in the PeopleStyle interview.
"I really loved the idea of being so pure and taking that time to do what makes you happy and heal from everything you have going on in this crazy, chaotic life," she told the publication. "I just wanted to create fragrances that made me feel happy and calm."
It's worth noting that these are just perfumes though. It doesn't say anywhere on the website, not does Kardashian claim, that it contains actual crystals or has any healing properties. The only thing that goes along with the name is, well, the crystal shaped, non-standing bottle.
The fragrances are all a mix of her favorite flowers — gardenia and rose. No, not peony, despite the fact that she had a wall of them delivered to her for Mother's Day in 2014. She might have gotten the flower mixed up when she gave the first fragrance hint to her Instagram followers, but she nailed down her favorite fragrances.
"Gardenia is my favorite scent, so I wanted different variations of that," she told PeopleStyle. "So I wanted to put three out, and I love how they turned out."
Crystal Gardenia, the white bottle, has notes grapefruit, pear and water lily as the top. Crystal Gardenia Citrus, the pink bottle, has pops of passionfruit and lemon, while the last fragrance Crystal Gardenia Oud comes in a tan-tinged bottle and has notes of woodsy scents like oud and amber. According to the PeopleStyle interview, each one of the scents were designed with a different region of the world in mind.
Each one of the crystal-shaped bottles are available for purchase right now on the KKW Fragrance website right now. As far as price goes, you have a few options. You can stock up on the 75 ml bottle for $60 each or get the 30 ml for $35.
There's no word on whether there will be more fragrances from the social media star or if she'll be holding off for a while after this limited edition collection sells out. Either way, it's nice to see that Kardashian is taking her passion for crystals and using it to make other people's days a little brighter — or better smelling.
Kardashian's brand isn't the first one to latch onto the crystal trend, and it certainly won't be the last. But the meaning behind the perfumes is sure to inspire you to champion this launch.