Here's What The Real Women Of 'GLOW' Have Been Up To 28 Years After The Show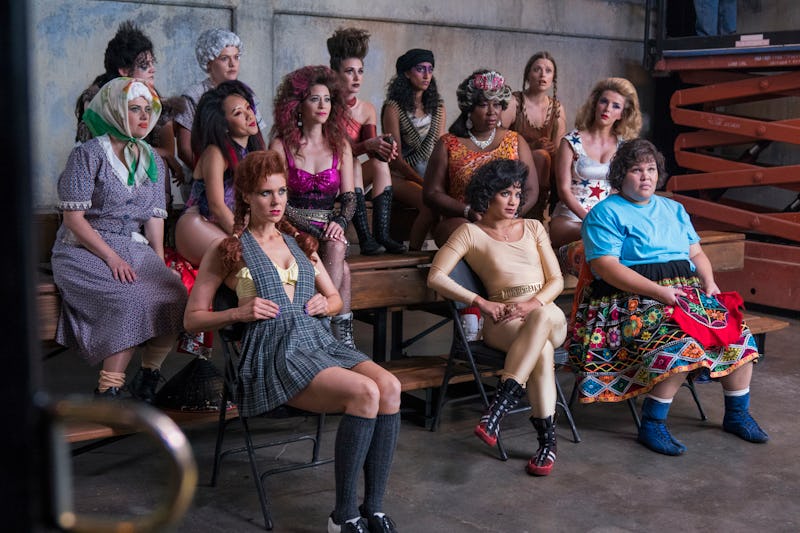 Erica Parise/Netflix
Netflix's GLOW is fictional, yes, but it's based on both a real television program — GLOW: The Gorgeous Ladies of Wrestling — and inspired by real characters. Season 2, which returns to Netflix on Friday, June 29, promises to be filled with just as much glitz, glamour, and faux-gore as the previous season. As for where the original GLOW wrestlers are now, their paths have stretched in a number of different directions, both in the ring and out.
The Gorgeous Ladies of Wrestling premiered in 1986 and would only be on the air until 1990. But its outrageous characters and bad rap intros cemented themselves in the minds and hearts of fans. In addition to the ones mentioned below, GLOW's characters also included Little Egypt (Angelina Altishin), Liberty (Penelope Johnson), Godiva (Dawn Rice), and Big Bad Mama (Lynn Braxton), among others.
And while the show lasted a mere four years, many of its stars are still — understandably — trying to bank on their '80s wrestling personas. But not all of them. At least one has tragically passed away. Some are dealing with health issues, while others have been mysteriously low-profile. To catch up with everything the stars of the real GLOW have been up to and to learn more about the original show, viewers can watch Brett Whitcomb's 2012 documentary GLOW: The Story of The Gorgeous Ladies of Wrestling.