Why You're Seeing Pink Hats At The Women's March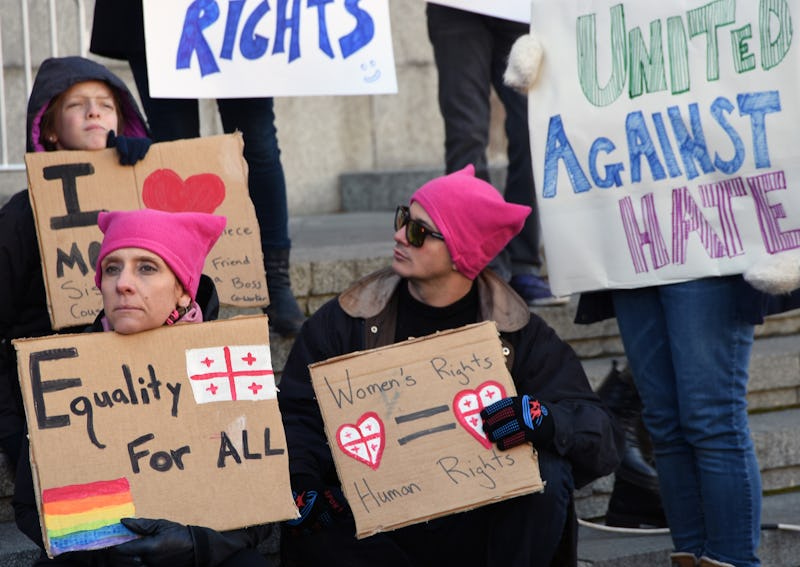 VANO SHLAMOV/AFP/Getty Images
Jan. 21, 2017 — the day after Donald Trump's inauguration — marks the date of the Women's March on Washington. People are gathering in historic numbers to make their voices heard. Whether you're there or just watching from the live stream, you might be wondering what those pink hats are that you've been seeing around social media and on the ground. It's not a coincidence that so many people are wearing this accessory to the march. Here's everything you need to know about the pink hats at the Women's March.
In case you've been living under a rock, here's the deal with the Women's March. More than 200,000 people are estimated to be meeting in Washington, D.C. for an historic event. The peaceful protest hopes to bring people together to show the Trump administration that women in this country will be heard. While signs and megaphones are a great way to draw attention, many women are speaking out with their hats are as well.
According to the official social media page, the pink Women's March hats are called Pussy Hats. The Pussy Hat Project started on Thanksgiving weekend — around when planning for the Women's March also began. The idea was to turn knitting into activism and have a distinct color for the Women's March. Since the start, the group has collectively sewn, crocheted, and knitted 1.17 million hats and given them out for people to wear at the official march in D.C. as well as sister marches across the country.
If you're at the Women's March, there's a way to get a Pussy Hat even if you didn't make one ahead of time. According to their social media page, the group has set up a stand near 3rd and Independence Street. The best part is that the hats won't cost you a dime. The group is only asking that you tweet them who you're walking for.
The Pussy Project has completely taken the Women's March by storm. People on social media are showing their support by posting selfies in their hats and sharing their own stories to why they are marching. It's incredible to see how one idea has come so far.
Something tells me that the pink hats will be living on even after the Women's March!