Rachel Thinks She Made A Mistake On 'The Bachelorette'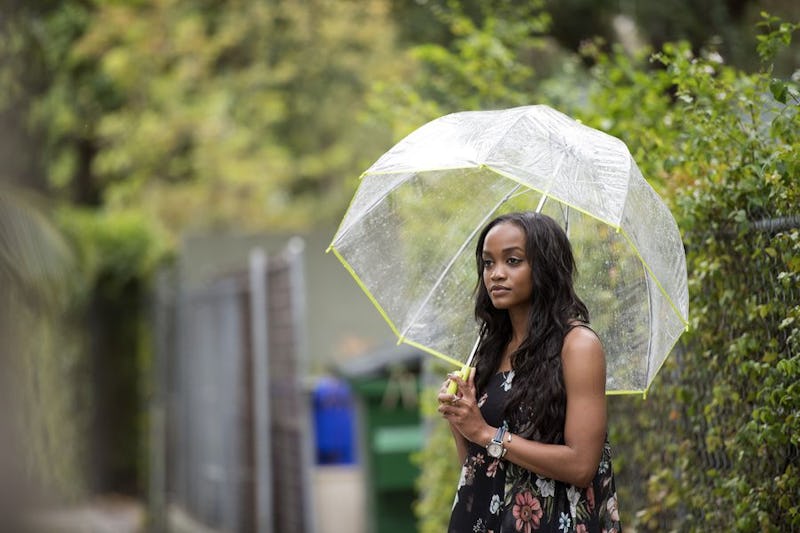 Rodrigo Varela/ABC
It's hard to believe, but there are now only three contestants left standing on The Bachelorette: Eric, Peter, and Bryan. After Monday night's hometown dates, Rachel made the hard decision to send Dean home so she could continue her journey, and that journey includes even more hard decisions... even one that she thinks she might have messed up, according to what she said in the promo for next week's episode. So what big mistake does Rachel think she's making on The Bachelorette? At this point, it could be anything.
There are a lot of tough calls in Rachel's future, and with that comes the risk of regret. It seems like the most obvious reason she might be upset is because she sent home the wrong person, although it's pretty unclear who she's talking about. Is she regretting sending Dean home, or is she talking about whoever gets eliminated after the fantasy suite dates?
And of course, there's the chance she's talking about something else entirely — maybe something she did or said to one of the men that she can't take back. There are so many possibilities that it's pretty much impossible to make a guess without seeing the episode itself.
But even so, let's remember one thing: Bachelorette promos are often far more dramatic than the actual episodes turn out to be. It sucks that Rachel is crying, but there's a fair chance the "mistake" she's talking about doesn't have to do with her guys at all, or that it's something completely different from the way the clip makes it look right now.
No matter why she's upset, though, it's definitely going to be an interesting episode with loads of drama. Choosing which two men will attend the final rose ceremony has to be incredibly nerve-wracking, but from what we know about Rachel so far, she seems prepared to make the best choice for her.