You Could Now Be Prescribed Medical Cannabis If You Live With These Conditions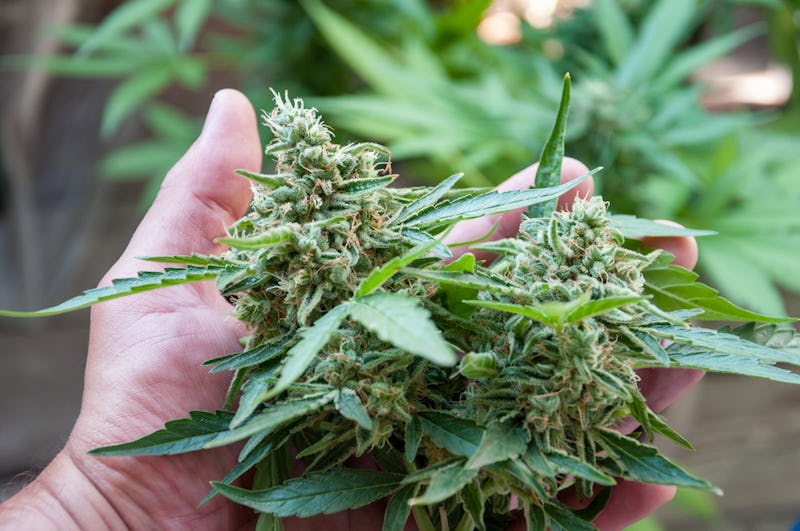 bondgrunge/Shutterstock
On November 1, a change in the law came into force enabling doctors in England, Scotland, and Wales to prescribe medical cannabis. As the BBC reports, it can only be prescribed by specialists, when other treatments have failed — and it's likely to only be available to a limited group of patients. Campaigners have criticised the change in the law, calling it "restrictive" and suggesting that only a small amount of patients will actually benefit. So what can medical cannabis be prescribed for in the UK, and why do some people think the change to the law hasn't gone far enough?
According to a government report, the law change does not restrict the conditions for which medical cannabis can be prescribed; what's more, doctors wishing to prescribe it no longer need to consult an expert panel. However, only specialist doctors can offer it, and the NHS suggests it will probably only be available in the treatment of three conditions: childhood epilepsy, nausea caused by chemotherapy, and multiple sclerosis (MS).
Home secretary Sajid Javid told parliament, as the Guardian reports, "I have been clear that my intention was always to ensure that patients have access to the most appropriate course of medical treatment." He added, "I have been consistently clear that I have no intention of legalising the recreational use of cannabis."
The condition at the forefront of the campaign to legalise medical marijuana was childhood epilepsy: specifically, the cases of 13-year-old Billy Caldwell (pictured below with his mother, Charlotte Caldwell) and 7-year-old Alfie Dingley. Both children have severe epilepsy, the BBC reports, and were initially prevented from using cannabis oil treatments that helped improve their condition. Subsequently, they were given licences to access cannabis oil.
According to the NHS, doctors can now prescribe a medication containing cannabidiol (CBD), a medically-beneficial compound found in cannabis. Epidiolex, which is going through the licensing process in the UK, can be prescribed to children with two types of severe epilepsy: Lennox-Gastaut syndrome and Dravet syndrome.
But some have suggested the guidelines are too restrictive — including Alfie Dingley's mother, Hannah Deacon, who told the BBC that other patients wouldn't be able to access her son's treatment because it hasn't been subject to scientific studies. "It's absolutely gutting and not what my campaign was about," Deacon said. Spokespeople for Sajid Javid and the Home Office have not yet responded to a request for comment.
Patients experiencing nausea as a result of chemotherapy, meanwhile, will be able to access a licensed medication: Nabilone, a capsule that mimics the impact of tetrahydrocannabinol, or THC. Sativex, or Nabiximols, a treatment for muscle stiffness caused by MS, has also been licensed in the UK — but the mouth spray is rarely prescribed, as the National Institute for Health and Care Excellence says it isn't cost effective.
Genevieve Edwards, director of external affairs at the MS Society, told the BMJ (originally the British Medical Journal) that the law change makes "quick access to cannabis treatments much more limited than we were led to believe." She added, "We're really concerned that nothing will change in the short term for the one in 10 people with MS who could get relief from pain and muscle spasms by using medicinal cannabis."
Those with other conditions or symptoms, such as Crohn's disease or chronic pain, have also criticised the guidelines on prescribing medical cannabis. Greg de Hoedt, a medical cannabis activist who has Crohn's, told the BMJ, "This is not the medical cannabis that we've been campaigning for. It's a sleight of hand."
And Alex Stevens, who belongs to the government's Advisory Council on the Misuse of Drugs, called the law change "a missed opportunity to reduce suffering," arguing that "very few people will benefit" under the new guidelines. He added, "Many of the people who want to use cannabis to ease their pain or treat their symptoms will still have to commit crime to get it."