Here's What Trump Reportedly Told The Russians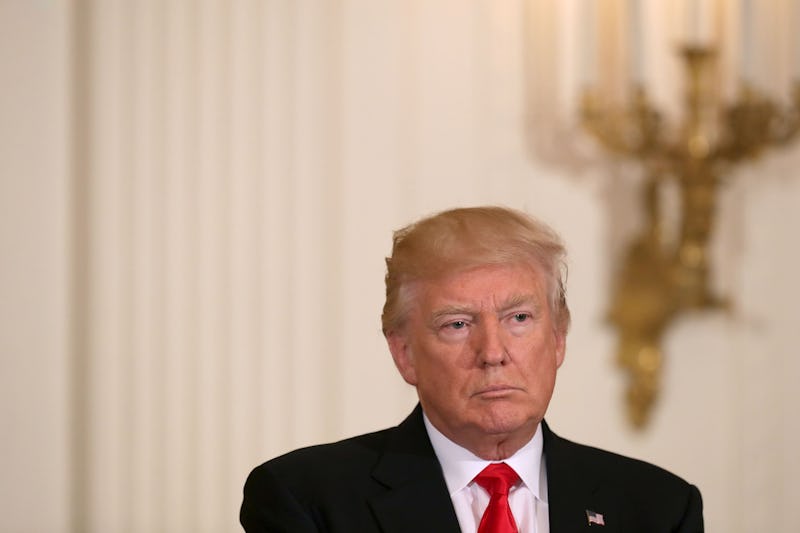 Chip Somodevilla/Getty Images News/Getty Images
On Monday, the Washington Post reported that President Trump shared highly classified information with the Russian government during a recent Oval Office meeting, jeopardizing a critical U.S. intelligence source in the process. The White House denied the allegations, calling them false. Although we still don't know precisely what classified info Trump shared with Russia, the Post described the gist of it, and it's not pretty.
According to the Post, Trump revealed several things to Russian Foreign Minister Sergei Lavrov and Russia's ambassador to the U.S., Sergey Kislyak, when the two visited the White House in early May. The president reportedly told the Russians details of a terror plot by the Islamic State, one that involves the use of laptops on airplanes. Sources told the Post that the United States learned of this plot through a highly secretive intelligence-sharing arrangement, the details of which America's allies aren't even fully aware. Trump also reportedly revealed the name of the Middle Eastern city in which the intelligence source learned of the ISIS plot.
It's unclear who precisely passed the information along, but according to the Post, the source didn't give the United States permission to share details of the intel with the Russians. As such, the disclosure potentially threatens America's ability to receive future intelligence from that source.
"If that partner learned we'd given this to Russia without their knowledge or asking first, that is a blow to that relationship," a U.S. official told the Post.
In addition, Trump reportedly described steps the United States "has taken or is contemplating" to address the threat, including military action.
That's about all we know, however. The Post said that it opted to withhold most of the details about the Islamic State plot, as officials told them that revealing such information could further imperil America's ability to receive such intelligence in the future. That's probably for the best, but as a result, the bulk of the details about Trump's alleged disclosure to the Russians is, for now, a mystery.
If the White House's reaction to the disclosures are any indication, though, whatever Trump did say was a big, big deal. According to the Post, Trump adviser Thomas Bossert called the heads of the CIA and the NSA after the meeting to alert them about what the president had said, while one of Bossert's subordinates called for Trump's comments to be struck from internal memos regarding the meeting.
It doesn't seem like things have looked up since then, either: After the story broke, a senior aide likened the mood at the White House to "a morgue," according to the Daily Beast. The Trump administration isn't in a good spot, and until there's some more clarity on exactly what happened in that meeting, it's hard to see how that will change.