Kim K Just Wore Green Contacts & She Looks COMPLETELY Different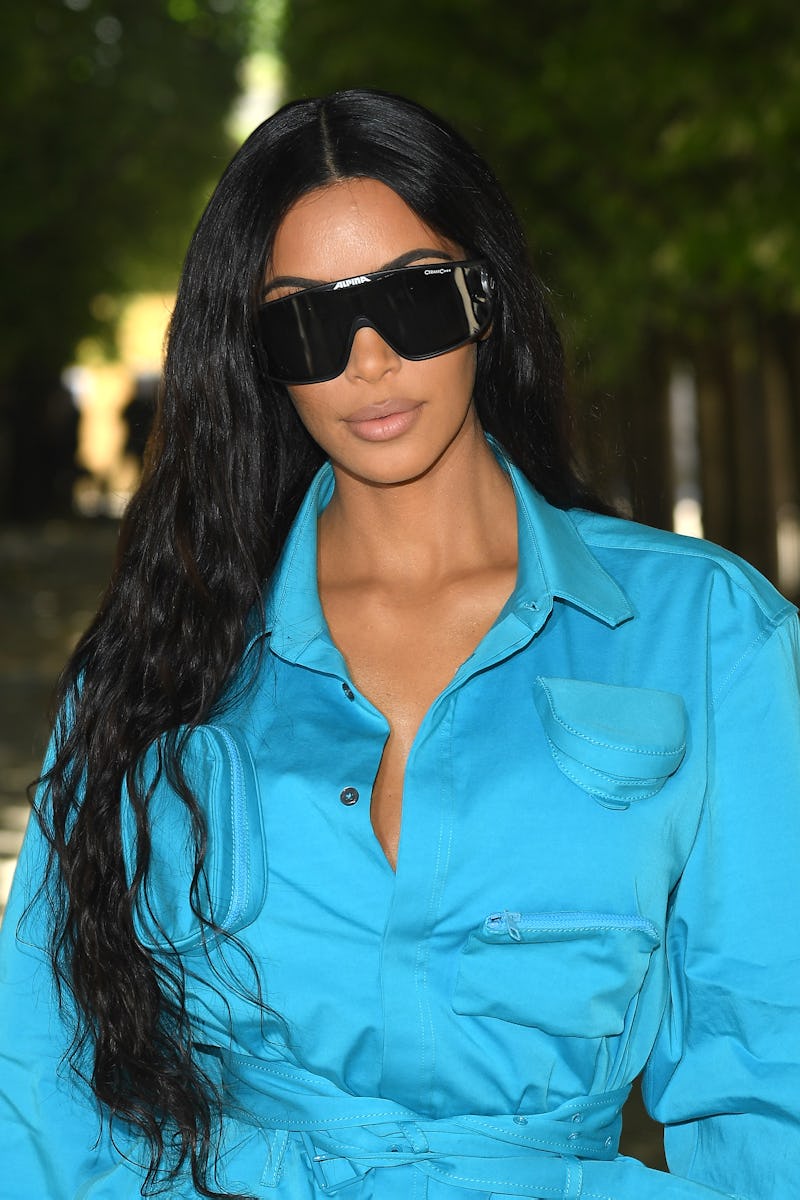 Pascal Le Segretain/Getty Images Entertainment/Getty Images
The Kardashian and Jenner women are known for changing their looks. From donning multiple multi-colored wigs —hey, Kylie! — to having a major hair transformation like Khloe, they like to switch things up on the regular. Now, Kim Kardashian's green contacts are going to have you trying to remember what color her eyes actually are. Obviously, they're not green.
On Wednesday, Kardashian posted a selfie to her Instagram account like, well, pretty much every other day of her life. This one, however, was a bit different. Kardashian's eyes were a brilliant green, and she was seriously working the look with a smize even Tyra Bansk would appreciate. In her signature nude and bronze hued glam, Kardashian totally pulled off the contacts like a champ, a beauty champ.
As for what Kardashian was doing or planning to attend while wearing the green contacts? There's really no way to know. According to her Instagram story, she seems to be on vacation with her family. She even posted an adorable video of Saint dancing in his chair while eating what seems to be the ultimate kids' meal of chicken tenders and fries. While undoubtedly fun, it doesn't seem like the type of event that requires her typical glam and special green contacts.
Regardless of why she was wearing them, though, the fact remains that they're kind of bomb on Kardashian.
This isn't the first time a of member of the Kardashian and Jenner clans have donned contacts, though. Kardashian's younger sister Kylie Jenner has been known to rock colored contacts in the past as well. Not only has she posted selfies in them, but she's also posed with her other sister Kourtney Kardashian while wearing them as well.
While Kardashian may have taken a note from her little sister with the color, this actually isn't the first time she's worn colored contacts. It's just that she used her last set to enhance her natural eye color. What exactly is her natural eye color, though? Mega-fans of Kardashian's will probably already know that she's got gorgeous brown eyes.
At the 2018 Met Gala, her stunning black smoky eye was enhanced by vibrant honey brown contacts. The look was ultra-memorable and actually inspired a wave of YouTube recreations.
In fact, colored contacts may just be a thing for the West family. While the 2018 Met Gala was the first time that Kardashian wore colored contacts to the event (that fans know of), it's not the first time a member of the West family has.
Back in 2016 at the Manus x Machina Met Gala, Kanye West sported a pair of brilliant blue contacts that perfectly matched both the theme and he and Kardashian's ensembles. Clearly, colored contacts aren't exactly a foreign concept to this fashionable family.
While Kardashian didn't reveal why exactly she was wearing the contacts, it's hard to deny that they look gorgeous on the KKW Beauty mogul. Let's be honest, though, she is Kim Kardashian. Her glam is always on point.
If you're thinking of copping the look, though, be careful. Color contacts without prescriptions can be dangerous so be safe while trying to emulate Kardashian's green eyed beauty look.