The LORAC x 'POTC' Eyeshadow Palette Is Ace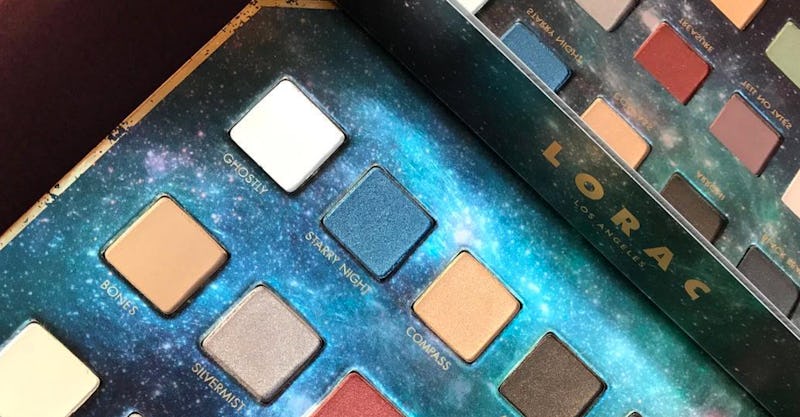 Forget pirate booty! It's all about pirate beauty, thanks to LORAC. Johnny Depp's Captain Jack Sparrow has some killer smoky eyes. If you want to recreate his sooty, smoky guyliner look, well, you can, thanks to the new LORAC x Pirates of the Caribbean Collection, which includes a stellar eyeshadow palette, a highlighter palette, and dual-ended lipstick x gloss hybrids.
The brand teased the LORAC x Pirates range, which is releasing alongside the promotion of the Dead Men Tell No Tales, the latest swashbuckling, high seas summer blockbuster, a few weeks back. Now, we can open this veritable makeup treasure chest and gawk at the shades in the shadow palette and beyond. They are gorg!
The LORAC x POTC eye palette boasts 18 shades in the brand's luxe PRO formula, along with an eye pencil. Of course the shadows have cute, pirate-inspired, and seafaring names like "Black Pearl," "Sea Haze," "Starry Night," and "Lost at Sea." The shades run the gamut from sparkly blue to matte mocha, bright white, and more. You can create a variety of summer smoky eye looks with this palette.
There is also a blush x highlighter palette, with six pans of skin-illuminating product, as well. They were inspired by heroine of the sea Carina Smyth and will assist you in getting a pretty glow. You'll look as though you've been living by the sea all summer.
What a collection of cool colors! I can't decide which element I like best — the nautically-influenced names of the shades or the hues themselves.
Six circular pans comprise the blush and highlighter palette.
These babies have lipstick on one end and gloss on the other because #layers, #options, and #customlooks. The shades compliment one another beautifully.
Squad goals! The LORAC x Pirates of the Caribbean Collection has all your features covered. This is quite a haul of beauty booty.