Kim K's Newest Product Comes In 5 Shimmery Colors & You'll Want Every One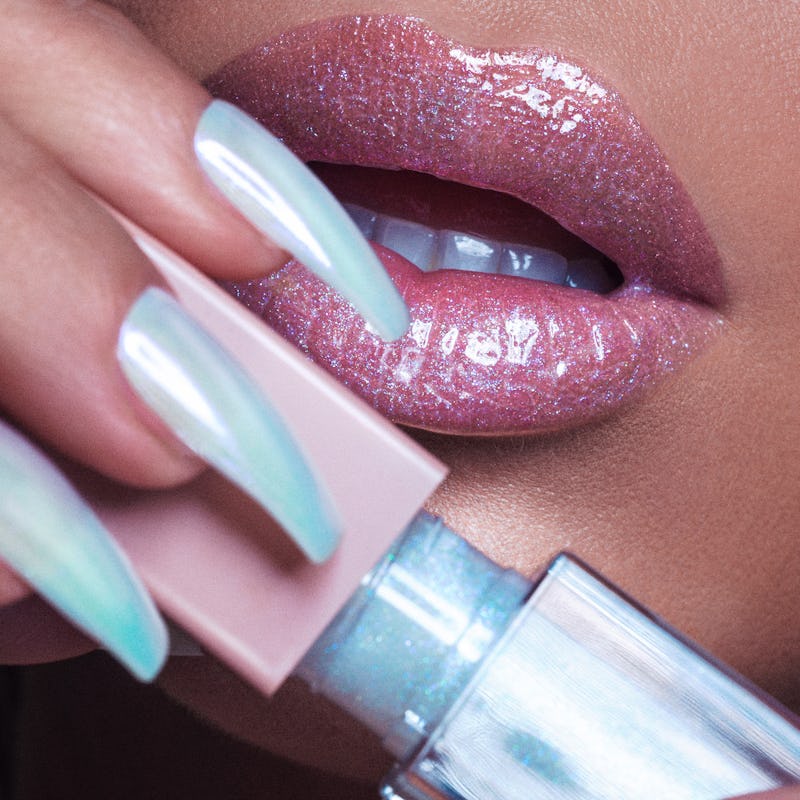 Courtesy of KKW Beauty
After sending beauty guru Huda Kattan the very first set of shiny highlighters and glosses, Kim Kardashian has finally announced her Ultra Light Beam Collection. As the name suggests, the products are as shimmery as you could believe. Each products comes in five corresponding colors that work for a variety of skin tones. Here's the shade break down, from the beauty creator herself, so you can plan your holiday shopping accordingly.
Kardashian is moving on from standard face products and onto something very sparkly with her Ultra Light Beam Collection. The five powder highlights and glosses are completely different than anything you've seen from the brand before. I'm talking glittery without chunky glosses and mega-shine without being tacky highlighters.
The highlights and glosses both come in the same five shades. There's Iridescent (an opalescent pearl), Rose Gold (a light rose gold), Yellow Gold (a light gold), Copper (a rosy copper gold), and Bronze (a warm gold bronze).
"I like the bronze and the gold the best," Kardashian tells Bustle. "The rose is really pretty, too."
You'll be able to shop the products as duos for $32 or in the ten-shade bundle for $160. That breaks down to just $16 per product. Along with the major savings, it will also make one heck of a holiday gift.
According to Kardashian, there's more than one way to wear them too.
"I love making the highlighters wet and then applying it — it makes it really intense," Kardashian says. "And you can even apply the gloss on top of the pigment to have a really intense wet eye if you wanted a richer glitz."
The shine of these glosses is pretty darn incredible. Like I said before, they give off a great iridescent shine wihtout being chunky. Whether you're pairing them with a lip color or wearing them on their own, you're going to get the shine that you're looking for.
"The lip glosses are pretty sheer, so they have speckles of pigment in it and like a little bit of the glitter, so they look just like a juicy lip" she says. "They don't look like they have tons of full coverage. They are pretty sheer. When I'm at home, I do love to wear a sheer, kind of glitzy lip."
There you have it. These are perfect for walking around the house or upping your holiday shine level. Everything that Kardashian has made so far have turned into bestselling products, and there's no doubt that the Ultra Light Beam Collection will be, too.
The highlighters, as you probably already imagined, pack just as much of a punch. The loose powders are meant to be worn wet or dry.
"As far as color is concerned, I've always worn highlighters, in the inner corners of my eyes, down my nose, on my cheeks," she says. "I wear it as eyeshadow. Mario and I are obsessed with highlighter, so we made five really beautiful colors. I felt like I wanted something glitzy for the holidays and if I was going to venture off into something, I thought a glitzy lip and eye would be exactly what I would want. "
The colors are perfect for blending and mixing-and-matching on the eyes, cheeks, and nose. The colors all look gorgeous together, which is just another reason to stock up on the set of ten.
The shimmery cheek trend isn't going anywhere anytime soon. People have found even more ways to embrace the sparkle, and Kardashian's products prove that. Grab your wallets, because these products are going to go fast.