Apple's Cheaper iPhone XR Will Come In Six Colors, Including Coral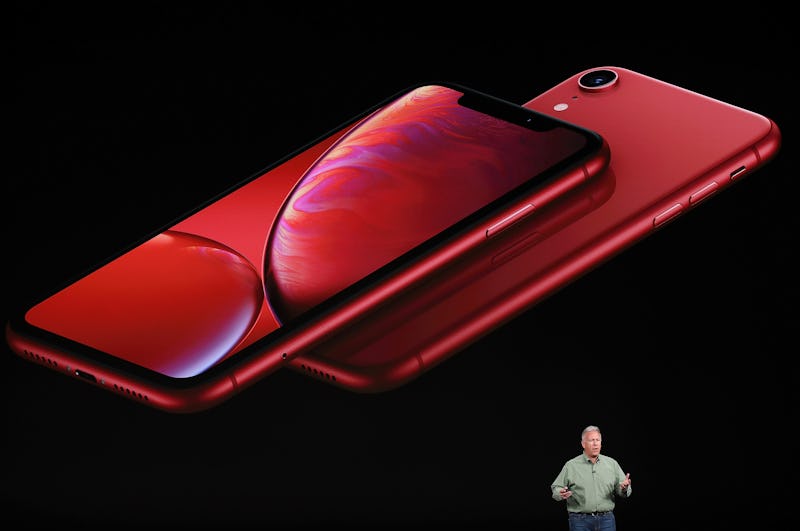 Justin Sullivan/Getty Images News/Getty Images
If you're one of the many iPhone users who kind of miss Apple's 2013 iPhone 5C because it came in a ridiculous amount of colors (remember that blue? That was a good blue), good news: The iPhone 5C may be outdated, but Apple is bringing back at least a little of the 5C spirit in its newest batch of iPhones. During its September keynote conference on Wednesday, Apple announced three new iPhones to expect in the coming months: The iPhone XS and iPhone XS Max — both of which are upgrades of last year's iPhone X — and the cheaper iPhone XR. While the iPhone XS releases will only come in a few standard colors (gold, silver, you get the idea), the cheaper iPhone XR will take some inspiration from the iPhone 5C and be offered in a myriad of color options. So, what colors does the iPhone XR come in?
Well, for starters, there's more than three options unlike with the iPhone XS. As revealed during the September keynote, the iPhone XR will be offered in a total of six colors: Yellow, blue, coral, black, white, and Product (RED) — the latter of which will be in partnership with the non-profit organization that raises money to fight the HIV/AIDs crisis in Africa.
While the colors aren't anything we haven't seen before in an iPhone — the iPhone 5C, RIP, was also offered in shades like yellow, blue, and coral — it's still an exciting development in a world where millennial pink is still dominating the apartment aesthetics of anyone below the age of 35. Sure, colors like gold, silver, and space gray are timeless, but something like a smartphone isn't — so it doesn't really need to come in a timeless color anyway. I mean, I'm probably going to have to replace the phone in a couple of years, so let me buy it in some outrageous shade of coral if I want to!
With the six color options and its more affordable price point — $749, versus $999 and $1,099 for the iPhone XS and iPhone XS Max, respectively — it's clear that Apple intends for the iPhone XR to be, in a way, the ~fun~ release of the bunch. Sure, it won't carry all of the high-tech upgrades that the iPhone XS and iPhone XS Max will, like that super retina screen, but its lower price point will open the iPhone X family to a new group of buyers looking for a phone with impressive features and a sleek design that won't drain their savings account (or make them cry if they accidentally break it and end up needing a new phone). As with all iPhones, the new releases will be available for purchase through monthly payments, as well as with one single payment.
If this news is exciting you as much as it's exciting me (aka a lot), the iPhone XR will be available for pre-order on Oct. 19, before officially hitting the selves on Oct. 26.