ColourPop Is Now At Ulta & Here's Every Single Product You Can Buy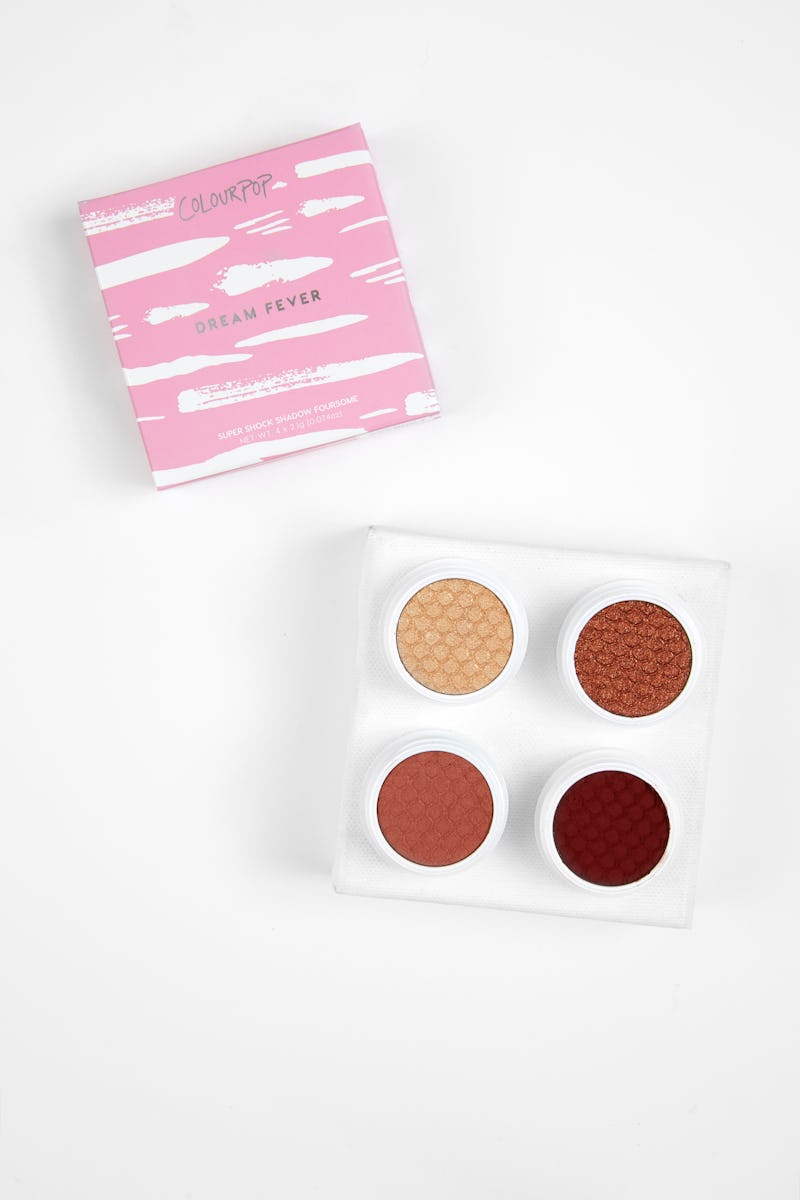 Courtesy of ColourPop
ColourPop keeps poppin'. The beloved, L.A.-based indie brand, acclaimed for its trendy products, affordable prices, and quality offerings, continues to expand and widen its availability. After months of speculation, ColourPop products are now available at Ulta. The partnership will include Ulta-exclusive products, such as palettes and lip bundles.
The brand only recently expanded into brick and mortar stores via Sephora late last year. Now, you can stock up on ColourPop items via Ulta boutiques and the retailer's site. Of course ColourPop's assortment remains available via the brand's own site, which long served as its primary sales platform.
For ColourPop lovers, the notion of being able to play with and swatch the products IRL is a major deal. Since ColourPop has expanded its suite of products to include concealer and other skin tone-focused products, being able to test the offerings before purchasing is essential.
Many of ColourPop's best-sellers, including the the ultra pigmented Super Shock Eyeshadows and those "stay put" Ultra Matte Liquid Lipsticks, are now sold via Ulta.
"We're thrilled to enter Ulta Beauty doors and bring the ColourPop experience to a new set of beauty lovers," ColourPop co-founder and president Laura Nelson said in a press release received by Bustle.
Nelson furthered, "As ColourPop continues to expand and branch out into new product categories, specifically in the complexion space, we wanted to provide an in-store experience that allows consumers to experiment and play in real life with our portfolio of cult favorite products for the first time."
Below is the assortment of ColourPop products now at Ulta. Basically, this is what your next Ulta haul could look like.
1. Super Shock Shadows
The $5 Super Shock Shadows are a creme-to-powder formula packed with pigmentation and shine. Amaze is a peachy gold that looks amazing as a wash of color on lids or along the brow.
Lace offers a bold pop of deep purple. Other shades available include Bae (rich eggplant purple with blue glitter); Cheap Date (true gold with silver glitter); DGAF (medium-toned rusty brown with gold glitter); So Quiche (soft olive with violet and gold sparkles); Lightning Bug (glittery golden copper), Melrose (matte true rust); Set to Stun (icy rose with blue glitter); Nillionaire (bronze with pink and gold ultra-glitter); Stereo (blackened purple with gold and pink glitter); and Sailor (warm beige with multi-colored glitter).
2. Super Shock Highlighters
The Super Shock Highlighters, which are $8 a compact, boast a long-wearing, creme x powder formula that is buildable and blends smoothly. Your cheeks will rock that healthy glow. Wisp, pictured above, is a golden, pearly champagne shade. Three additional colors are now at Ulta: Lunch Money (soft light gold); Flexitarian (intense white champagne); and Avalon (true copper).
3. Ultra Matte Lips
The Ultra Matte liquid lippies helped established ColourPop as an Instagram-loved brand. The color payoff is ace, while the matte finish doesn't cake nor does it transfer. Fresh Cut, pictured above, is a bright mauve that works on all skin tones.
Creeper is a classic blue red for anyone ISO the perf red lippie shade.
The Ultra Mattes cost $6.50 a tube and the other available colors are as follows: Avenue (dark) blood red; Bumble (warm rose); Tulle (deep dusty burgundy); LAX (vampy red); Beeper (greige rose); More Better (deep wine); Mama (burnt orange); Love Bug (rich mahogany); Sunday (soft dusty pink); and Limbo (deep chocolate brown)
4. Palettes
The Element of Surprise Shadow Palette is $16 and includes all four finishes — matte, metallic, satin, and duochrome. Colorfully accented and dramatic smoky eyes are so in your future.
The Double Entendre Shadow Palette is also $16 and holds 12 pans of excellent, everyday neutrals. This will be your new "go to" for daily wear.
5. Foursomes
The First Charmer Foursome is $18, an Ulta exclusive, and combines four neutral Super Shock shadows for easy, custom looks. There's Truth (satin neutral light beige); Fluffy (warm gold with subtle pink duochrome); Brady (soft matte dusty rose); and Seeker (warm matte reddish brown)
The Dream Fever Foursome is also exclusive and $18. It boasts warm nude Super Shock shades. It includes Jinxie (soft pearlized gold); Hello Goodbye (rich copper with gold glitter); Elixir (matte terracotta); and No Promises (deep brick red). Everything you need for quick, bronzed, and metallic smoky eye is under one roof.
6. Bundles
This exclusive lippie bundle is $16 and offers three formulas. It features Tight Fit Ultra Glossy Lip (light peachy pink metallic with pink shimmer); Echo Park Ultra Satin Lip (warm peachy nude); and Top 8 Ultra Matte Lip (rosy brown).
Just like the Wicked Trick collection, the Trifecta Lip Bundle is exclusive priced at $16. It's all about nude lips, with My Jam Ultra Glossy Lip (sparkly golden nude metallic; Reign Ultra Satin Lip (warm caramel); and Knotty Ultra Matte Lap (light warm peach).
This is just the beginning of the beautiful ColourPop x Ulta partnership. There's too much to love.
Did you know that you can find Ulta Coupons at the Bustle Coupons page? Bustle Coupons is a service provided by Groupon in collaboration with BDG Media, Inc. Each time you use a coupon or promo code from Bustle Coupons to make a purchase, Groupon and BDG Media, Inc. earn a small commission. This article was created independently from Bustle's sales department.