Trump & Turnbull Had A Tense Call About Refugees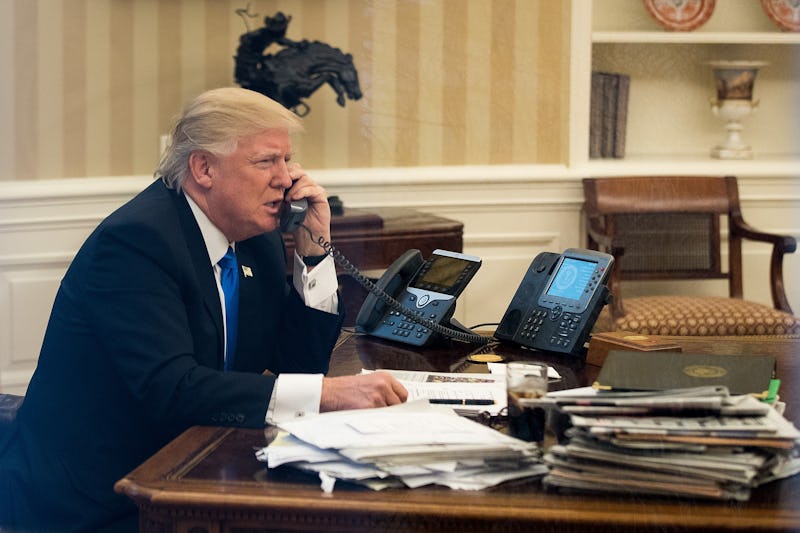 Drew Angerer/Getty Images News/Getty Images
This week, President Trump held phone calls with several foreign leaders, including Australian Prime Minister Malcolm Turnbull. Trump's call with Turnbull has been receiving fairly widespread attention in the media for its supposedly tense nature. So, what did Trump and Turnbull talk about that caused so much apparent tension? Seemingly, they discussed an existing refugee agreement between the United States and Australia that could be an exception to Trump's temporary refugee ban.
According to a detailed report by the Washington Post, during his phone call with Turnbull, Trump was reportedly not hesitant to let the Prime Minister know his thoughts on the refugee agreement between the United States and Australia, which was created under the Obama administration. These details come from senior U.S. officials who were briefed on how the call unfolded.
The refugee agreement guaranteed that the United States would agree to accept up to 1,250 refugees who are currently being housed in an Australian detention center in Papua New Guinea. The Trump administration seems to have been aware of the existence of this agreement and indeed accounted for it with a "special provision" in Trump's executive order. However, the president later went on to tweet that it was a "dumb deal" and said he would "study" it. And in case you want to read the entire comment, here is exactly what he wrote:
Do you believe it? The Obama Administration agreed to take thousands of illegal immigrants from Australia. Why? I will study this dumb deal!
Officially, neither Trump nor Turnbull have characterized the call negatively, though Trump did post a tweet criticizing the refugee agreement. The White House officially stated that the call between Trump and Turnbull "emphasized the enduring strength and closeness of the U.S.-Australia relationship that is critical for peace, stability, and prosperity in the Asia-Pacific region and globally." In his description of the call, Turnbull was not as descriptive, but did say "That the "[Refugee] assurance was confirmed by the President's spokesman in the briefing room of the White House ... And our respective officials, are continuing to work on the implementation of the arrangements. That's the position." He also reassured the public that the relationship between the United States and Australia remained solid.
Overall, Trump's call with Turnbull once again indicates that, as a leader, Trump can be unpredictable. Only time will tell if he will alter his interaction style as his presidency moves forward.