Fox News Was Forced To Delete This Tweet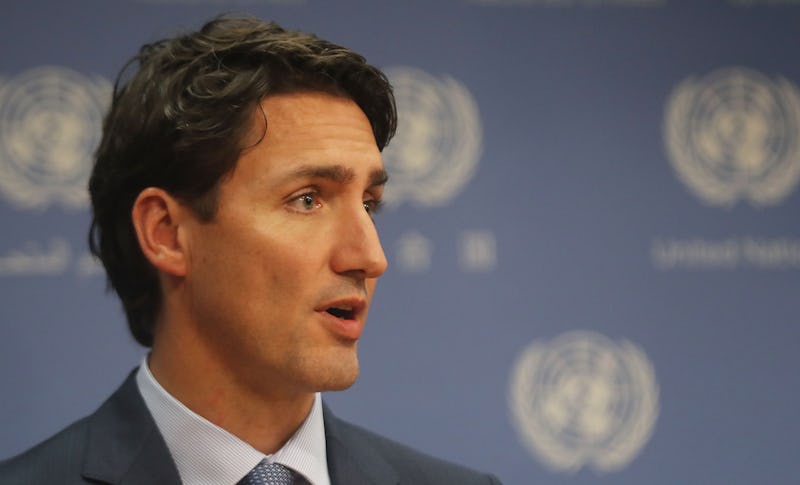 Spencer Platt/Getty Images News/Getty Images
On Sunday, a 27-year-old Canadian student entered a mosque in Quebec and proceeded to open fire on the Muslim congregants who had gathered there for prayer. Six people were killed and another 19 injured in the attack, designated as terrorism by Prime Minister Justin Trudeau.
Initial reports indicated there were two suspects — a native Canadian and a Morrocan-born man. However, further investigation soon revealed that there had been only one shooter, and that he was not foreign-born. Regardless of that fact, Fox News left unedited a tweet falsely claiming that the shooter had immigrated from North Africa. But after the intervention of the Prime Minister's administration, Fox News has at last been persuaded to remove the misleading and irresponsible tweet.
In the hours following the shooting, two men were arrested for the crime — the perpetrator, Alexandre Bissonnette, and a Morroccan-born Canadian named Mohamed Belkhadir. Belkhadir was released after his story became clear — he'd been trying to assist the wounded when police entered the mosque. Fearing the shooter had returned, Belkhadir fled the scene, leading to his arrest; he has since been released. Yesterday, Bissonnette was formally charged with six counts of first-degree murder, and five counts of attempted murder.
The Fox News tweet, which went up after police had already clarified that there was only one shooter, claimed, "Suspect in Quebec mosque terror attack was of Moroccan origin, reports show." By Monday morning, official reports contradicted the Fox News claim, even though the tweet itself didn't go up until Monday afternoon. And then, it stayed up.
Perhaps most questionable in this story is the fact of Alexandre Bissonnette's total absence from Fox News' tweet. After all, he was the known (and only) suspect by the time this message got delivered to the network's 13 million Twitter followers.
This misleading circulation of wrong information prompted Kate Price, the prime minister's director of communication, to send a letter to Fox News asking that the tweet be removed.
Fox News has since issued an apology. Refet Kaplan, the managing editor for FoxNews.com put out a statement reading, "FoxNews.com initially corrected the misreported information with a tweet and an update to the story on Monday. The earlier tweets have now been deleted. We regret the error."
In her letter to Fox News, Price rightfully pointed out that the implicit message of their false tweet could very well be read as trying to divide and cause fear, especially of immigrants. Her refusal to ignore this kind of blatant disregard for responsible reporting is to be commended.
In a world of "alternative facts," it is encouraging to see those who care about truth take a stand against those who should know better.