Joan Crawford & Bette Davis Kept Busy After 'Baby Jane'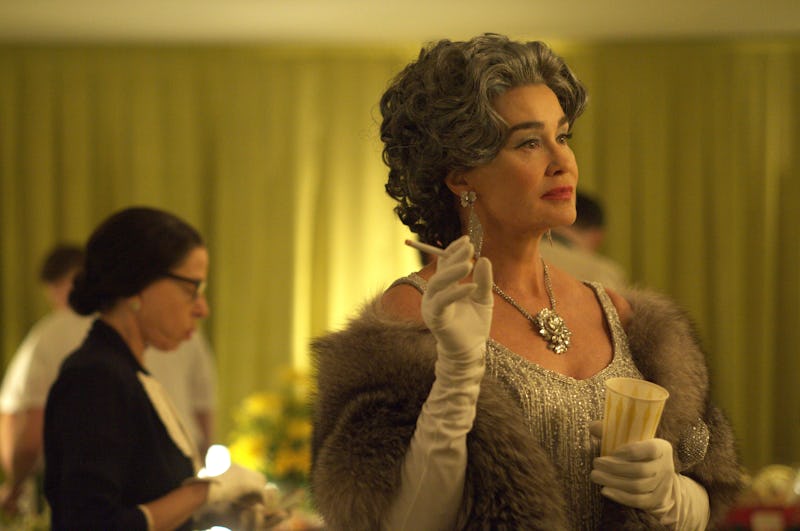 Suzanne Tenner/FX
Ryan Murphy's newest anthology series, Feud, examines the complicated circumstances that led to rivals Joan Crawford and Bette Davis agreeing to appear in a film together. When What Ever Happened To Baby Jane? came about, the two actors were finding themselves aged out of leading lady status, as was (and still is at times) typical in Hollywood, where youth is seen as a most valuable commodity. The starlets used the film to breathe new life into their fading careers, and it looks like it worked like a charm. Both Crawford and Davis starred in a number of films after Baby Jane came out in 1962.
We aren't talking about one or two films here, these women added dozens of features onto their resumes after What Ever Happened To Baby Jane?. Crawford passed away in 1977 and worked all the way up until 1972. Davis passed away in 1989 and was working that same year. These women were genuine hustlers and proved that they were clearly valuable far beyond Hollywood's man-made expiration dates. One look at their respective filmographies after co-starring together once in that film and you have all the proof you need to argue that youth isn't everything when you have the talent to back it up.
First we will look at Davis' film resume and then talk about Crawford's.
The Empty Canvas — 1963
In this film Davis starred as the mother of an aspiring painter who falls away from (and then returns to) sanity after meeting a woman who later breaks his heart.
Dead Ringer — 1964
Davis returned to horror/thriller territory with this one. She plays both twin sisters Edith and Margaret.
Where Love Has Gone — 1964
I am not sure what to classify this movie as but it is definitely near the thriller category. Davis plays the vindictive and terrifying mother-in-law of the main character and she reminded everyone that she was born to play the villain role.
Hush...Hush, Sweet Charlotte — 1964
This one is certainly in the horror category. Taking place in Louisiana, where any good horror film takes place, it stars Davis as an "aging, reclusive Southern belle" who possibly murdered her married lover many years ago and is currently descending into madness.
The Nanny — 1965
Davis stars as the British nanny of a 10-year-old who is quite possibly a crazed murderer.
The Anniversary — 1968
Davis plays an overbearing mother of three sons, whom she tries to keep to herself by plotting to get rid of their respective wives/partners.
Connecting Rooms — 1970
This film explores the lives of people living in a "seedy" boarding house in London. Davis plays one of these residents who becomes involved with a rebellious younger dude.
Bunny O'Hare — 1971
Davis plays a broke widow who blackmails a robber into teaching her how he lives and benefits from a life of crime. The two of them go on a crime spree together and Davis is everything.
Madame Sin — 1972
I won't lie, this film is a hot mess to try and comprehend without seeing it. Basically, Davis plays a crazy, half-Chinese woman (problematic) who wants to steal a submarine and uses a CIA agent to do so.
The Scopone Game — 1972
This film is actually an Italian black comedy film and in some places it is referred to as The Scientific Cardplayer. It stars Davis as a countess who travels around and plays high stakes card games with poor residents of wherever she happens to be at the time.
Burnt Offerings — 1976
Another horror entry, and this time Davis is playing the aunt in a family who moves into a haunted mansion.
Return From Witch Mountain — 1978
Did anyone else totally forget that Bette Davis starred in this classic flick? Davis plays one of the main villains, Letha, and, with Kim Richards from Real Housewives Of Beverly Hills on board, this film is legendary.
Death On The Nile — 1978
This film is based on an Agatha Christie novel and stars Davis as an old woman named Mrs. Van Scuyler who happens to be aboard a cruise down the Nile when a newlywed heiress is found murdered on board.
The Watcher In The Woods — 1980
Davis is back to tormenting Richards sisters in another Disney film. She plays the owner of an English manor who takes in an American family and sees a striking resemblance between one of the daughters and her own daughter who disappeared 30 years earlier.
The Whales Of August — 1987
This one seems like it is outside of Davis' realm a bit. She plays one of two elderly, widowed sister who stays in their family's summer home in Maine. Basically, life happens.
Wicked Stepmother — 1989
The year that Davis passed away she starred in her final film. Unfortunately, she ended her involvement with the film early but originally played a witch named Miranda who marries a man with an adult daughter. To explain her absence, they ended up having Davis' character transform into a cat. It was not very well received.
Joan Crawford's films were not as plentiful but she certainly kept working after What Ever Happened To Baby Jane?.
The Caretakers — 1963
This film suits Crawford's abilities really well. She plays the psychotic and evil head nurse at a hospital specializing in treatment for the mentally ill.
Strait-Jacket — 1964
Crawford stars as a woman who returns from a 20-year stay in an asylum for axing her husband and his mistress to death in front of their daughter.
Della — 1964
Crawford plays the title character who is a reclusive widow. (Movies were all about widows back then, huh?) A big company wants to buy her land and the man who tries to negotiate with her ends up falling for her daughter. Later he ends up finding out that Della has a secret of her own.
I Saw What You Did — 1965
Two teenagers decided to prank call a bunch of random people one night and end up involving themselves with a man who murdered his wife. Crawford plays the neighbor of this dude. Her character is described as "amorous" by IMDB, so take that for what it is.
Berserk — 1967
This is my favorite entry on the list because Crawford plays the owner of a traveling circus that is targeted by a killer. Amazing.
Trog — 1970
This ended up being Crawford's last feature film and she stars as an anthropologist that digs up a troglodyte ("missing link") and domesticates him. He escapes and shenanigans ensue.
As you can see, these two women worked like crazy all the way until both of their deaths. It is nice to see that they proved their naysayers wrong and remained leading ladies throughout their days.