O.J. Simpson Claimed The Items He Stole In Vegas Were Rightfully His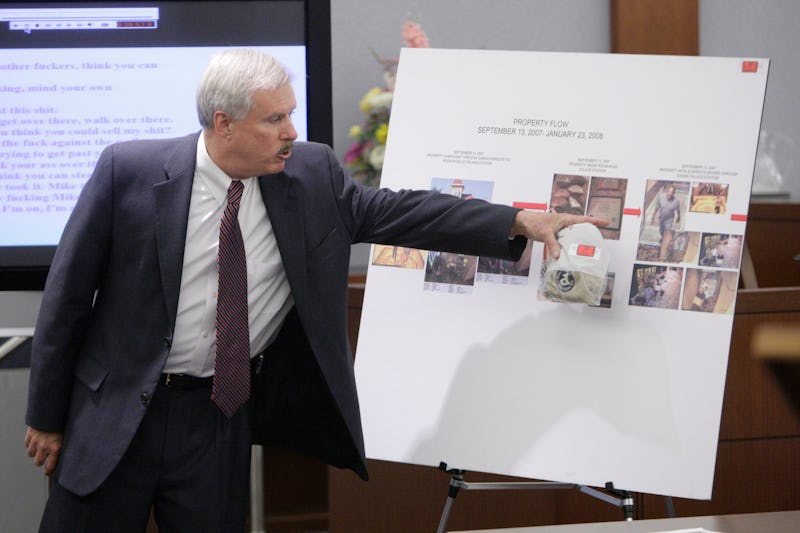 Pool/Getty Images News/Getty Images
Most Americans probably remember O.J. Simpson as the former football star acquitted of his ex-wife's murder. But that wasn't the only trial that involved Simpson. In 2008, Simpson was found guilty in a Las Vegas robbery case. Though nearly nine years have passed since then, interest in the lesser known case is growing now that Simpson may be released as early as this upcoming October. So, what exactly did Simpson steal that landed him in prison in the first place?
In 2007, he and five other men attempted to take sports memorabilia, among other items, he claimed rightfully belonged to him from two memorabilia dealers in a Las Vegas hotel room. The stolen items supposedly included photos of his children, game footballs, and another 800 or so collectibles. Some of the items stolen allegedly had nothing to do with Simpson. During his testimony in the trial that followed, Simpson maintained the collectibles allegedly belonged to him and his family.
They belong to my family. They belong to my kids. They belong to us. These were all things that they should have, not some guy in a hotel in Vegas.
Ultimately, a Nevada jury found him and another one of the men guilty of 12 counts that included kidnapping with a deadly weapon, robbery, conspiracy to commit a crime, and assault. Simpson was sentenced to between nine and 33 years in prison as a result. He was found guilty on the anniversary of his acquittal in the murder trial years prior.
Based on reports that Simpson's behavior in prison has been exceptional, it's likely that he'll be released on parole in October. In 2013, he was granted parole on five of the 12 charges after claiming he "kept a lot of trouble from happening" at Nevada's Lovelock Correctional Facility. In fact, even one of the victims of the robbery, Bruce Fromong, thinks Simpson should be set free. The sports memorabilia dealer already knew Simpson before the incident in Las Vegas occurred. In 2016, he told Vulture that he would even be there to pick up Simpson from prison if he was granted parole.
"If he called me tomorrow and said, 'Bruce, I'm getting out today, will you pick me up?' I would be there," Fromong claimed. "O.J. and I made our peace, even after I testified against him."
At the end of the 2007 robbery trial, Fromong reportedly got back everything Simpson had stolen except for 16 items.