President Trump Had A "Very Good" Phone Call With Putin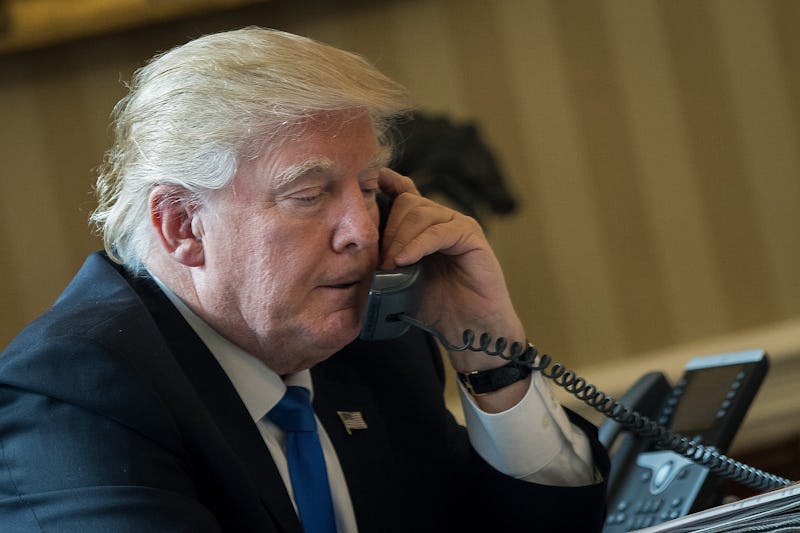 Drew Angerer/Getty Images News/Getty Images
While the FBI continues to investigate Russia's suspected involvement in the 2016 presidential election, President Trump has continued talks with its leader. On Tuesday, Trump and Vladimir Putin talked about Syria and North Korea over the phone. According to the White House, the call between Trump and the Russian president was "very good," but it's not clear what changes, if any, will actually come from it.
According to the White House's readout, the two leaders discussed the use of safe zones "to achieve lasting peace" in Syria. What's more, the U.S. will reportedly send a representative to attend so-called "ceasefire talks" in Kazakhstan on Wednesday and Thursday. Trump has called for safe zones in Syria before, but Putin has been more resistant.
For instance, back in February, the Independent reported that Putin would be open to U.S.-proposed safe zones if Syrian President Bashar al-Assad approved of them. For his part, Assad has made no indication that he would support such a plan. In fact, Assad said in a February interview that safe zones are "not a realistic idea at all." Russia's relationship with the Assad regime has caused tension between the U.S. and Russia since Syria's civil war began to escalate. This time, it remains to be seen if Russia will support U.S. safe zones without Assad's approval.
Like the talk of safe zones, the discussion of ceasefire talks is also nothing new. Repeated attempts at a ceasefire have not put an end to the ongoing violence in Syria. The talks have taken place from Geneva, Switzerland, to Astana, Kazakhstan, where this week's talks will also take place. The White House's statement did not reveal who would attend the talks on behalf of the U.S., but previously, the U.S. ambassador to Kazakhstan, George Krol, was in attendance.
While news of renewed peace talks and potential headway with safe zones is encouraging, the president's phone call with Putin did not seem to result in any immediate progress. The two world leaders apparently also discussed the increasingly tense situation between the U.S. and North Korea. The White House did not report many details about that conversation, beyond saying that Putin and Trump discussed "how to best resolve the very dangerous situation." According to Time, Russia said following the phone call that Putin and Trump would meet face-to-face at the G20 summit in Germany this summer. Perhaps by that time, there will be new developments in Syria to discuss.