This Is Why Trump Says He'd "Love To See" Another Government Shutdown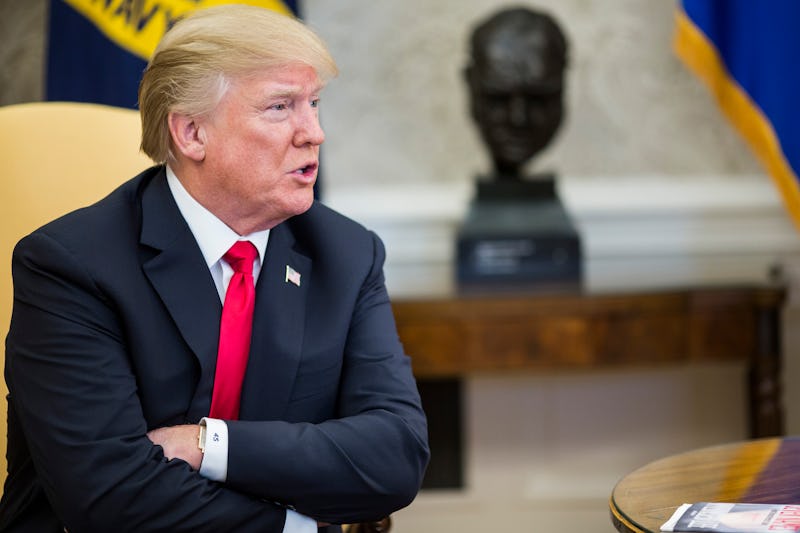 Pool/Getty Images News/Getty Images
During a roundtable meeting with lawmakers on Tuesday, President Trump said he'd "love to see" a government shutdown if Republicans and Democrats can't strike a deal on immigration reform, according to NBC News. The federal government will shut down if Trump doesn't sign a spending bill by Thursday.
"If we don't change the legislation, if we don't get rid of these loopholes where killers come into our country and continue to kill," Trump said. "Gang members — and we're just talking about MS-13. There are many gang members that we don't even mention. If we don't change it, let's have a shutdown. We'll do a shutdown, and it's worth it for our country."
Despite Trump's demands, Congress can't literally "change the legislation" on immigration, because there isn't any legislation to change. Lawmakers have been negotiating in hopes of crafting a bipartisan immigration bill, but no bill has yet been released. What president likely meant is that he wants Congress to pass legislation to change immigration laws, and that he is willing to abide a government shutdown if this doesn't happen.
"I'd love to see a shutdown if we don't get this stuff taken care of," the president said at the meeting.
Although Democrats, Republicans and the president have all expressed desire for new immigration legislation, they disagree sharply on what direction that legislation should take. Trump and Republicans, broadly speaking, have called for increases in border security funding, while Democrats want a deal to protect "dreamers" — undocumented immigrants brought to the country as children — from deportation.
Less than a month ago, the federal government shut down for three days. Senate Democrats demanded that any funding bill include protections for the 800,000 undocumented immigrants who were shielded from deportation under President Obama's Deferred Action for Childhood Arrivals program (DACA), but Republicans refused. Democrats relented days later and agreed to pass a short-term funding bill without a DACA fix.
During Tuesday's roundtable meeting, Republican Rep. Barbara Comstock pushed back against Trump, arguing that "we don't need a government shutdown on this."
"I think both sides have learned that a government shutdown was bad, it wasn't good for them," Comstock said at the meeting. "And we do have bipartisan support on these things. And I think we need to talk about these cases that are going on."
The Virginia lawmaker then suggested that there is "bipartisan" support for a hawkish piece of immigration legislation that she introduced in the House, resulting in a brief back-and-forth between the two.
"But Barbara," Trump interjected, "we are not getting support from the Democrats. I mean, you can say what you want — we're not getting support from the Democrats on this legislation."
"I think if you put this bill up in the Senate, you will see that —," Comstock said before the president interrupted her.
"Well, we'll see, that's one bill," Trump said. "But we have to get that. They are not supporting us."
Comstock is facing a difficult reelection in 2018, as her district voted for Hillary Clinton in 2016 and Democratic gubernatorial candidate Ralph Northam the year later. As such, challenging Trump face-to-face poses far fewer downsides for her than most Congressional Republicans.
Nevertheless, she did introduce legislation in 2017 that would expand law enforcement's authority to detain undocumented immigrants suspected of gang behavior. That bill passed the House of Representatives in September but later died in the Senate.
"If we have to shut [the government] down because the Democrats don't want safety, and unrelated but still related, they don't want to take care of our military, then shut it down," Trumpm said at the meeting. "We'll go with another shutdown."