Trump Denied Criticizing The UK Prime Minister — But It's All On Tape For You To Hear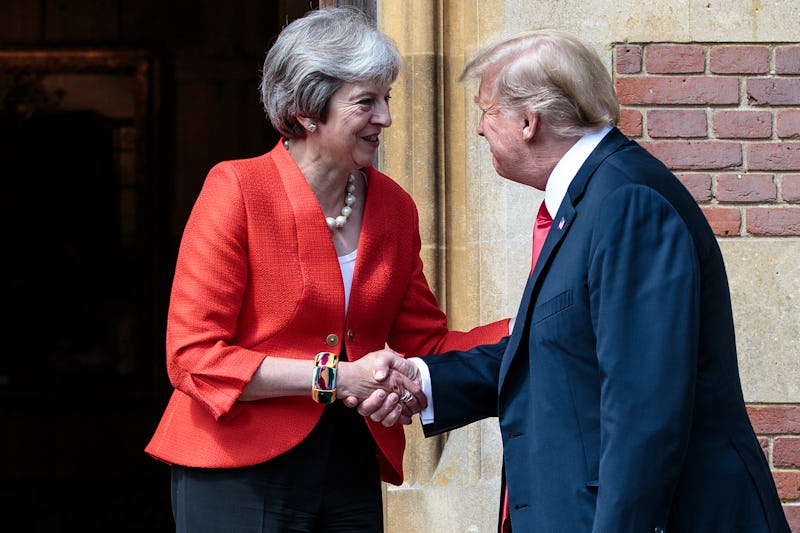 Jack Taylor/Getty Images News/Getty Images
President Donald Trump's visit to the United Kingdom on Friday has garnered plenty of attention, and it's partially because the U.S. and the U.K. haven't exactly been on the best of terms lately. And an explosive Trump interview may have just dialed up the contentious nature of the visit. Trump's comments about Theresa May in his interview with The Sun has been roundly regarded as controversial — for a lot of reasons.
The timing was awkward, to say the least. The Rupert Murdoch-owned newspaper published the story right after Trump dined at the family home of Winston Churchill in Oxfordshire and before he prepared to meet May for a working lunch at Chequers. And it seems the story spilled some hot tea steeped with digs at May.
For starters, Trump maligned May's compromise plan to leave the European Union, noting that the way she handled things could affect the future of Britain's trade deals with the United States.
"I would have done it much differently," Trump told The Sun in the interview. I actually told Theresa May how to do it, but she didn't listen to me."
And Trump didn't stop there. He also praised May's long-time political adversary former Foreign Secretary Boris Johnson. Trump described Johnson to The Sun as "a very talented guy."
Then, the president all but endorsed him for May's role as prime minister.
"I was very saddened to see he was leaving government and I hope he goes back in at some point. I think he is a great representative for your country," Trump told The Sun. He added: "Well I am not pitting one against the other. I am just saying I think he would be a great Prime Minister. I think he's got what it takes."
Despite all of this, Trump made sure to counter all these apparent digs by telling The Sun he thought May was "a nice person." He and May still gave a joint press conference after the report broke.
During the conference, he walked back his criticisms of May. Although The Sun published an audio recording of the presidential interview that backed up it's report on the president, Trump still told reporters the story was "fake news," The Hill reported.
According to The Washington Post, May's office referred reporters to an earlier statement from her about Brexit when asked for comment about the Trump interview.
"We have come to an agreement at the proposal we're putting to the European Union which absolutely delivers on the Brexit people voted for," the previous statement read. "They voted for us to take back control of our money, our law and our borders and that's exactly what we will do."
And although Trump eventually relented when it came to May in the The Sun interview, he just directed his controversial statements elsewhere.
Trump told the paper that he thought immigrants who'd come into the country were stealing Europe's culture.
"I think what has happened to Europe is a shame," Trump said in the interview. "Allowing the immigration to take place in Europe is a shame. I think it changed the fabric of Europe and, unless you act very quickly, it's never going to be what it was and I don't mean that in a positive way. So I think allowing millions and millions of people to come into Europe is very, very sad. I think you are losing your culture. Look around. You go through certain areas that didn't exist ten or 15 years ago."
New York Magazine went ahead and called this statement a clear "articulation of white-nationalist rhetoric," and plenty of people on Twitter agreed that the comments were egregious.
On top of all of that (yes, there's more to this), Trump seemed to blame his long-time political rival, London Mayor Sadiq Khan, for terrorism in the city.
"I look at cities in Europe, and I can be specific if you'd like. You have a mayor who has done a terrible job in London. He has done a terrible job," Trump said. "Take a look at the terrorism that is taking place. Look at what is going on in London. I think he has done a very bad job on terrorism."
The U.K. was already swamped with Trump protesters today, and it's hard to imagine that this interview wouldn't add more fuel to their fire. To be sure, the timing of the story was wild, and Trump and May are left to deal with an elephant in the room that's got to be at least larger than the giant Trump baby balloon floating around Britain.