The CEO Councils Trump "Ended" Were Already Emptying Out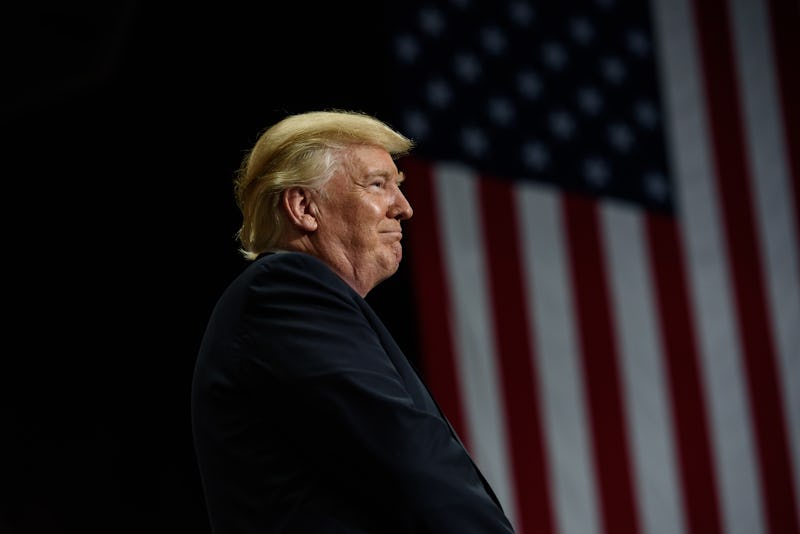 Justin Merriman/Getty Images News/Getty Images
In a tweet on Wednesday, President Trump announcing he was disbanding his business councils, the Strategy and Policy Forum and the Manufacturing Council. "Rather than putting pressure on the businesspeople of the Manufacturing Council & Strategy & Policy Forum, I am ending both. Thank you all!" the president announced on Twitter abruptly.
Trump's move came after many CEOs decided to resign from the councils after Trump's controversial remarks on the Charlottesville violence. On Saturday, a dispute over the removal of Confederate general's statue erupted into deadly violence when a protestor drove a car into a group of counter-demonstrators, killing a 32-year-old woman named Heather Heyer.
The tragic event became a flashpoint in American politics, particularly after Trump said in his initial remarks that there was violence "on many sides." Two days later, after intense criticism, Trump denounced white supremacists, saying "racism is evil." However, he retreated to his former position on Tuesday, reiterating that both sides were violent and that the counter-protestors were part of the "alt-left" and were "very, very violent."
Even prior to the president's Tuesday about-face, CEOs had begun to depart his corporate advisory councils. On Monday Merck & Co.'s Kenneth Frazier was the first CEO to depart the Manufacturing Council post-Charlottesville. He was followed by the CEO of Under Armour, and seven other members of the Manufacturing Council, which was meant to reinvigorate the American manufacturing sector and create more jobs for working-class Americans.
"I joined the Manufacturing Jobs Initiative in January to advocate for policies that align with our values and encourage even stronger investment and job growth – in order to make the United States stronger, healthier and more prosperous for all people," said 3M CEO Inge Thulin, who stepped down from the manufacturing council on Wednesday, in a statement. "After careful consideration, I believe the initiative is no longer an effective vehicle for 3M to advance these goals."
Trump also received heat from his Strategy and Policy Forum, which was a group of high-power financial services and consumer goods CEOs which would, according to Trump's transition website, advise on "how government policy impacts economic growth, job creation and productivity." One member of the forum who criticized Trump's handling of the Charlottesville violence was Doug McMillon, the president and CEO of Walmart Stores, who said that Trump "missed a critical opportunity to help bring our country together."
For CEOs, the choice to leave or publicly distance themselves from Trump came from a place of business as much as morals. "There was such a firestorm," one member of the forum told CNBC on the condition of anonymity. "You don't know what 's coming next, what he's going to say or do next."