I Tried Taco Bell's Nacho Fries & They're Going To Be Total Game-Changers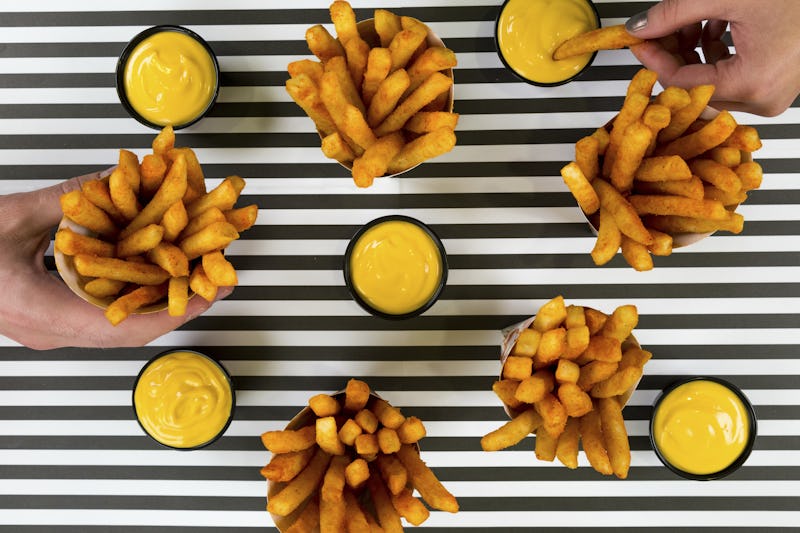 Courtesy of Taco Bell
People who know me know that I am very, very, very into Taco Bell. One recent late night, I went to my local 'Bell for a Crunchwrap Supreme, as one does, and then as I was about to leave, got back in line to get another Crunchwrap for the road, because that's what my journey looks like. So when I got the invitation to taste test Taco Bell's new Nacho Fries ahead of the Jan. 25 nationwide release date, it's no hyperbole to say that I jumped at the opportunity. So what do the Nacho Fries taste like? Let's just say, they reminded me of the true meaning of Live Más — by which I mean, they were freakin' delicious.
Let me backtrack a little bit to explain how these fries came into being. Earlier this January, Taco Bell announced it would be adding fries to its menu, expanding the chain's Dollar Cravings menu offerings. (Yes, these fries cost but a humble dollar for the simplest version.) True fans of Taco Bell will know that you can already get Cheesy Fiesta Potatoes as a side for a cool $1.49, but the Nacho Fries blend the classic French fry silhouette with a distinctly Taco Bell flavor profile for a brand new outside-the-bun experience that, in my opinion, is going to totally change the fast food French fry game.
I was lucky enough to experience the fries ahead of their official debut thanks to the brand's Nacho Fries Premiere, held in New York, which will offer fans of the brand the exclusive chance to check out the "Web of Fries" trailer (starring Josh Duhamel — really) and taste the brand new menu offering on Jan. 24 and 25. I was given a regular serving of Nacho Fries with a side of warm nacho cheese, as well as a Supreme serving ($2.49), which came with nacho cheese, beef, pico de gallo, and sour cream on top. (You can also order the Nacho Fries Bell Grande, which is a larger serving of the Supreme size for $3.49.) My first impression of the Supreme version was that it tasted, well, a little like a deconstructed Crunchwrap Supreme — which, considering that they both make use of similar ingredients, made a kind of sense. One could also make the argument that they were like a kind of tex-mex poutine, if you're into that. The fries were a little thicker than your standard fast food fry, which I'm personally a fan of, and coated in "bold Mexican seasoning," which a nearby Taco Bell spokesperson let me know was a blend of habanero, cayenne pepper, and other species — slightly tangy, not too spicy, and distinctly Taco Bell.
Some are calling Nacho Fries Taco Bell's biggest innovation since the Doritos Locos Tacos — and I'm inclined to agree with them. Not only do the Nacho Fries stand up on their own as a menu offering, but, as a Taco Bell spokesperson helpfully told me as I sampled them, they can be subbed into a host of other menu items, making the fries a truly versatile option for vegetarian Taco Bell-goers, or other folks who simply want to upgrade their bean burritos. What's more, they're such a departure from the rest of Taco Bell's menu items that they add the element of surprise to the Taco Bell-going experience.
While I am especially enthusiastic about Taco Bell, the truth is that the fries were surprisingly tasty, and will make a welcome addition on menus across the states. And once they reach Taco Bell stores nationwide on Jan. 25, I'm excited for all y'all to get a chance to try them, too.