Here's What Being An Audiobook Producer Is Really Like, From Someone Who Has It As Her Job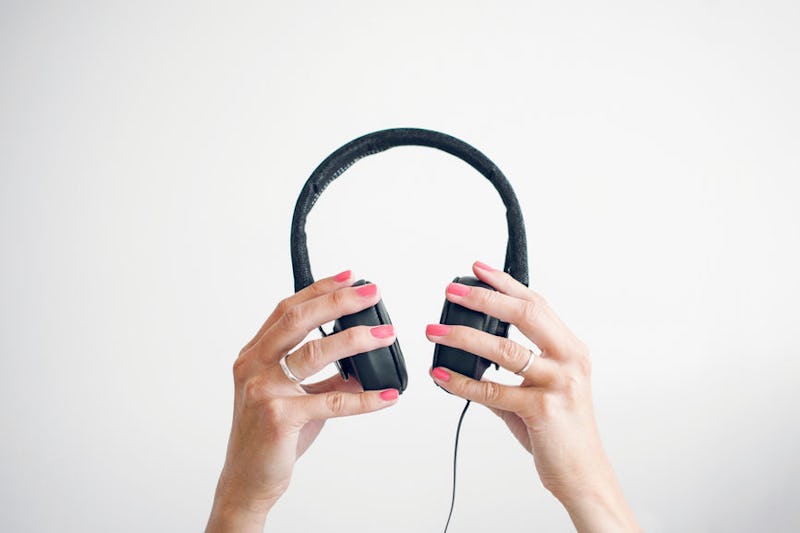 Denni Van Huis/Stocksy
It's no secret that audiobooks have become increasingly popular in recent years — in fact, digital audiobook revenue increased by 22.7% in 2017, according to a report issued by the Audio Publishers Association. Plus, subscription services like Audible and the library app Libby have made audio reads more accessible than ever, and modern readers seem ready to embrace them. But while you've listened to Michelle Obama read her best-selling memoir, Becoming, or lost yourself in Harry Potter all over again thanks to Jim Dale (or Stephen Fry) have you found yourself wondering what exactly goes into adapting those physical books into an audio format? It turns out that there are tons of talented audiobook producers behind-the-scenes, developing all of the books that get you through your long commutes and marathon apartment cleaning sessions — including Penguin Random House Audio's Sarah Jaffe.
"When people find out you work in book publishing, usually they immediately assume you spend the whole day reading. In my case, that's actually more or less true," Jaffe tells Bustle. "I produce about 100 audiobooks each year, and I have to make sure each one is cast with the right voice so there's a ton of reading and note-taking required."
Jaffe produced the audiobooks for Sour Heart by Jenny Zhang and three of the five National Book Award finalists for fiction in 2018: Florida by Lauren Groff, The Great Believers by Rebecca Makkai, and The Friend by Sigrid Nunez, which won the award. In other words, Jaffe knows a thing or two about what it takes to make a memorable audiobook. And for her, it all starts with casting.
"The narrator is what makes or breaks an audiobook, so finding the person who can heighten the language while letting the writer's work shine is key," Jaffe says. "Is the book in first person, or third? Are there multiple points of view? Are there any accents required? What's the tone like? Would this character have some grit to her voice, or does he need to be polished and smooth? Is there a voice that comes to mind immediately or do I need to ask actors to audition to find the voice I hear in my head?"
But there's so much more to audiobook production than the crucial task of picking the perfect reader. Below, Jaffe shares more about the day-to-day responsibilities of creating a truly captivating audiobook, and offers advice on how you can break into the up-and-coming world of audio publishing.