This "Dark Betty" Theory For 'Riverdale' Hints That She'll Be Able To Stop Chic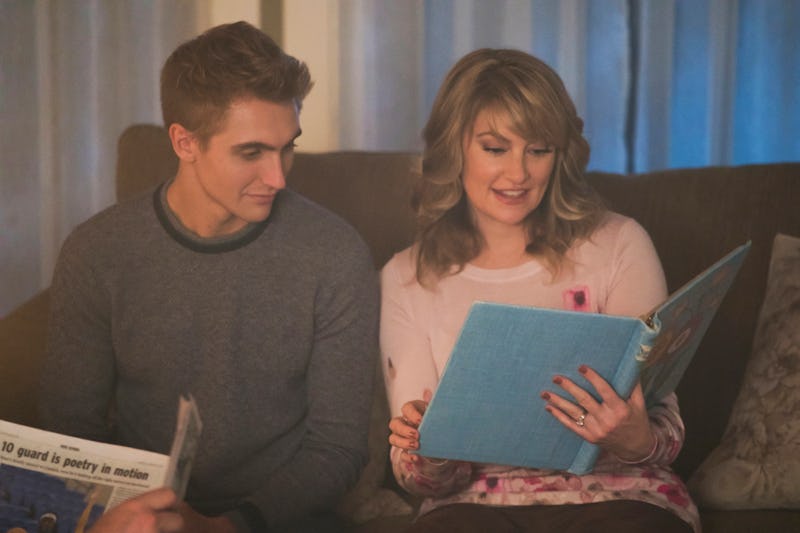 Shane Harvey/The CW
The arrival of Chic Cooper has already brought plenty of trouble to Riverdale, but even after revealing his troubled past, the character still doesn't seem as though he's telling the full truth. But what is Chic Cooper up to on Riverdale — and why does it seem that no one can clearly see his real motives? After Alice and Betty teamed up to help Chic cover up the murder of the man who tracked him down, Chic was less thankful than he was seemingly satisfied at the conflict he'd brought into the Cooper family. Hal's moving out and potentially cheating on his wife, Betty is psychologically breaking down, and Alice seems so dedicated to making up for giving Chic up for adoption that she would do literally anything for him.
And during Chic's episode-closing moment where he was literally cutting the Cooper family pictures apart to get rid of Hal, it seems that everything that's gone horribly wrong since he decided to move in with his estranged family might actually be pleasing him. Unfortunately, none of the Coopers seem like they're in the position to fight back if Chic does in fact plan to destroy their family, for all of the aforementioned reasons (and Polly possibly joining a cult), but there are some clues that maybe Dark Betty, who was spotted in the trailer for episode "The Hills Have Eyes," will be the only one who can stop him.
First of all, Betty and Chic bonded over their shared darkness earlier in Season 2 during "The Wrestler." According to what creator Roberto Aguirre-Sacasa told Variety, "One of the reasons Betty reached out to Chic was to kind of understand her darkness and to see if she recognized something in Chic that she saw in herself." Star Lilli Reinhart echoed a similar sentiment about Betty's exploration of her dark side when she spoke to Glamour. "She's very curious to see if [Chic] has that darkness inside him as well. There might be some sister/brother bonding over mental health issues." That bonding session also doubled as an education on Chic's experiences as a cam model.
Secondly, recall that the Black Hood was once obsessed with Betty because they wanted to corrupt her innocent and pure love for the town of Riverdale. Chic could have a similar goal — exposing Betty's dark side and taking her place in the Cooper family. He's already cut one person out, both physically in the photos and emotionally by distancing Alice and Hal, and Polly is already estranged. Betty could be next to go.
But there's one person standing between Chic and Betty — and that's Jughead. The Bughead relationship has been off and on throughout the last two seasons, but he's one of the only other people Betty has opened up to about the darkness she feels inside or channels into that Dark Betty persona. As Aguirre-Sacasa said, "We're very much continuing that story. But I think it takes some big twists and turns before resolution." Another roadblock could be ahead for Bughead when Betty puts on her dark wig. Their first breakup this season did come after Betty joined the Serpents by performing a very un-Bettylike pole dance.
But the results don't have to be negative. Betty embracing her dark side could be the catalyst to her finally uncovering what Chic is really planning. As Reinhart said to Glamour, Betty is driven to protect her family. "That's her trigger, whether it be her mother, her brother, or Polly. I think that's something to keep in mind." Going forward, Betty going dark could be the only thing that protects the Coopers from being totally destroyed.