Why Your Skin Needs Collagen, Plus The Best Ways To Get It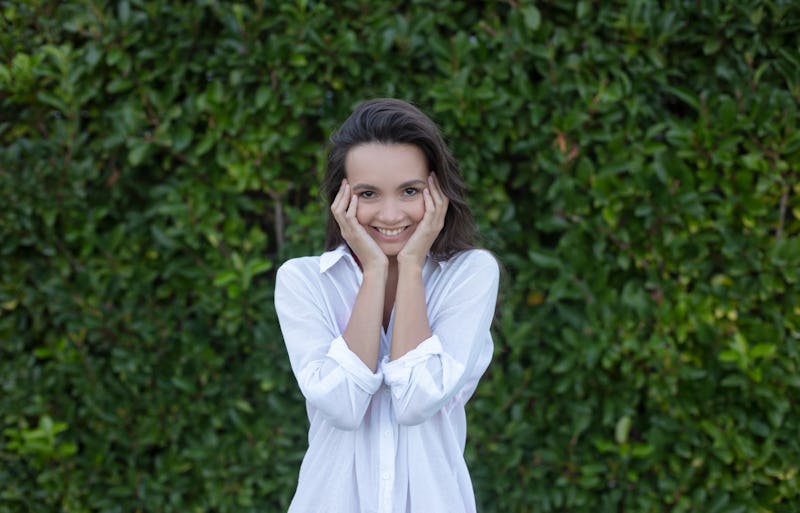 Husam Cakaloglu/E+/Getty Images
"Collagen" seems to be a sort of buzzword in the beauty world. There are plenty of products that promise to increase it, infuse it, support it, and stimulate it. But what exactly does collagen do for your skin? And why does everyone want more of it? To find out, I emailed with Dr. Marnie Nussbaum, NYC-based cosmetic dermatologist; Dr. Clarissa Shetler and Dr. Christine Falsetti, founders of C2 California Clean; and Pati Geraghty, Director of Education at Tu'el.
According to Drs. Shetler and Falsetti, "Collagen is the glue that holds our bodies together. It is an abundant protein in our bodies and helps with elasticity, strength, and firmness." And all four experts let me know that as we age, we lose collagen which causes signs of aging such as fine lines, wrinkles, and sagging. So to help slow down these signs of lessening structural support in the skin, it's important to try to maintain collagen levels. But even though Dr. Nussbaum tells me there is no magical, collagen cream that will renew your skin overnight (can we get somebody on that, though?), she says there are still ways to promote collagen production. You just have to know what ingredients or treatments to look for. Here are five of them:
Advanced Hyaluronic Hydrating Primer, $39, C2 California Clean
One ingredient that helps promote collagen production, says Dr. Nussbaum, is hyaluronic acid. It "significantly minimizes fine lines and wrinkles as well as tightens the face," and can be used in a variety of forms. If you want to start using hyaluronic acid in your skin-care routine, look for it in a serum or moisturizer. If you want something a little more intensive though, Dr. Nussbaum recommends SkinBetter Science's products with InterFuse technology. This patented technology, she explains, "allows for transdermal delivery of large, injectable-grade hyaluronic acid that binds water and revolumizes skin." In other words? This technology topically delivers hyaluronic acid deeper and faster right where your skin needs it most.
The Ordinary Advanced Retinoid 2%, $10, ASOS
"Topical retinoids have been shown to restimulate collagen and elastin production," says Dr. Nussbaum. However, she adds, in order to reap the proper benefits from this type of skin care, it is important to consult with your doctor or dermatologist about what potency to use and the best way to incorporate it into your routine.
Dr. Dennis Gross C+ Collagen Brighten & Firm Vitamin C Serum, $78, Sephora
According to Dr. Nussbaum, vitamin C is one of the most efficient ingredients when it comes to stimulating collagen production. Drs. Shetler and Falsetti explain that this is because the delivery of vitamin C and other key nutrients to your skin will help with the conversion of proteins (such as proline and lysine) into collagen forms (hydroxyproline and hydroxylysine).
Tu'el Rescue Me Night Cream, $55, Amazon
In addition to vitamin C, Dr. Nussbaum adds that peptides are also efficient in stimulating collagen production. Geraghty explains, "peptides can act as a humectant and penetrate the top layers of the epidermis, minimize fine lines and wrinkles, and improve the overall texture of the skin."
SkinClinical Reverse Anti-Aging Light Therapy, $250, Amazon
A treatment option that you can have done at a dermatologist's office or even do yourself at home is light therapy. According to Drs. Shetler and Falsetti, "Light therapy uses infrared rays (but no UV rays) to stimulate blood circulation, boost collagen production, and enhance the natural ability of your skin to heal."
Because even though there are no magical, overnight collagen-creams, there are still plenty of ways to promote your own production for plump and healthy-looking skin.
Image: Husam Cakaloglu/E+/Getty Images