IHOP Revealed What "IHOb" Stands For & It Will Make You Nervous About Your Beloved Pancakes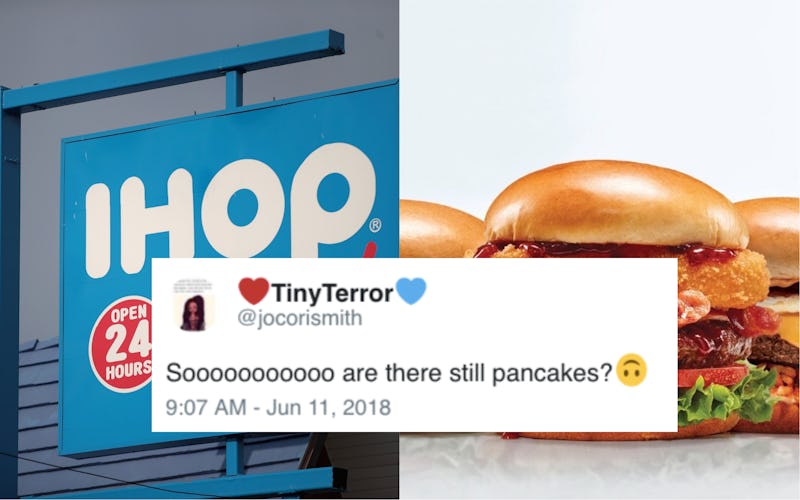 Scott Olson/Getty Images News/Getty Images; IHOb; Twitter
While we have all aspired to be the kind of person who avoids IHOP-related drama after that one inevitable messy breakup we all had in the International House Of Teenage Angst as high schoolers, it seems that the drama had no intention of avoiding us. IHOP tweeted on June 8 about intentions to change its name from IHOP to "IHOb," replacing the "p" for pancakes with something else. Now that we finally know what IHOb stands for, in the words of your high school bae just before they sat you down in the back booth and let you order a stack of buttermilk pancakes, "We need to talk."
See, the "b" does not stand for "bacon" or "breakfast" or "Beyoncé," or any of the things that would logically pair well with our beloved pancakes. On June 11, IHOP's official Twitter shut down, now displaying a page that redirects to "IHOb". The "IHOb" account posted a video indicating that the "b" stands for "burger" — in fact, it stands for burgers plural. And it doesn't seem as if this decision was made on a whim, either — not only have they abandoned their old Twitter account like a snail that outgrew its shell, but they have even named the seven burgers that will be available due to this new brand change.
With any further ado, here is a potentially life-altering video that comes with a free side of way too many puns centered around the second letter in the alphabet.
Of the visible burgers in the video, it appears offerings will include "Big Brunch," "Cowboy BBQ," "Mushroom Swiss," and at least one other fourth burger in the background whose friends didn't let him get into the shot. A press release further clarifies that there are seven options in the Ultimate Steakburger lineup, which will also include "Jalapeno Kick," "Classic," "Classic With Bacon," and something called a "Mega Monster" that includes "two premium Steakburger patties, American and White Cheddar cheeses, lettuce, tomato, red onion, pickles and the brand's signature sauce. Each of them is made with a base of "100% USDA choice, Black Angus ground beef" that's been smashed on a grill, and served on a brioche bun.
Now that we've established that this isn't a joke, what on earth does it mean? According to the press release, a flagship IHOb has already opened in Los Angeles, and is so committed to the burger cause that it's launching a "VIB" party on June 11 to celebrate the transition. (Is no acronym that is sacred to these people??)
"Burgers are a quintessential, American menu item so it makes perfect sense that IHOP, one of the most iconic, all-American comfort-food brands in the world, would go over the top to create a delicious line-up of quality burgers that hit the spot any time of day," said Chef Nevielle Panthaky, Head of Culinary at IHOb, in a press release. "Our new Ultimate Steakburgers are made with all-natural, 100% USDA Choice, Black Angus ground beef that is smashed on the grill to create a sear that locks in the juices and flavor. With seven different burger builds, all Steakburgers are custom built and piled high with premium quality ingredients and unique, signature sauces in between a buttered and grilled Brioche bun. There's definitely a juicy Steakburger for whatever you might be craving at any time of day! The IHOP Culinary team took the creation of these Steakburgers as seriously as we take innovation around our pancakes, which means they're soon to become world famous, too."
Naturally, Twitter had some ... concerns, to put it mildly. Of the thousands of replies generated from IHOb's tweet, nearly all of them are in this vein:
For those of you concerned about your beloved pancakes: hard same. But the press release indicates that IHOb will, in fact, still be serving pancakes, so we can all breathe a collective sigh of relief. That, and the IHOb Twitter account has been individually replying to people reassure them as much, too.
As for the teens who have not yet been broken up with in an IHOP corner booth on a Tuesday night just before your AP Bio final: congratulations! Now you can enjoy this rite of passage crying into a stack of pancakes AND a brioche bun. It is truly a time to "b" alive.