The Blue Moon This Month Will Be SUPER Rare & Here's Why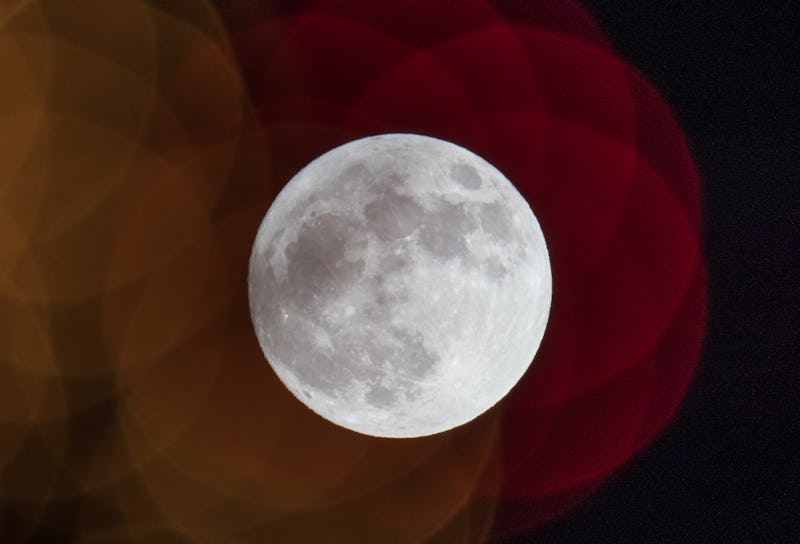 Matt Cardy/Getty Images News/Getty Images
The conclusion of January 2018 will bring plenty of celestial action to the night sky. If you thought you were busy, you might want to think about how the moon feels. Not only will there be another supermoon, the second full moon in January will also be a blue moon and include a total lunar eclipse, the latter of which makes it a blood moon as well. But, what does it mean if a supermoon is also a blood moon? This is a very rare event, like once every 150 years rare, so get your camera ready for a NASA grade Instagram.
Full moons have wowed us Earthlings for the past few months as a string of impressive supermoons. Besides journaling all of my feelings under the light of the glowing rock in the sky, I have run outside — in whatever weather condition — to catch a glimpse of the moon in its glory. If you're hoping to gawk at the ginormity of this supermoon and bask in the beams, which I highly recommend that you do, here is what you need to know. The supermoon will rise on Jan. 30. The following night, Jan. 31, the second full moon of the month will rise as the blue blood moon. However, in parts of Australia and Asia, the full moon will occur on Feb. 1. There will be a reddish hue to the moon, so it's not one to miss. Especially if you're a budding astronomy photographer.
This supermoon will be ~extra~ special because it's blue. Except, not exactly. We won't get an ocean blue moon floating in the sky. Because this moon will also be a lunar eclipse, the moon will flaunt a pinkish-red shine. The Daily Mail explains, "during a lunar eclipse, Earth lines up between the sun and the moon, blocking the light that hits the lunar surface." Which is why it will look radiant and ready for its close up.
If you were under the impression that a blue moon was rare, it's not as rare as the super blue blood moon. The supermoon coinciding with the lunar eclipse is the first time in 150 years that this blue blood moon has been visible. So when you say, "once in a Blue moon" you can impress your friends with your astronomy knowledge and instead say, "once in a blue-blood moon". Take it from Space.com, "[blue moons] happen about once every 2.7 years, because the number of days in a lunation (new moon to new moon) is a bit less than the usual calendar month." So, get outside to bask in the ~vibe~ of these rare beams we might never be able to experience again!
If you want a winning view of this lunar phenomena, you'll want to trek to flatter land, or a rooftop if you're surrounded by towering skyscrapers. Lunar eclipses, unlike the exclusivity of solar eclipses, can be viewed from pretty much anywhere. If you're viewing from New York City, according to Space.com, you'll only get to catch a blip of the eclipse. Set your alarm for 6:48 a.m. on Jan. 31, when you'll be able to catch the reddening of the moon.
You'll have more luck viewing the blood moon in its glory if you live further west. Space.com says, "as one travels west across the Pacific, the lunar eclipse will occur earlier in the night; skywatchers in Hawaii will be able to see the entire thing from beginning to end, as will Alaskans." Basically, good luck sleeping on Jan. 30 and 31, with a rusty red super blue-blood moon shining into your bedroom window. Good thing that this is a lunar event you won't want to sleep through.