This Month's New Moon Will Energize All Zodiac Signs, Just In Time For Summer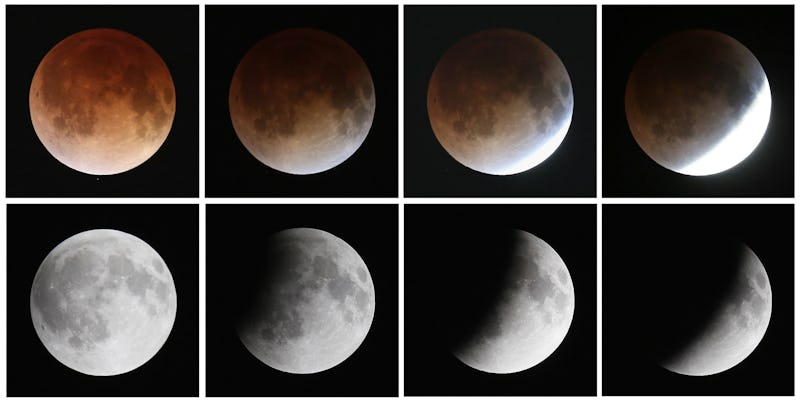 Joe Raedle/Getty Images News/Getty Images
You guys, New Year's resolutions were set nearly six months ago. And now here we are, smack dab in the middle of the year, June. Our resolutions might need a refresh — but don't worry, this month, a new moon in Gemini will be your ultimate assistant in that arena. Wondering what it means when the new moon is in Gemini? June's lunar energy will liberate you from the negativity that's been holding you back. Get ready to whip out those journals and cleanse your thought patterns of subconscious pests.
The new moon will not light up the sky but it will brighten up our general ~vibes~ on Jun. 13. New moons across the lunar calendar are known to be a good time to start something new. But each new moon in a different zodiac sign harps on something a little different. June is all about the power of positivity and communication. As you check in with yourself mid-year, welcome a new thought pattern to see you through the rest of the year.
We mostly all know that negative thoughts are like an internal invasive species. Somehow they multiply and before you know it you're spewing some pretty harsh words your own way. "I can't do this," or "I don't deserve that." Sound familiar? The new moon in Gemini urges you to ~think again~. Correct the course of your thought pattern. Every "can't" can stand to lose the "-'t". The Gemini new moon wants you to be nice to yourself and warm up to the world around you.
Every new moon is an opportunity to start fresh, and this remains the case under Gemini. The energy of the Twins is in favor of developing excitable goals. As New York City-based astrologer Lisa Stardust tells Bustle, "The Gemini New Moon is all about understanding others and the self. Gemini's motto is "I Need To Understand." Talking things out, reasonably. Being ruled by winged messenger Mercury allows Gemini's the ability to see things logically and understand others without prejudice." Operating under a Gemini new moon is the perfect time to think about how we communicate with ourselves and those around us.
You might want to start with how you treat yourself. Are there changes to make with how you speak to yourself? Thought patterns that drag you and your goals down? Review what you believe about yourself. If it's disheartening, commit to re-branding your brain to being a more positive channel. Maybe you'll find that editing your thoughts to be more positive yields more forward, positive action.
Now that you're being nicer to yourself, a Gemini new moon also means focusing on relationships — both professional and personal. As Stardust explains to Bustle, "people are in the mood to open up freely and discuss emotions." Conversations have the chance to flow just right, without pesky communication disruptions, making it the perfect time to hash out any issues. Mid June is a warm time of the month. Relationships have the opportunity to get stronger under Gemini's communicative vibe.
Stardust notes that Mercury, the ruler of June's new moon, is actually in Cancer. The zodiac's sentimental crab paired with chatty twins makes for "mushy" moments. Stardust advises, "A good way to manifest the energy is to cook a meal for your loved one or office mates — the way to the heart is also through baked goods — bake cookies for your colleagues — do something sentimental which will show you care — express your feelings through generous acts and love notes. This will warm people up to softly discussing their emotions, which will ultimately make you closer."
Halfway through the year with a Gemini new moon in the astrological forecast is the perfect time to refresh for the months ahead. Use the powerful and abundant mid year energy to be nice to yourself and work on your relationships with those who surround you. Even if the night sky isn't looking bright on Jun. 13, the rest of the year is.