The Manitowoc County Sheriff's Department Was Never A Fan Of 'Making A Murderer'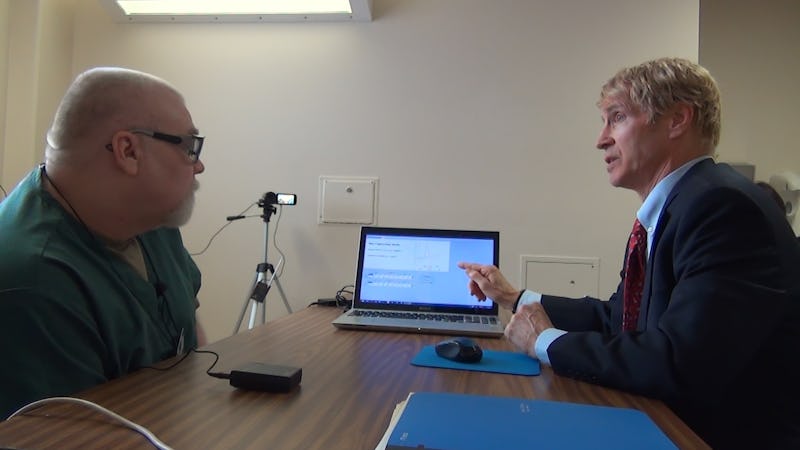 Netflix
Manitowoc County Sheriff's Department was all anyone was talking about after the first season of Netflix's Making a Murderer dropped in late 2015. The small town in Wisconsin became the center of attention after the docuseries premiered, shedding light on a case many in the country had never heard of: the disappearance and murder of Teresa Halbach in 2005. The show dropped with a ton of success as many tuned-in to see the investigation, the trial, and the subsequent legal consequences that stemmed from Steven Avery and Brendan Dassey's convictions in relation to Teresa Halbach's death. The Manitowoc County Sheriff's Department played a huge part in Making a Murderer Part 1, so what does the small town's law enforcement think about the second part of the series?
In a statement to Bustle, Sheriff Robert Hermann declined to offer any insight to his current feelings on the project, or on Avery's case as a whole. "At this time I am not discussing or making any further comments related to this case," Hermann said ahead of Part 2's premiere. But based on what he's told in the past, it's probably safe to say he's not the biggest fan of the production.
According to a Herald Times Reporter article from December 2015, Hermann said that Making a Murderer's first part was more of a movie than a real documentary. "I won't call it a documentary, because a documentary puts things in chronological order and tells the story as it is. ... I've heard things are skewed," said Hermann, who hadn't yet seen the doc at the time of these particular comments, per the outlet. "They've taken things out of context and taken them out of the order in which they occurred, which can lead people to a different opinion or conclusion."
He said in the same interview that he was frustrated by the documentary, and the criticism that had followed. "It is frustrating. Not sure what we can do about it other than asking people to keep an open mind about what they see in the movies, because that's what this is, a movie, (which) doesn't always present all the facts in the appropriate light," Hermann told the newspaper. "We had a lot of good officers out there and obviously other agencies involved."
About a month after those initial comments, Hermann spoke to The Wrap. He said that he'd now watched the series, and he still stood by his original criticism. "Because of all the media stuff we've been getting, I actually did watch with it my inspector and I still stand by that statement," Hermann told the site. "In several areas throughout the film, you can see where they cut the tape and manipulated things."
In early 2016, shortly after the show's premiere in late 2015, filmmakers Laura Ricciardi and Moira Demos (along with Dean Strang, one of Avery's lawyers) said in response to prosecutor Ken Kratz's criticism that viewers were presented with "misinformation," according to the New York Times, that they couldn't have included every detail in the show.
"Our opinion is that we included the state's most compelling evidence," Ricciardi said.
Demos and Ricciardi told Deadline in August 2016 that they knew the documentary was getting criticism, but that they didn't leave anything out that was crucial to the story. "The series was not about taking sides, essentially, in terms of how that case would play out. It wasn't about arguing the evidence. We were trying to show that each side had their own theories and each side was trying to demonstrate that they had evidence," Ricciardi told the site. "It was about let's take the state's best evidence and the defense's best arguments and include those. But we certainly couldn't include everything, and we certainly didn't leave out anything of real significance."
Once the newest batch of episode drops, there will likely be more questions, more answers, and more opinions than ever before. Viewers and those who follow the case will just have to wait and see what the consensus turns out to be.