The Prize For Miss America 2019 Is Nothing New, But The Pageant Is Very Different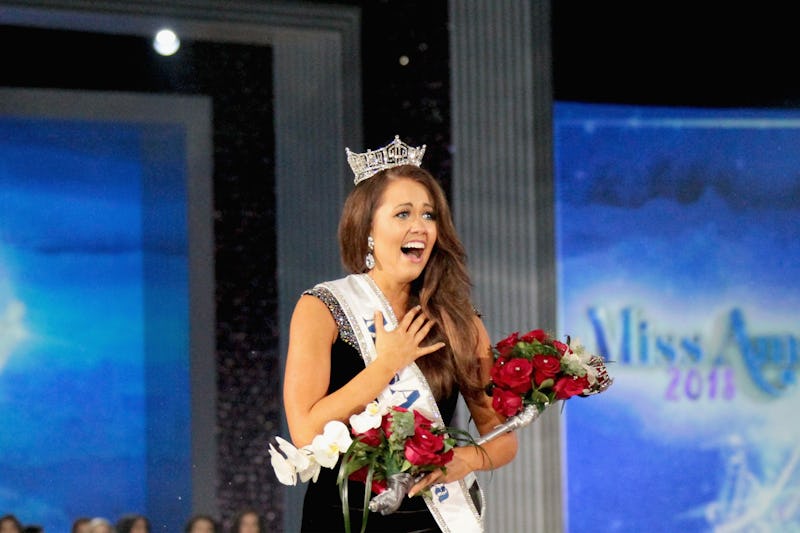 Donald Kravitz/Getty Images Entertainment/Getty Images
Time to dust off that sparky crown you've been hiding in your closet, because the 2019 Miss America Pageant is nearly here! Set to premiere on ABC on Sunday, Sept 9 at 9 p.m. EST, Miss America 2019 will feature 51 women strutting their stuff, showing off their talents, and competing to be crowned the next Miss America. But what exactly are these women competing for? What does Miss America 2019 win?
The exact prize for this year's Miss America winner is not exactly clear, though Bustle has reached out to Miss America for comment, but did receive an immediate response. But if last year's prize package is any indication, Miss America 2019 stands to take home some significant winnings. The Miss America Organization's Office & Public Relations Coordinator Chelsea Mineur told Bustle in 2017 that the main prize received by Miss America 2018 was a $50,000 scholarship. In fact, Mineur said that every Miss America contestant receives a scholarship, ranging from $25,000 for the first runner-up, to a $3,000 base scholarship for the last place finishers. This fantastic prize is in keeping with the Miss America Organization's mission to assist women in furthering their education, and the $50,000 scholarship received by the winner is sure to do just that.
But the scholarship isn't the only prize that Miss America 2019 could be taking home. In the past, Miss America winners have secured a 6-figure salary over the course of their year-long tenure as Miss America, and Mineur told Bustle that the same held true for Miss America 2018. Though it hasn't yet been confirmed, it stands to reason that Miss America 2019 will stand to make a comparable salary. Of course, that money doesn't come without hard work. Per the Miss America website, Miss America 2019 will engage "in extensive travel, often logging 20,000 miles a month and at times changing locations every 8-24 hours, throughout the United States and, at times, to other countries."
Clearly being Miss America is more than just waving to a crowd and wearing a pretty crown, so the prize package and salary reflect that hard work. Miss America "will work with the [Miss America Organization] team to develop goals and execute on tactics to advance her chosen Social Impact Initiative...she also serves as the National Ambassador for Children's Miracle Network; raising funds and awareness for families who otherwise would not be able to afford quality medical care in urgent circumstances," according to the Miss America website.
Though the winner of Miss America 2019 will most likely be receiving a prize package similar to her predecessors, she will be competing in a pageant that will look a lot different than in years previous. Rebranded as 'Miss America 2.0', the competition is attempting to be more inclusive and less oriented around physical appearance, represented in the radical decision to scrap the longstanding bathing suit and evening gown portions of the pageant, according to The New York Times. Instead, "the choice of wardrobe is now open so everyone can express their own very individual style," according to the Miss America website.
Whether these changes will be enough to convince critics who deride the pageant as a sexist and misogynist display of harmful beauty standards remains to be seen. But the woman who takes home the top prize on Sunday will surely be competing in a type of pageant, albeit one that likely holds the same prizes and responsibilities.
Miss America 2019 might still be wearing a sparkly crown, but she could very well be rocking some Converse with it.