People Have *Feelings* About Harry & Meghan Sharing Their News At Eugenie's Wedding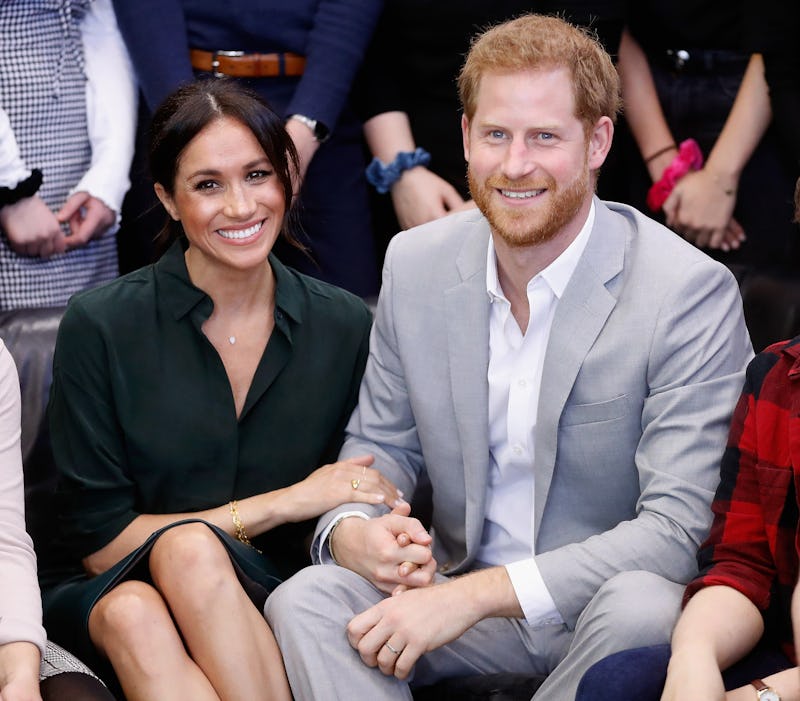 Chris Jackson/Getty Images Entertainment/Getty Images
There's plenty of competing stories about the royals right now. Princess Eugenie's wedding, Pippa Middleton's baby (which is due imminently), and now the world's going to have to keep keeping up with the royals, as there's one more baby on the way. Eugenie didn't get all of the limelight on her big day, as apparently, Harry and Meghan revealed that they were expecting a baby together at her wedding. So what does Princess Eugenie think of the new baby?
As of yet, Eugenie has made no official statement on the royal arrival. As the BBC reports, other senior royals have said they are "delighted" at the news. So why are some curious about her reaction? Well, it has to do with the timing. "Here's why the internet is convinced Meghan Markle is pregnant," E! News reported on Oct. 12, 2018 — the day of Eugenie's wedding. Eagle eyed viewers noticed that Markle didn't once unbutton her navy blue Givenchy jacket — a minor detail which still got some suspicious. Now, scrutinising a newly married woman's body and assuming she's pregnant based on any change isn't exactly fair, and it's something that should stop, but the pregnancy was indeed confirmed on Oct. 15. A full statement was released from the Palace, as reported by the Express, which announced that the couple are expecting the baby sometime in Spring, 2019: The statement, posted over two tweets, read:
"Their Royal Highnesses The Duke and Duchess of Sussex are very pleased to announce that The Duchess of Sussex is expecting a baby in the Spring of 2019. Their Royal Highnesses have appreciated all of the support they have received from people around the world since their wedding in May and are delighted to be able to share this happy news with the public."
But then the pot got very slightly stirred when the Daily Mail reported that the pregnancy was announced during Eugenie's wedding. According to the Daily Mail, "Senior royals attending Eugenie's wedding at Windsor Castle last Friday were told by Prince Harry and Meghan Markle that they were expecting their first child." And there are some hints that Fergie and her youngest daughter weren't so happy with the timing. Cosmopolitan picked up on Fergie tweeting her thanks to her dressmaker at the same time the Royal Kensington Palace revealed the baby news. Coincidence? Or an opportunity to throw some shade?
She's since sent out some congratulatory tweets to her youngest, but has yet to extend the same to Meghan and Harry. "Do you think Eugenie is p*****?" Cosmopolitan polled their readers. And most believe that yeah — Eugenie feels she's had her thunder stolen. 66 percent said that they'd be upset too, while 34 percent were a little more faithful, and believed that Eugenie must be pleased for her cousin. Even the BBC have jumped in on the action, and on Twitter, people were also sharing their opinions:
Either way, it's probably best to assume there's no drama until we know otherwise, after all, pitting women against each other is never the way to go. Eugenie still very much had her spotlight on her wedding day, with her wedding drawing in a peak of 3.9 million viewers, as the Daily Mail reported, and she looked delightfully happy, with no sign of any irritation. Now there's just Pippa Middleton's baby to come, and then the countdown to the next royal baby can begin. But one thing's for sure — Meghan and Harry can't be Friends fans. If they were, they would have heeded the advice from this episode.