I Tried The Zombie Frappuccino & No, It Doesn't Taste Like Brains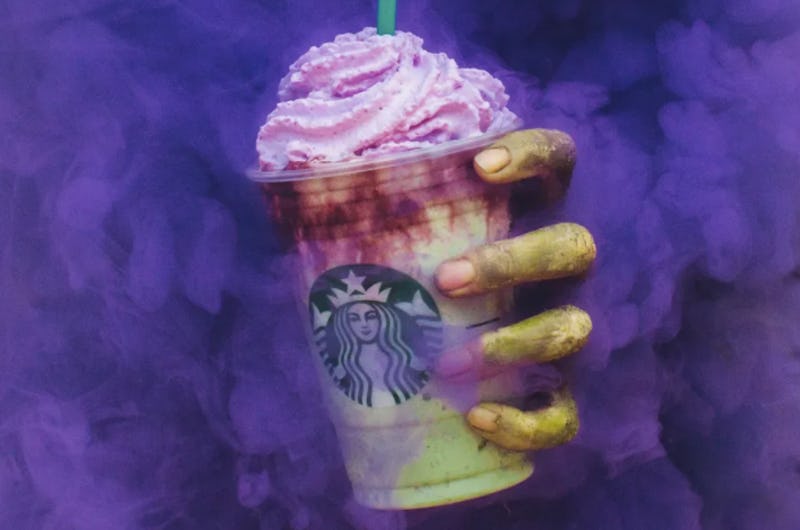 Starbucks
First it was a rumor, then it was a reality, and now it's actually available at your local participating Starbucks. Yes folks: the Zombie Frappuccino is here and it's time to run to over there like a horseman with your head cut off and get yours. "What does the Starbucks Zombie Frappuccino taste like," you ask, salivating, anticipating, dangerously curious? Well, not to brag, but as I sit here and sip my own, I can tell you just what it tastes like so you'll know exactly what to expect when you get your own.
The Zombie Frappuccino tastes like a lot of things — and that's because it's made with a combination of vast and surprising flavors. It's got some fruity flavors, some sour notes, some hints of heartiness, and it's definitely going to shake up your morning routine. No, the Zombie Frappuccino is not anything like what you're used to drinking on your morning commute.
The green ice-blended beverage (green, because zombies, because monsters, because Halloween) with pink (pink, because brains, because zombies, because Halloween) fluffy whipped topping creates a wild party in your mouth. Upon your first sip, you'll detect the sour pucker of the green apple flavoring. Like you do with any delicious sour candy, you'll squint your eyes and bring your shoulders up to your ears. Then, you'll relax and notice the sweetness of the caramel — like a Sour Patch Kid, this drink is sour and then sweet — coming in strong. In the next sip, you'll get a drop of the chocolate-y mocha drizzle that tastes like coffee and melted candy bars and happiness. Swirl your straw around the cup and you'll mix in some of the whipped cream — pink, to appear brain-like— and the sweet creamy flavor will blend all the different tastes together. You might be undecided what exactly the flavor is for many sips to come, as your mouth tries desperately to figure out what it's discovering.
Basically, what I'm trying to say is that the literally tastes like nothing you've ever had before. The sour apple and the rich mocha blending together is a totally foreign flavor combination, and your mouth and mind won't know what to do or how to categorize it. Is it a sour treat? Is it a sweet beverage? How can it possibly be all of these things at once?! You'll alternate between sipping and slurping and taking breaks to use the whipped cream as a palate cleanser. You'll love it, you'll need to take a break, you'll swear you can't finish it, and then you will finish it. And then you'll look forward to ordering one tomorrow as well, because it's only around for a limited time, and you need to take advantage of it while it's available. Remember how you still miss the Unicorn Frappuccino? Don't take the Zombie Frappuccino for granted and let the same thing happen.
Now go out there, get your hands on your own, and experience the roller coaster of flavors (and emotions, let's be real) for yourself. Remember that you might not see the drink on the menu, but don't fret. Just ask your barista for one! Likely, they have the ingredients in stock and ready for you, and they just haven't put up signage yet. The drink still has a few more days of (un)life on the menu — it's available in all U.S., Canada, and Mexico Starbucks stores from Oct. 26 to Oct. 31 — so there's time for your local 'bux to put up the zombie signage and really play up the fact that the undead have begun to rise and also make delicious sugary drinks.
Happy brain eating!