Starbucks' New Zombie Frappuccino Is The Spooky Drink You Need This Halloween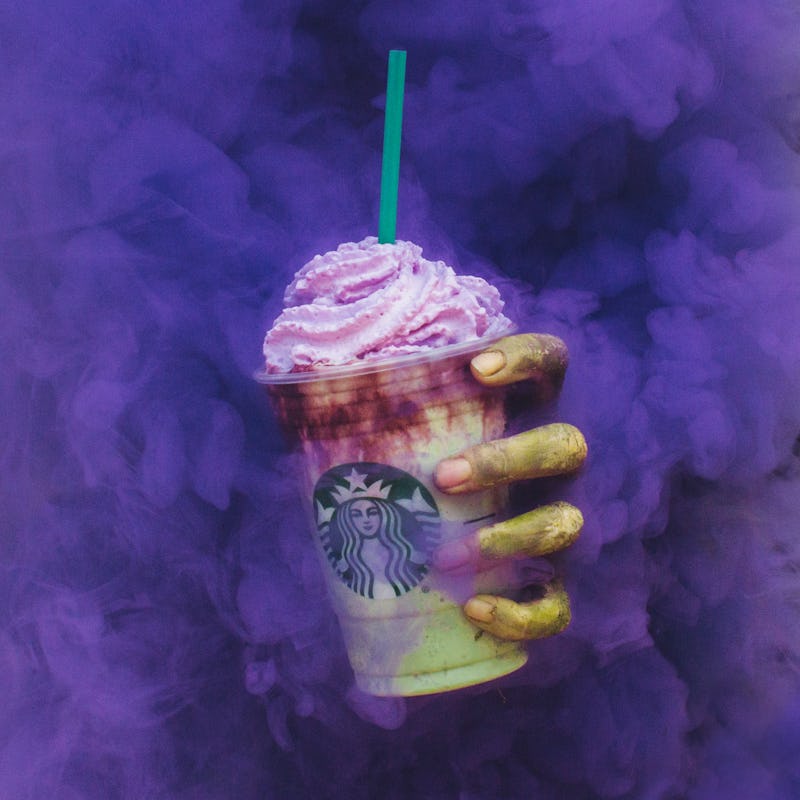 Starbucks
It's officially ~alliiiivvvee~! A few weeks ago, rumors were swirling that a spooky new Halloween frappuccino was going to creep into Starbucks around the holiday, to delight your tastebuds and your Instagram feed. And, luckily for frappuccino fans and Instagram content creators, the rumors were true: The Zombie Frappuccino has been brought to (un)life. If you're wondering what's in the Zombie Frappuccino at Starbucks, I have all the delicious details for you. And don't worry, nothing in the ingredient list calls for brains — or anything less than appetizing that zombies typically enjoy to gnaw on. Instead, thankfully, this drink is made up of flavors that the living can slurp up and enjoy.
Every holiday is an opportunity to remodel the beloved frozen coffee drink and it is with great appreciation to the coffee chain that Halloween isn't being overlooked. But you'll have to do your best zombie walk-slash-run to your nearest location as soon as possible: According to Starbucks, you will only be able to get your warm, human hands on this cold, ghoulish drink between Oct. 26 through Halloween on Oct. 31. Once the sun rises on Nov. 1, the drink will be pulled from the menu and go back to wherever the monsters vanish to. Grab your keys right now and join the drooling as they line up to place their order.
If there are no brains, what's in it?
The genius developers behind the beverages at Starbucks creatively morphed whipped cream into brains. The sweet swirl topping off the drink perfectly plays the part of a zombie's favorite entree thanks to a touch of pink and red mocha drizzle. But, as I have mentioned, it won't taste anything like any part of the human anatomy.
Instead, the flavors conjure the most popular tastes of fall in a single cup. The ghoulish, spooky green hue bursts with tart apple and caramel flavors. This basically blesses every slurp with the essence of bobbing for caramel dipped apples. And, people already seem to be very into every sip.
One Instagram user who has already been lucky enough to snag a taste has referred to the "brains" and "blood" as tasting, "like an airhead" and being totally "in love". I guess it is possible to fall for the undead. Especially when it's more of a treat than a trick on the tastebuds.
You might be wondering what inspired everyone's new favorite Halloween drink? Jennica Robinson from the Starbucks beverage development team tells us that, "when brainstorming a new Frappuccino flavor for this Halloween, we started by thinking about a Halloween party and monster mash." You might remember 2014's Franken Frappuccino followed up with 2015's Frappula Frappuccino. Who - or what - else could join in on the fun? Jessica and the team landed on that thing we love to be scared of. Zombies.
As for thinking of flavor, consider its green body to be inspired by the holiday's festivities. Robinson clues us in on their development by adding, "we thought about what you'd serve at a Halloween party, and we settled on dipped caramel apples. It has a tart green apple favor balanced with a smooth, sweet caramel." Maybe indulging in the zombie lifestyle isn't such a bad thing.
Now that it has been confirmed that there were no anatomical components included in the conjuring of this spooky Frappuccino - and that it is instead built on Fall's most favorite edible ingredients like apples, caramel and mocha - I guess we now leave our zombie fighting weapons at home and give in. Luckily for us, we'll survive this encounter and come out of it with satisfied appetites as well.