The Selena Gomez & Cardi B Collab "Taki Taki" Is Already Confusing Fans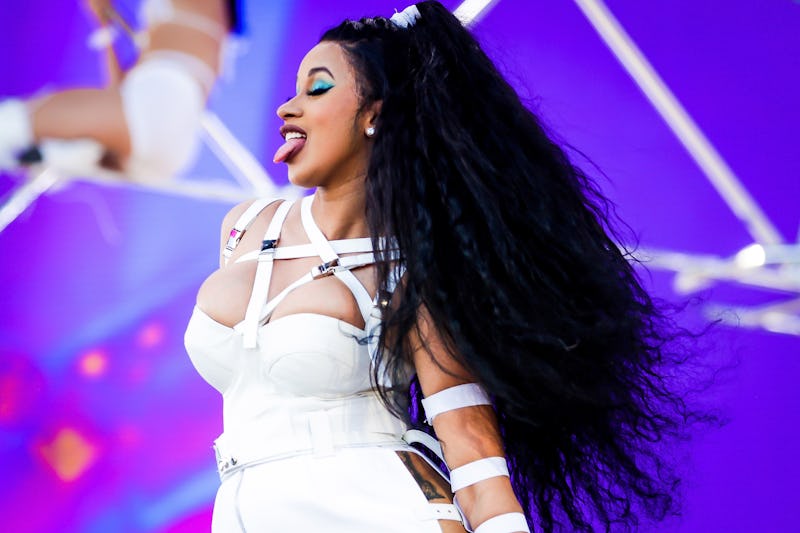 Rich Fury/Getty Images Entertainment/Getty Images
This past Thursday, Sept. 27, DJ Snake released a song that sent the whole internet abuzz. The highly-anticipated dance tune, features DJ Snake, Selena Gomez, Cardi B, and Ozuna, and while fans immediately jumped on it, it also left fans wondering what "Taki Taki" means exactly. The song, which features an undeniably rhythmic Latin dance beat, offers an infusion of Spanish and English lyrics that you can't help but to want to sing along to. But while many of the lyrics are easy to pick up, the song's most important part — and it's title — have managed to create a bit of confusion.
Despite some circulating theories, as reported by PopBuzz, which suggested that the song's title was actually slang for an explicit sex act, a new behind-the-scenes video seems to prove otherwise as Cardi and Ozuna reveal the true meaning for fans who may be stumped about the title's translation. In the video, which was shared by Times of India, Cardi revealed:
"I know for a fact that it's a word that Ozuna made up. Because you know these Reggaeton artists they be making some sh*t up and it's like 'what the f*ck does that mean? I don't know, but it flows right.'"
Bringing her own flavor into the mix, the "I Like It" rapper went on to offer her interpretation of "Taki Taki" by sharing a rolling tongue sound. Reggaeton singer Ozuna later entered the clip to confirm Cardi's theory, explaining: "Taki Taki is nothing. It's a dance... like a flow. It's new. I don't know what to say. Taki Taki is nothing in Spanish."
While it seems that the origins of the term "Taki Taki" appear to be rooted in innocent fun, there are other portions of the single's lyrical content that offer a more sexually suggestive tone. In the first verse, Ozuna sings:
"Taki, taki / Quiere un besito o un ñaqui / Booty explota como Nagasaki / Prende los motores Kawasaki / Que la disco está llena / Y llegaron los Anunnakis"
Which, according to Popbuzz, ultimately translates to:
"Do you want a kiss or a small bite / Booty blows up like Nagasaki / Turn on the Kawasaki motorcycles / The club is full / And the Anunnakis are here"
With DJ Snake at the reigns and Cardi, Gomez & Ozuna on assist, the song is most certainly destined to top the charts, something which Cardi also predicted upon first hearing about the project, according to Teen Vogue. As the outlet reported, when discussing the song on Billboard's Instagram stories on Thursday, Cardi B shared: "It's very Spanish. It's very like a Spanish vibe. As soon as I heard it, I was like, 'I want to get on it.'" She went on to gush about working with Gomez on the track, explaining "Then I found out Selena Gomez was going to be on it, and I'm like, 'Oh, sh*t!' I knew it was going to be a hit."
In her contribution to "Taki Taki," Cardi raps, "If the text ain't freaky, I don't wanna read it / And just to let you know, this p*nani is undefeated."
Gomez jumps on the song, adding some major sex appeal to Cardi and Ozuna's already steamy hot lyrics, singing, "My body-ody know how to play / Work it, keep it tight everyday."
Later, bringing her own meaning to the song's title, the "Heart Wants What It Wants" singer shares: "What my taki taki wants, ya / My taki taki gets, uhn."
It seems that the meaning of "Taki Taki" may be left up to interpretation. However, there appears to be no doubt that this song will be at the top of the charts in the very near future.