Obama Says He Wants To Create A "Million Little Obamas" & His Fans Are All About It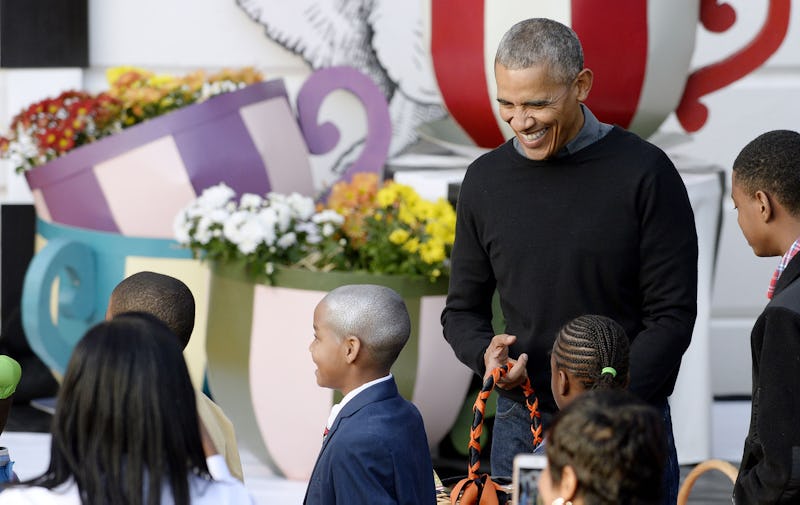 Pool/Getty Images News/Getty Images
On Sunday, former president Barack Obama outlined his vision for a better future. Like many folks in recent months, he pointed to younger generations, designating them as one of society's greatest hopes for advancement. Speaking at a conference in Japan, Obama said he wants a million little Obamas to take over making the world a better place.
"If I could do that effectively, then — you know — I would create a hundred or a thousand or a million young Barack Obamas or Michelle Obamas," Obama said, according to The Guardian. "Or, the next group of people who could take that baton in that relay race that is human progress."
Obama was specifically referencing work done through and by the Obama Foundation, which he said he hoped would help establish a "platform for young, up-and-coming leaders" to work together and exchange ideas.
Older people, Obama said, specifically men, weren't doing a very good job in that realm. "A lot of our problems are caused by old men. No offense, men, who are old," he said, The Washington Examiner reported.
Of particular concern to Obama, according to his speech, is that social media platforms make it difficult for users to tap into diverse perspectives and opinions. (Presumably, he was referencing algorithms that intentionally populate feeds with links and posts that a users is more likely to interact with.)
"One of the things we're going to be spending time on, through the Foundation, is finding ways in which we can study this phenomenon of social media and the Internet to see are there ways in which we can bring people from different perspectives to start having a more civil debate and listen to each other more carefully," Obama reportedly told attendees.
Much of the Obama Foundation's mission hinges upon ideas like those he expressed in his speech on Sunday. According to the organization's website, they aim to "inspire and empower people to change their world," and that includes "leaders who are already making an impact, to people who are interested in becoming more involved, but don't know where to start." The Foundation's mission statement insists that for them, accessibility is key.
"The moment we're in right now, politics is the tail and not the dog," Obama said at the Foundation's inaugural summit in October of last year, reported POLITICO. "What we need to do is think about our civic culture, because what's wrong with our politics is a reflection of something that's wrong with the civic culture, not just in the United States but around the world." The former president also reportedly said that he hopes and intends for the rest of his life to have an even greater impact on the world than his eight-year tenure in the White House.
At his speech in Japan, Obama specifically mentioned the March For Our Lives, which took place the day before his speech. The march was organized largely by a group of Parkland, Florida teenagers, who put the demonstration together to demand increased gun control measures. Their impetus was surviving a devastating Feb. 14 shooting at Marjory Stoneman Douglas High School, which left 17 people from their community dead.
Obama praised their efforts, The Guardian reported, and he lamented how frequently young people are told to put a hold on their plans:
This was all because of the courage and effort of a handful of 15- and 16-year-olds, who took the responsibility that so often adults had failed to take in trying to find a solution to this problem, and I think that's a testimony to what happens when young people are given opportunities, and I think all institutions have to think about how do we tap into that creativity and that energy and that drive.
Because it's there. It's just so often we say: 'Wait your turn.'