Victoria's Response To The Spice Girls Reunion Is PURE Girl Power & I'm Here For It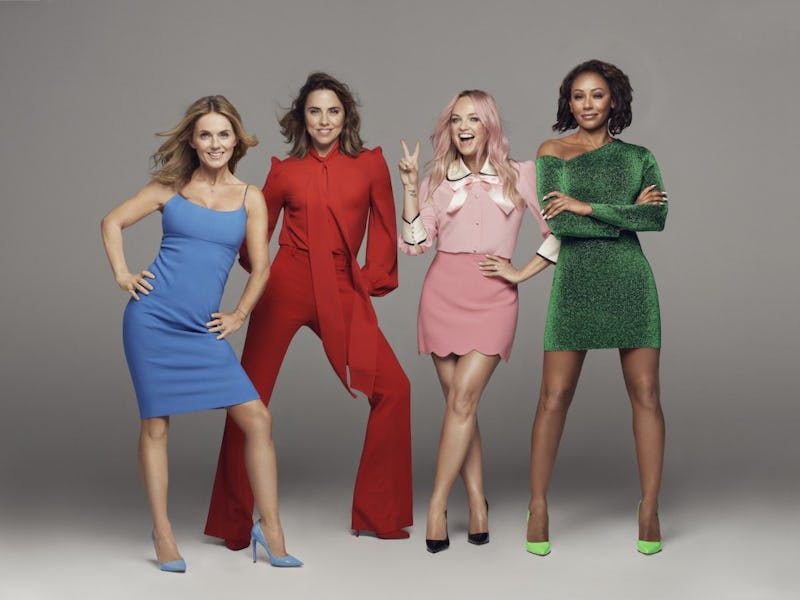 Spice Girls / Press
Will they, won't they? Is Becks in or out? How much will I have to fork out for the best night of my life? If you too are a Spice Girls fan, these are the questions which have been turning in your head ever since a reunion tour was first whispered about. There's been a constant toing and froing about whether the tour will feature the original fab five or the still fantastic four, and now we know for sure. Since she's not due to make an appearance, what does Victoria Beckham think of the Spice Girls reunion tour?
Ever courteous, Posh gave a comment for the press release via her Instagram, even though she won't be appearing on the tour. "Being in the Spice Girls was a hugely important part of my life and I wish my girls so much love and fun as they go back on tour", she says, "I know they will put on an amazing show and the fantastic fans past and present are going to have a wonderful time!"
When five become four is a bit of a different take on "When 2 Become 1," but Becks was unable to commit to the six date tour, due to prior "business commitments", Vogue reports. Although, ever the optimist, Mel B hinted on Loose Women on the day of the official announcement, that there was still some hope that Posh would join the reunion at a later date.
"Just the four of us fully confirmed," she reportedly told the panel, reports the Evening Standard, "but you know Vick might join us at some point. I hope so, I think it would be a shame if she didn't." Other than wishing her girls luck on the tour, Becks has been tight lipped on the matter, and not even Mel B knows what's going on. "I don't know why she's said no. She's got a full on life, she's not committing just yet but…," she reportedly said, and I'm hanging onto every dot.
Have the other Spices mentioned Becks' absence yet? Not really. Since the news has only just been announced, the excitement's yet to settle. Emma got all giddy in the press release, exclaiming: "It's time to spice things up all over again!!!!! I can't wait to perform to our forever supporting fans and a whole new spice generation! Love you all!"
While Mel B sounded even more thrilled: "I've said it sooo many times I'm beside myself it's actually happening yipppeeee. I'm now properly screaming it from every rooftop - me and my girls will see you all on stage!!"
It seems like the girls have been talking a lot about the good old days, since Mel C says that "Reminiscing with the girls about how much fun we had, made me feel like it was the right time to do it all over again!" Geri's excited to return to the zig-ah-zig-ah days too, as well as passing it down to another generation. "I am so excited, together we celebrate girl power with our fans and the next generation and everyone is welcome! Hold tight it's gonna be fun xx".
I've asked Becks' rep for more info, but I imagine their Inbox is fairly flooded today. I'll report back if and when I get a reply.