What Endometriosis Feels Like, According To 8 People Who Live With It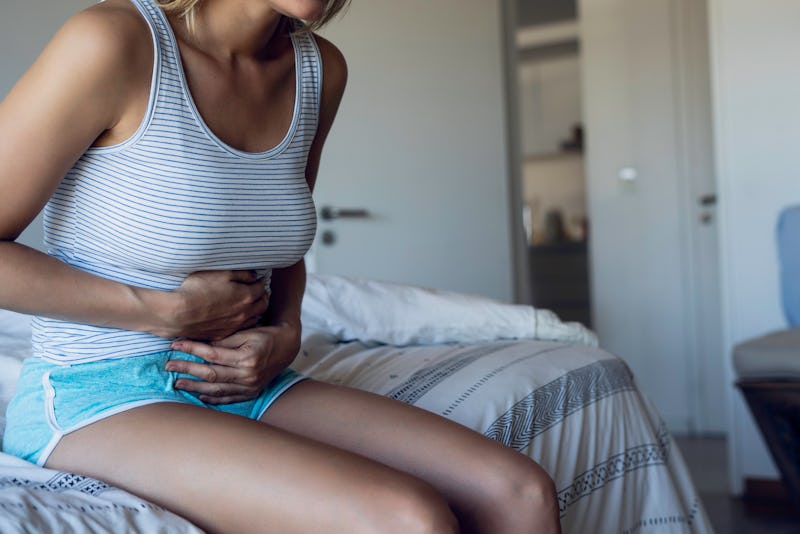 PhotoAlto/Frederic Cirou/PhotoAlto Agency RF Collections/Getty Images
Endometriosis, a condition where tissue similar to the uterine lining grows outside the uterus and sheds during every menstrual period, is still not very well understood. In order to clear up misconceptions about the disease, people who have it want the world to know just what endometriosis feels like — and how bad the symptoms from intense back pain to purple period blood, can really be.
"Sadly, endometriosis has yet to have a truly successful treatment for the pain it generates," Dr. Felice Gersh, M.D., an OB-GYN at Integrative Medical Group, tells Bustle. Symptoms can include serious pain, cramps, bleeding, problems getting pregnant, and difficulty with pain during or after sex; and treatments range from hormonal medications to surgery. "The elimination of female hormones and rhythms [to treat endometriosis] has many associated problems and failures," Dr. Gersh says. Scientists don't know why endometriosis occurs, even though it's pretty common — it's thought to affect roughly one in 10 people with uteruses who are of reproductive age.
It also takes an average of 10 years and eight doctors for people to get an endometriosis diagnosis. "I have been misdiagnosed for the last 11 years as having Crohn's, then IBS, and then finally last year I was diagnosed with endometriosis and basically had emergency surgery," Danielle, 29, tells Bustle. "It had spread throughout my whole pelvis, rectum, colon, vagina, small intestines, and all the way up to my fourth rib."
There needs to be more awareness of what the condition feels like, endometriosis patients tell Bustle, because it might help lower that diagnosis time — and get people the help they desperately need earlier. Here's what living with endometriosis is is really like.