What Young Women Who Own Guns Want To Change About America's Laws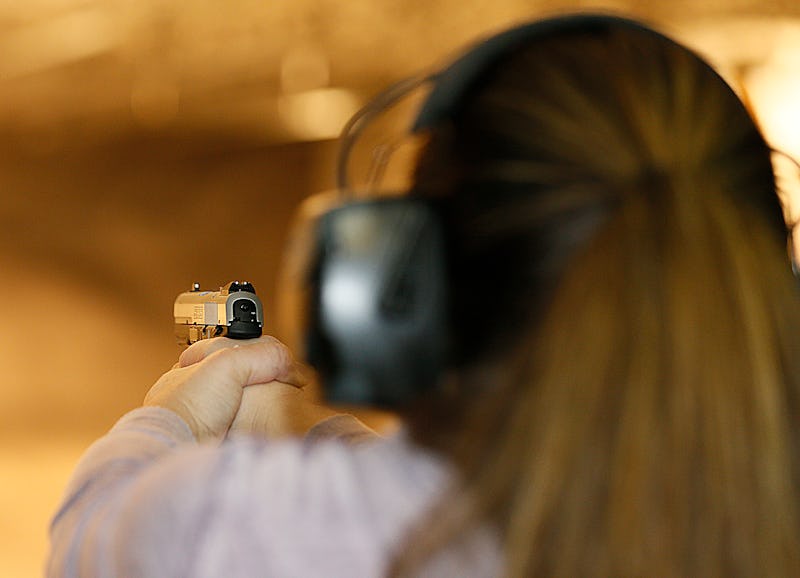 George Frey/Getty Images News/Getty Images
Madeline Fulton, a college freshman from San Diego, agrees with student activists across the nation that America's current gun laws aren't working — even though she's a female gun owner herself. Fulton shoots a rifle, a shotgun, a handgun, and a couple revolvers that were all handed down to her from her grandfather.
"For me, shooting is a way to empower myself," Fulton, 18, tells Bustle. "For people to not be okay with a little tightening up [of gun laws] here and there, I don't think it's right. Safety should be everyone's number one priority."
Disagreements between gun control activists and Second Amendment purists have dominated headlines since a gunman killed 17 people at a Parkland, Florida high school on Valentine's Day. Emma González, a senior at Marjory Stoneman Douglas, quickly distinguished herself as a leader of the student movement for gun reform when she declared that the massacre was "going to be the last mass shooting" in America. But much of the debate on how to achieve that goal has focused on restrictions that gun reform advocates and gun owners don't agree on, such as arming teachers or banning military-style assault weapons.
The common ground where those two groups do see eye to eye has largely been ignored. Polls suggest many gun owners want to see America's background check system improved, and young female gun owners tell Bustle that's exactly the kind of reform they support.
"If you're a law-abiding citizen, you should see nothing wrong with getting a background check before you purchase something that has such great power," Fulton says. "[People] always say, with great power comes great responsibility."
Federal law only requires background checks for purchases made from a licensed dealer, however; just 9 states and Washington, D.C. require that anyone seeking to buy a gun from an unlicensed dealer also submit to a background check. According to a 2017 study published in the journal Annals of Internal Medicine, 42 percent of American gun owners obtained their most recent firearm without a background check. Yet a poll published by Quinnipiac University in February found that 97 percent of Americans do favor universal background checks.
Laura Swann, a 30-year-old Army veteran from Oregon who owns a handgun, includes herself in that 97 percent. "You have a right to a gun; you don't have a right to a free gun, you don't have a right to an unrestricted gun," she tells Bustle.
Mandating background checks for all gun sales, though, may not solve the problem. On top of supporting universal background checks, Karly Kennedy, a 24-year-old graphic designer from Arizona who owns a compact pistol, says more needs to be done to strengthen the National Instant Criminal Background Check System (NICS) itself.
As Kennedy points out, the gunman who killed 26 people in a Sutherland Springs, Texas church last year should have been prevented from purchasing a firearm because he'd been discharged from the U.S. Air Force for domestic abuse. However, the Air Force failed to enter the gunman's court-martial into the NICS database, so he was able to legally purchase the rifle he used in the shooting at a Texas sporting goods store. "If that record had been put in," Kennedy says, "he could have been prevented."
The 19-year-old man who killed 17 students and school administrators in Parkland also passed a background check, since he had no prior criminal record. The FBI did receive a tip a month earlier that the man owned a gun and had talked about carrying out a school shooting, but that information was never forwarded to the agency's Miami field office for investigation.
President Donald Trump voiced support for a bipartisan bill to improve the national background check database, which was introduced by Sens. John Cornyn (R-TX) and Chris Murphy (D-CT), following the Texas shooting. That bill, known as the Fix NICS Act, seeks to hold federal agencies accountable for uploading records to that database and use financial incentives to encourage states to do the same. The bill doesn't address universal background checks, however, which some Senate Democrats say is the bare minimum Congress should do to prevent more mass shootings.
"If all Congress does in response to the Parkland shooting is to pass the Fix NICS bill," Senate Minority Leader Chuck Schumer (D-NY) said in a February statement, "it would be an abject failure and a dereliction of our duty."
High school students have led the charge in calling for a ban on military-style assault weapons since the Parkland shooting. But a Pew Research Center study from 2015 found that Americans between the ages of 18 and 29 actually were the age group least likely to support such a ban (of course, the amount of people in that age group who supported a ban may have risen in the three years since). A whopping 84 percent of the same age group said in the study that background checks should be extended to unlicensed dealers, however.
Kennedy, a strong proponent of the Second Amendment, thinks universal background checks are a compromise that would allow law-abiding citizens to buy any gun they want, while also keeping weapons out of criminal hands.
"If you have a problem with background checks, then I think there's different problems going on," she tells Bustle. "If it's a way to keep our guns — and keep them with no restrictions — then yeah, I think the best way is to just do background checks and improve that NICS system."
These millennial gun owners may not agree with Parkland survivors' call to ban military-style assault weapons. But Kennedy, Swann, and Fulton all admire those students' efforts to honor the classmates they lost on Valentine's Day. They agree that guns need to be kept away from those who plan to use them to harm others, too.
"No one wants to hear about kids dying every day," Fulton says.