It's Shocking How Much Kaycee From 'BB20' Gets Paid To Play Football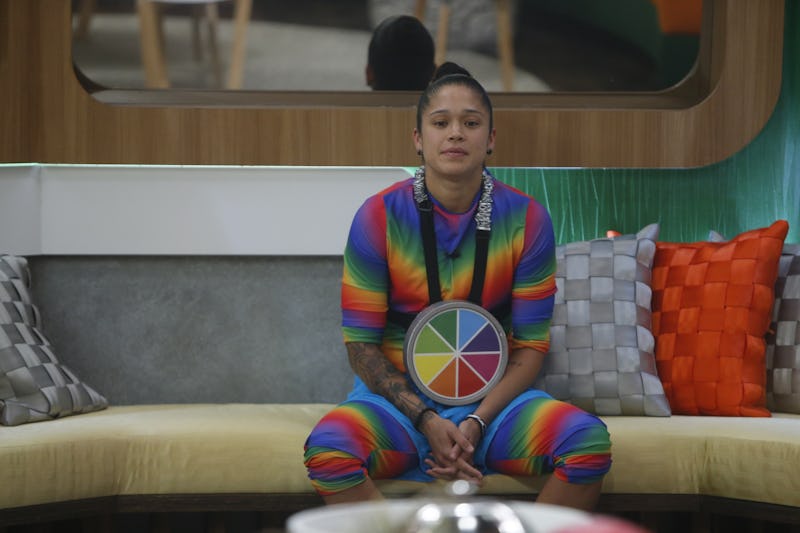 Sonja Flemming/CBS
Kaycee has been a quiet presence during the early weeks of Big Brother 20, but viewers should expect her to become a fearsome competitor as the season goes on. Her competitive spirit hasn't been seen much on the show, but the impressive stats of Kaycee's professional football team seems to be proof that when she wants to accomplish something she is more than able to – as long as she's working with a good team.
Kaycee is a member of the San Diego Surge, and has been an active member of the team since its inception in 2011, playing in six of their eight seasons. Immediately prior to her time on Big Brother 20, Kaycee finished a season with the team as part of the Independent Woman's Football League. She's good, too. OutSports reports that in 2017 she managed to lead her team in receiving yards and touchdowns, and in helped her team score the most points out of any team in the IWFL 2018 season.
Kaycee's been an almost constant part of the team, which is impressive among a team that has an all-time roster with a lot of players who only play for a season or two. While most athletes may not be able to dedicate an entire summer playing on a reality television show for the chance to win half a million dollars, Kaycee doesn't have much to lose financially by being on the show. Although she's listed as a professional football player, the Independent Woman's Football Team does not pay their players, nor do any other female tackle football leagues in America according to The Nation. Cue the groans.
Women's tackle football leagues can be "pay-to-play" as Yahoo! Finance states, depending on donations and fundraising to purchase gear and rent practice fields. It's clear that Kaycee is involved in football for the love of the sport far more than the money – but it also suggests that Kaycee isn't just playing Big Brother for herself. Kaycee revealed to Ross Matthews that in addition to playing football, she also works as a restaurant server, a job that likely helps fund her passion for the sport.
Being a Big Brother winner would likely mean that Kaycee would be able to stress a little less about finances and focus more on football, but could also possibly donate some of that money to the San Diego Surge and keep the team financially set for a couple of full seasons. That would be a pretty cool move.
The Surge is pretty impressive and a standout team in their league and the BB20 contestant had a lot to do with that. Kaycee helped them have their best-ever year in 2012. In 2012, the team managed to have a 12-0 win record and took home the national Women's Football Alliance championship. The team has an all-time record of 63 wins to 11 losses with multiple conference wins, putting them above and beyond many of the other teams in their league. It's easy to imagine that were woman's football as widely accepted and celebrated as men's football, that Kaycee would be applying to be on Celebrity Big Brother instead of the regular season because of her prowess on the field. Alas, that's just not how women's sports work these days.
Despite the fact that she isn't paid to compete, Kaycee's competitive spirit is already starting to show on this season of Big Brother. As the season progresses and the stakes get higher, we'll likely see a little more of it, too. If she manages to assemble a team that is as effective and successful as the San Diego Surge inside the Big Brother house, that grand prize is as good as won.