This Woman Is The First Pro Football Player On 'Big Brother'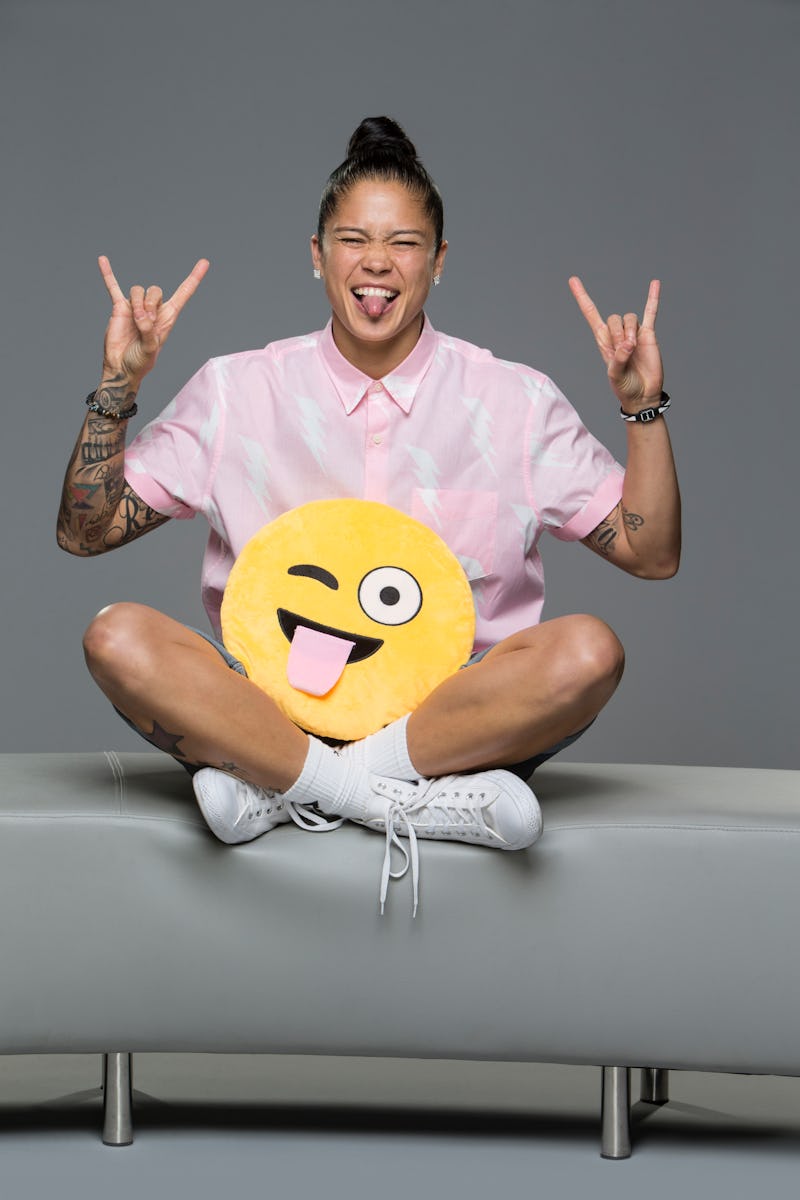 Sonja Flemming/CBS
Big Brother marks its 20th season this summer, bringing together 16 houseguests who are all looking to claim the $500,000 grand prize. One of this season's contestants, Kaycee Clark, has been waiting years for her opportunity to join the competition — and she could prove to be a strong competitor right out of the gate. So who is Kaycee on Big Brother?
According to her pre-season interview with former Celebrity Big Brother houseguest Ross Mathews, Kaycee is a huge fan of the show: She tells Mathews that she's been watching Big Brother since the very beginning. In her CBS Q&A, Kaycee says, "Big Brother is the only TV show I watch, and it's my tradition with my dad." That means she definitely knows a thing or two about what's worked for houseguests in the past.
When she's not watching Big Brother, Kaycee is busy competing on a professional football team. According to OutSports, Kaycee plays wide receiver for the San Diego Surge of the Women's Football Alliance. OutSports also notes that Kaycee is the first professional football player in the show's history, and the first openly gay female houseguest since BB17, which featured professional poker player Vanessa Rousso.
Judging from her interview with Mathews, Kaycee is interested in bringing the competitive energy she utilizes on the football field into the Big Brother house. She promises that things could go poorly for anyone who chooses to be "super cocky or super controlling," which she claims are her pet peeves. "I hold my ground. If someone comes at me disrespectfully, or someone comes at one of my people disrespectfully, I'll come out and say what I need to say."
While Kaycee has no interest in pulling punches with people who challenge her in a manner she perceives as disrespectful, Kaycee also doesn't seem to have any interest in causing drama. As she told Mathews, "I don't want to get too dirty. I do want to stay loyal to myself and stay true to who I am as a person... but again, it's Big Brother. If there needs to be white lies here and there, cool." She even name-dropped the kind of contestant she doesn't want to act like, saying, "I don't wanna hurt people on a deeper level and get really into them emotionally like Paul [from BB18 and BB19] did."
Instead, Kaycee is taking inspiration from — arguably — Paul's exact opposite. Kaycee told The Hollywood Reporter that she's hoping to take after BB19's Cody, citing that "Cody is true to himself and went against the grain, but his social skills are what he needs to work on." In the social area, Kaycee told THR that she hopes to take after Frankie Grande, whose social game helped him make it to 5th place.
It's clear that Kaycee is coming into the Big Brother house with competition on the mind. However, she's admitted that she's not completely closed off to the idea of finding romance this summer. While speaking with Mathews, she claimed, "I'm open to [the possibility of a showmance]. I'm not opposed to it. That's not my main priority, though ... but if it happens, it happens ... I'm open to anything, except for being with a guy."
Kaycee has the potential to make a huge splash in Big Brother 20. While she's been inspired by past Big Brother players, her competitive nature and outgoing personality hint that the show has never seen a competitor quite like her. While only time will tell whether or not she can make it to the end, Kaycee's experience as a professional athlete could light a fire under the other houseguests.